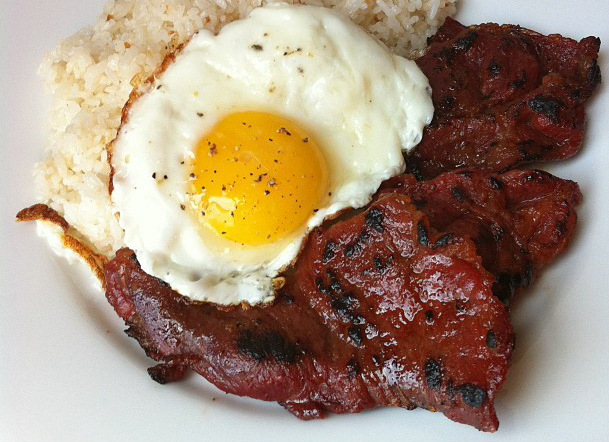 What are tapsilog and other silogs?
Tapsilog is a popular Filipino breakfast dish. It is a combination of 3 main components: cooked beef or other meat (tapa in Tagalog) + garlic fried rice (sinangag) + egg (itlog). There are many variations of tapsilogs or "silogs," a portmanteau for sinangag and itlog. All the variations use name of the meat plus the suffix -silog. Here are some common variations that you'll find at many Filipino restaurants that serve breakfast or brunch:
adobosilog / adosilog = adobo (cooked marinated meat) + silog (garlic rice and egg)
baconsilog / bacsilog = bacon + silog
bangusilog  / bangsilog = bangus (fish) + silog
bisteksilog = bistek (beef steak) + silog
chorizosilog / chosilog = chorizo + silog
cornsilog = corned beef + silog
hotdogsilog / hotsilog = hot dog + silog
longsilog = longanisa (sausage) + silog
sisigsilog / sisilog = sisig (seasoned pork or other meat) + silog
spamsilog = Spam (yes, the good ol' canned stuff) + silog
tapsilog = tapa (cooked beef) + silog
tocilog = tocino (sweetened thick bacon) + silog
Where can I get tapsilog?  
If you're looking to try one (or more) of the many versions of tapsilog, you'll want to visit an authentic Filipino breakfast spot. They're not too difficult to find in areas with large Filipino populations. Here are some locations that are known to serve up some great silogs.
Los Angeles, CA (Torrance):

Silog


—longsilog—
New York, NY:

Maharlika


—tocilog—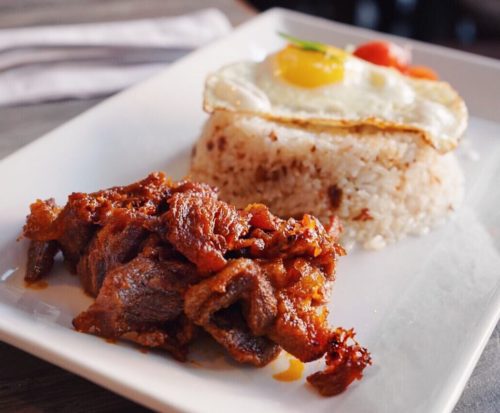 San Francisco Bay Area, CA (Daly City):

Chibog


—spamsilog—
Looking for more places that serve tapsilog? Check out this interactive map for restaurants that serve tapsilog near you!
How can I make tapsilog?  
You can easily make tapsilog at home with a handful of basic ingredients.  Here's a super simplified and flexible recipe that you can follow to enjoy a little taste of the Philippines for breakfast.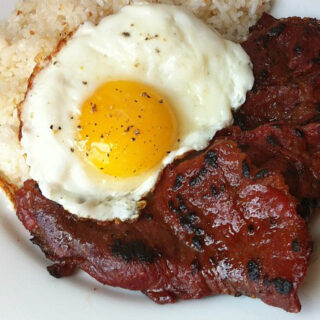 tapsilog
a savory breakfast dish with egg and garlic rice
Ingredients
2 cups white rice (or brown rice)
1/4 cup cooking oil
1 head of garlic (minced)
salt & pepper (to taste)
1 egg
1 cup cooked meat: adobo, beef steak, corned beef, spam, tocino, spam tocino, etc. (either from your local Filipino restaurant, or make it at home)
Instructions
First, cook the rice in the rice cooker according to the rice cooker directions.
On a heated pan, put half the oil and garlic. Cook until golden brown.
Mix in the cooked rice evenly with the garlic.
Move the garlic rice to a plate. Add the remaining oil to the pan and cook the egg sunny side up (or however you like).
Serve the garlic rice, egg and meat together. Enjoy!
Recommended Products
Glutto earns a tiny commission from qualifying Amazon purchases.
More posts on Filipino food
Want to know more about Filipino food culture? Then you'll have to get familiar with…