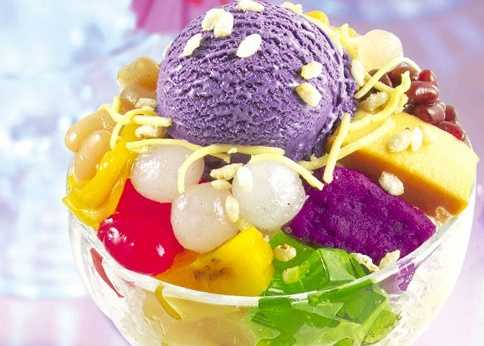 What is halo-halo?
Halo-halo (pronounced: ha-loh ha-loh, not hey-low hey-low) is a colorful traditional Filipino dessert that resembles an ice cream sundae.  It literally translates to "mix mix" which is appropriate since it is a combination of several Filipino ingredients that are mixed together when eaten.  This dessert usually consists of: shaved ice, evaporated milk, sweet beans, coconut, jackfruit, sago (similar to tapioca) and gulaman (sweet jelly) topped with ube ice cream and pinipig (young toasted rice).
Halo-halo originated in the Philippines but was likely derived from kakigori, a Japanese dessert with shaved ice and red beans introduced by Japanese immigrants back in the 1800s.
Although this rainbow-colored dessert has been a staple in Philippine culture since the early 20th century, it has gained exposure in the US in the 2010's (nearly a century after its invention) thanks to TV shows like Top Chef and Anthony Bourdain: Parts Unknown.
Where can I get halo-halo?
Halo-halo can be found in most Filipino restaurants including popular chains like Jolibee and Goldilocks. However, the best halo-halo is usually found in independent mom-and-pop type Filipino restaurants…
Nashville, TN:

Ate's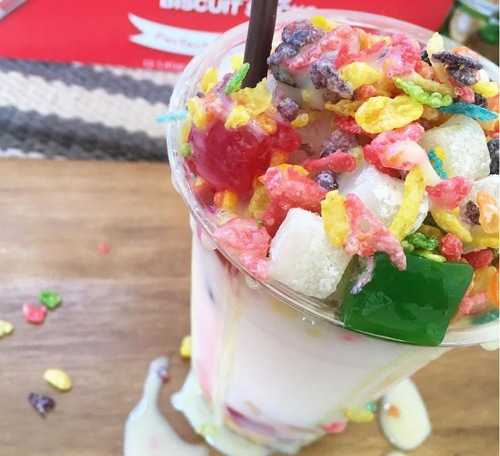 Los Angeles, CA:

LA Rose
San Francisco Bay Area (San Bruno):

Patio Filipino
Looking for more places that serve halo-halo? Take a look at this interactive map to find locations that serve this Filipino dessert near you!
How can I make halo-halo?
Halo-halo is really easy to make. The most complicated part is making sure you have the right ingredients, which can usually be found online or at your local International/Asian market. Here's a straightforward recipe that you can modify as desired.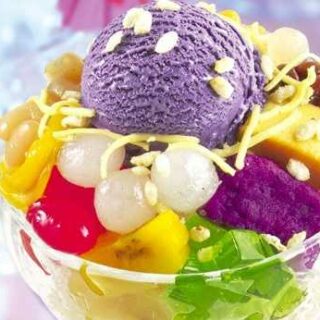 halo halo
Ingredients
1 cup ice (shaved/blended)
¼ cup evaporated milk
1 jar halo halo mix, or get the ingredients separately for more distinct flavors:
- 2 tablespoons kaong (sugar palm seed)
- 2 tablespoons sweetened langka (jackfruit – cut into strips)
- 2 tablespoons macapuno (coconut sport strips)
- 2 tablespoons red mongo beans
- 2 tablespoons saba (sweetened plantains)
- 2 tablespoons ube (purple yam jam)
- 2 tablespoons leche flan (crème caramel custard)
2 scoops ice cream (best with Filipino flavors like: ube, mango, macapuno)
Instructions
Put the shaved ice in a tall glass and pour all the milk on it.
Add all the other ingredients one by one and top with the ice cream.
Mix your halo halo with a long spoon and enjoy!
More Filipino food
Want to know more about Filipino food culture? Then you'll have to get familiar with…