Khachapuri: Georgian cheese-filled bread boats

What is khachapuri? 
Khachapuri, specifically the Adjarian (Acharuli/Adjaruli) variation, is a boat-shaped bread filled to the brim with melted cheese and topped with a sunny side up egg. It's also known as a "cheese boat" or "cheeseboat." Other variations of khachapuri include: Imeretian/Imeruli khachapuri (cheese-filled discs of bread), Achma khachapuri (cheese bread assembled in layers similar to lasagna) and Penovani khachapuri (cheese bread structured like a calzone). All these styles of cheese stuffed bread originated in the country of Georgia and are a popular street food and appetizer in many post-Soviet states including Armenia and Russia.
Where can I get it?  
Khachapuri can be found at most Georgian restaurants.  However, if you're looking for the "cheese boat" version, make sure the restaurant specifically serves Adjarian (Acharuli/Adjaruli) khachapuri.  Here are some Georgian restaurants that serve various types of this cheese-filled bread.
Brooklyn, NY: Cheeseboat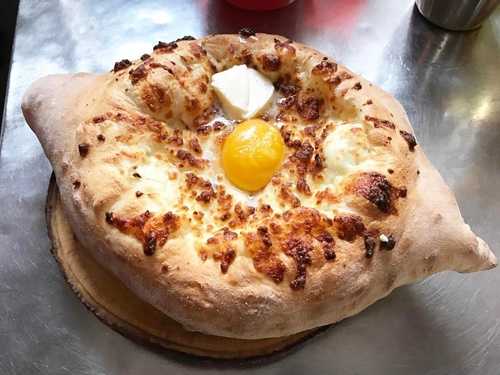 : Cheeseboat on Facebook
San Diego, CA: Russian-Georgian Pomegranate Restaurant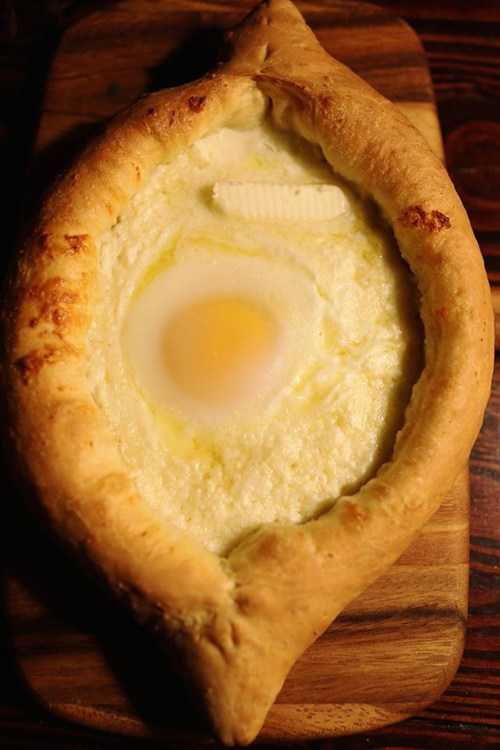 : Russian-Georgian Pomegranate Restaurant on Facebook
Portland, OR: Kachka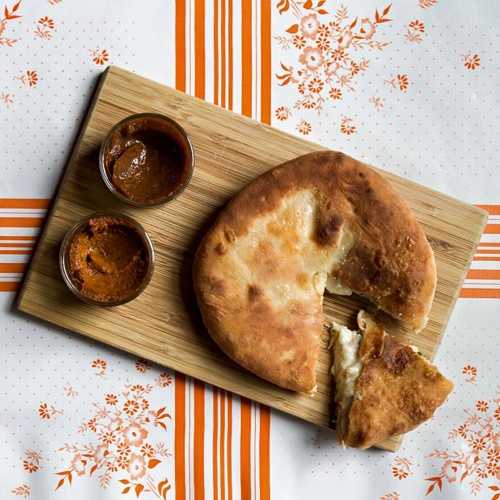 : Kachka on Facebook
Washington D. C.: Compass Rose
: compassrosedc.com
Looking for more places that serve khachapuri?  You can find them on Glutto
right here
.
How can I make it?  Authentic Adjarian khachapuri can take over a couple hours to make from scratch.  However, here is a quick alternative recipe takes less than an hour and is just as delicious if you're too hungry to wait.

Ingredients
1 package pre-made raw dough (e.g. Trader Joe's pizza dough)

1 1/2 cups mozzarella cheese (shredded)

1 1/2 cups feta cheese (crumbled)

3/4 cup plain yogurt

2 large eggs (beaten)

4-6 large eggs (in shells)
flour (to help form dough)
Directions
Open packaging of pre-made dough and let dough rest at room temperature for 30 mins
Pre-heat oven at 450°F
Mix the cheeses, yogurt, eggs and salt in a bowl
Form "boats" according to this video:
Fill the "boats" with the cheese and egg mixture leaving enough room for an egg on top (don't add egg yet)
Crack open an egg and beat to create an egg wash; brush egg wash on edges of the cheese-filled "boats"
Put "boats" in the oven for 15 mins (or until crust begins to brown)
After removing the "boats" from the oven, use a spoon to create a dent in the center of the cheese; crack open an egg add add one to each dent
Return "boats" to the oven for 6-8 minutes (or until golden brown)
Serve and enjoy!