Char siu bao are Chinese (specifically Cantonese) barbecue pork buns. They are also known as cha siu bao or chashaobao. There are two main types of these buns, steamed and baked. The steamed bao are more common and have a puffy white exterior while the baked bao have a golden brown exterior.
There are many different types of bao (a.k.a. baozi or steamed buns) which can be either savory or sweet. They include big pau (minced pork/chicken), doushabao/tau sar pau (red bean), lian yong pau (lotus paste), nai huang bao/liu sha bao/lai wong bao (egg custard), tang bao (large with soup and pork/crab), xiao long bao (small with soup and pork/shrimp/crab), yacai bao (pickled mustard stem) and zhi ma bao (black sesame). However, the barbecue pork buns are certainly among the most well-known worldwide.
Where were they invented?
The origin of char siu bao goes back to the Song Dynasty (960-1279). Historical records indicate that steamed buns were filled with meat during the reign of this Chinese imperial dynasty,
Variations of char siu bao
There are many different variations of char siu bao all over the world. These are some of the most prevalent:
keke pua'a (Samoa): These meat-filled steamed buns are most often filled with pork, known as pua'a.
manapua (Hawaii): These steamed buns from Hawaii are normally filled with BBQ pork and has yeast and baking powder in the dough. It's cooked with sesame oil with the seam facing down.
nikuman (Japan): Japanese nikuman are traditionally made with ground pork.
siopao (Philippines): There are several variations of pork-filled siopao, which include siopao asado (sweet pork) and bola bola (pork with Chinese sausage and egg).
How is char siu bao pronounced?
The correct pronunciation is char-shoo-baw (rhymes with far-moo-cow).
Where can I get these pork buns?
You can find these pork buns in many Chinese bakeries and restaurants, especially in Chinatowns across the US. Use this map to find them near you.
How can I make these pork buns?
You can make your own steamed pork-filled buns with the following recipe.
Char Siu Bao (pork buns)
Ingredients
Dough
1 cup warm water (90-100°F)
1 package (2¼ teaspoons) dry yeast
1 ½ tablespoons sugar
3 ¼ cups all-purpose flour 
2-3 tablespoons vegetable oil
¼ teaspoon salt
1 ½ teaspoons baking powder
Filling
1 cup Chinese BBQ pork (chopped)
3 tablespoons low-sodium chicken stock
1½ tablespoons hoisin sauce
1½ tablespoons oyster sauce
1½ tablespoons Shaoxing wine (can substitute with dry sherry or mirin)
1 garlic clove (finely chopped)
1 tablespoon cornstarch
½ tablespoon sugar
1 pinch five-spice powder
Instructions
Prepare the dough by mixing water, yeast and sugar in a bowl until even. Let rest 5-10 mins.
Add flour, vegetable oil and salt. Knead for about 10 minutes until smooth.
Place in a large bowl and coat with oil. Cover with plastic wrap and let rest at room temperature for 1 hour or until size of dough has doubled.
In the meantime, prepare the filling by mixing the hoisin sauce, oyster sauce, wine, garlic, sugar and five-spice in a small saucepan. Heat to a boil, then reduce heat and mix for 1 minute. Remove from heat and cool for 5 minutes.
Meanwhile, mix cornstarch and water in a bowl until smooth.
After sauce has cooled, add cornstarch and water mix to saucepan. Increase heat and mix until sauce has thickened.
Transfer sauce to clean bowl and add pork. Mix until pork is fully coated.
Separate dough into 10 evenly-sized balls. Flatten into 4-5 inch disks.
Put equal amounts of filling in each disk. Then, stretch dough upwards to fully cover the filling and pinch and twist at the top to create a seal.
Place half of buns seal facing up in bamboo steamer. Place the other half seal facing up in a second bamboo steamer and cover. Stack on first steamer.
In a pan, boil 1 in of water. Put steamer in the pan for 15 mins. Then, allow to cool for at least 5 mins. Enjoy!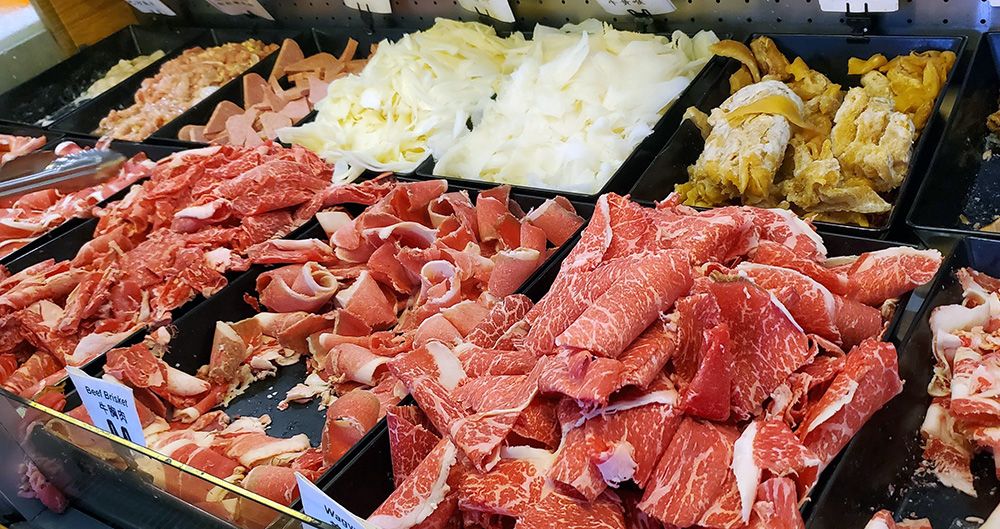 Malatang (a.k.a. ma la tang or mala tang) is a create-your-own Sichuan variation of traditional…