Dan dan noodles (a.k.a. dandanmian or dan dan mian) are a flavorful traditional street food from the Sichuan province of China.
"Dan dan" originally referred to the long shoulder pole used by street vendors to carry the noodles. This dish was easily accessible to the locals who would relate the noodles to the long poles.
What are dan dan noodles made of?
This traditional Chinese dish is primarily made of white noodles, minced pork, spicy chili sauce and scallions.
Less spicy versions typically use peanut butter or sesame paste to help reduce the heat.
What do dan dan noodles taste like?
While there are many versions of this dish, these noodles are known for their spicy and highly umami flavor profile. The chili oil and peppercorns add much of the spice while the sui mi ya cai (preserved mustard greens) provides a balanced sweet & savory flavor.
There are numerous interpretations of these noodles to accommodate a variety of tastes. They can be served in a soup, dry, spicy or less-spicy.
Are dan dan noodles gluten-free?
The traditional version of this dish is not gluten-free since the noodles naturally contain gluten. However, it is possible to make gluten-free dan dan noodles. Some restaurants that serve gluten-free dishes may even provide their own gluten-free version.
Where can I get them?
You are most likely to find dan dan noodles at many Chinese and Taiwanese restaurants that serve a variety of noodles. View this map to find a restaurant near you.
How can I make them?
Making these spicy noodles can be quite time consuming if you're making them from complete scratch. Luckily, it is possible to buy some of the ingredients, like the chili sauce, premade. The following recipe is not all that complicated as long as you pick up the right ingredients. 🙂
Dan Dan Noodles
Ingredients
Meat
3 teaspoons cooking oil
1/2 pound ground pork/beef/turkey
1/2 tablespoon minced ginger
1 green onion (chopped)
3/4 tablespoons fermented black beans (rinsed and chopped)
1/4 cup Sui Mi Ya Cai (preserved mustard greens)
1 tablespoon Shaoxing wine
1/4 teaspoon sugar
Noodles
1 pound white noodles (fresh or dry)
1 bunch bok choy/spinach
chopped peanuts (disregard if you have allergies)
chopped scallion (optional)
Sauce
1/2 cup chili oil
3 cloves garlic (minced or grated)
1/4 cup hot water (from noodles)
Instructions
Coat bottom of large pot or wok with cooking oil. Brown ground meat. Mix in the rest of the meat ingredients until no longer watery.
In a bowl, combine sauce ingredients and mix until even. Set aside.
Boil noodles and cook according to package. When done cooking, drain water into a cup to save for the sauce. Discard remaining water.
Put noodles on a serving dish. Layer with bok choy and cooked meat. Coat with sauce. Top with peanuts and scallons. Serve and enjoy!
Recommended Products
Glutto earns a tiny commission from qualifying Amazon purchases.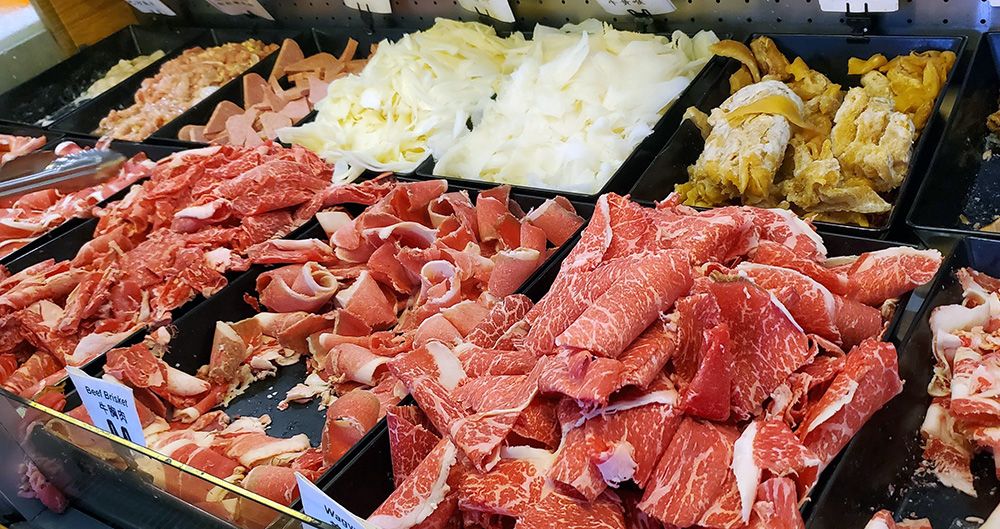 Malatang (a.k.a. ma la tang or mala tang) is a create-your-own Sichuan variation of traditional…