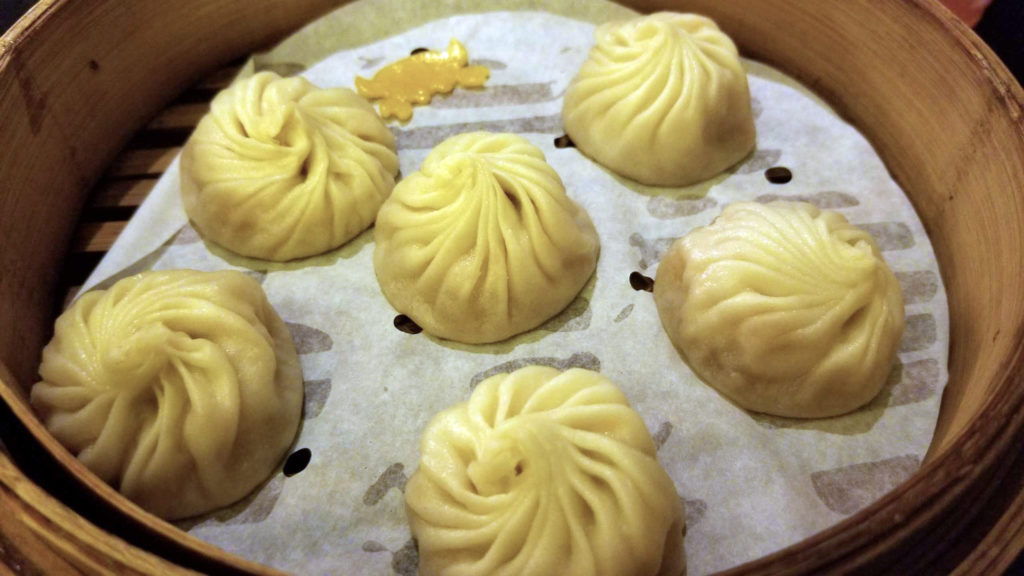 Xiao long bao (a.k.a. XLB, xiaolong bao or xiaolong mantou) are Chinese soup-filled dumplings. Typically, bao are steamed puffy white buns (or golden brown when baked) with either savory or sweet fillings. However, this type of bao doesn't have a puffy bun at all and is simply a steamed unleavened dough pouch that holds soup and pork.
Where did xiao long bao come from?
These soup dumplings were invented in the mid 19th century at the Wan Hua Tea house located in Changzhou, a city in the province of Jiangsu, China. The precursor to xiao long bao were soup dumplings known as tang bao, which originated in the city of Kaifeng. Those were simply filled with soup which was sipped from a spoon. It is now common to drink the soup with a straw.
How do you pronounce xiao long bao?
"Xiao" is pronounced zhow. If you don't know how "zh" is supposed to sound, it's like the "ge" in rouge. "Long" is pronounced normally. "Bao" is pronounced bow (which rhymes with cow).
Can xiao long bao be boiled?
Yes, you can boil frozen soup dumplings, but realize that steaming is the ideal method since it cooks faster without getting soggy. If you try boiling freshly handmade soup dumplings, they can easily open up if they are not completely sealed.
How do you eat xiao long bao?
According to the international Taiwanese-based restaurant Din Tai Fung, this is the proper way to eat soup dumplings:
Put soy sauce, vinegar and sliced ginger in a bowl. (1 part soy sauce and 3 parts vinegar)
Gently dip the soup dumpling into the sauce.
Put the dumpling into your spoon.
Poke a hole in the wrapper of the dumpling to release the soup and eat.
Where can I get soup dumplings?
You can get soup dumplings at many Chinese dim sum restaurants as well as certain Taiwanese restaurants. Find which restaurants have these soup-filled dumplings near you.
How can I make them?
While making proper xiao long bao can be difficult, it can be done with a bit of effort and patience. Here's a proven recipe that, if done well, you'll be sure to enjoy it.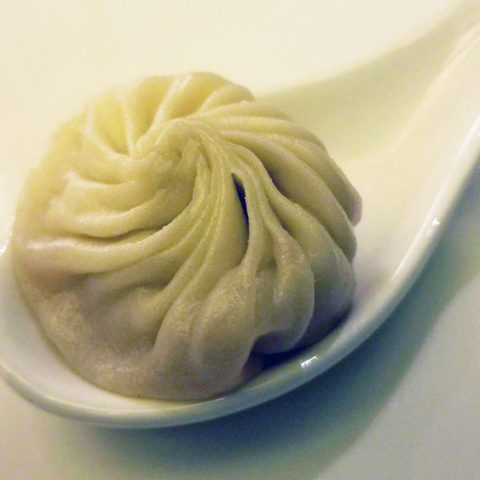 Xiao Long Bao (soup dumplings)
Ingredients
Gelatin (aspic)
1 medium chicken
3 stalks scallions, cut into halves
6 slices ginger
Dough
1 1/2 cups flour
3/4 cups boiling hot water
1/4 cup cold water
Filling
1/2 pound ground pork
1/8 pound shrimp (minced)
1 1/2 stalks green onion finely minced
1 teaspoon sugar
1 tablespoons soy sauce
1/2 teaspoon kosher salt
1/4 teaspoon white pepper
1/4 teaspoon ginger (grated)
1/2 teaspoon Chinese rice wine or dry sherry
1/4 teaspoon sesame oil
Dipping Sauce
1/2 tablespoon sambal hot chili & garlic sauce
2 tablespoons black vinegar
2 tablespoons soy sauce
1/2 teaspoon sesame oil
1 inch piece of fresh ginger (peeled and julienned)
Instructions
Gelatin
Preheat oven to 390°F.
Put ginger & scallions in chicken and place in heat-safe baking tray. Cover with foil and bake for 1 hour. Then, allow to cool with foil for 20-30 minutes.
Set chicken aside. Refrigerate liquid in sealed container for 4-5 hours or until gelatin-like.
Filling
In a large bowl, mix all of the Filling ingredients, including the gelatin. Mix gelatin until fully incorporated throughout.
Refrigerate.
Dough
In a bowl, mix hot water with flour. Then mix with cold water.
Knead until it forms a dough. Cover and let rest for 10 mins.
Knead until completely smooth.
Cover and let rest for 1 hour or until soft.
Dipping Sauce
In a bowl, mix all Dipping Sauce ingredients.
Set aside.

Assembling
Divide dough into 20 equally sized pieces.
Flatten one piece into a thin circle and dust with flour. (Keep the remaining pieces in a covered container to prevent drying out.)
Place a spoonful of filling in the circular wrapper.
Seal by pinching edges together in a spiral at the top (about 20x).
Repeat steps 2-4 for remaining dumplings.
Steaming
Place up to 10 dumplings 1 inch apart on parchment paper in steamer.
Add water in a pot and boil. Reduce heat and place steamer basket in water.
Steam 8-10 mins.
Serve in steamer with dipping sauce. Enjoy!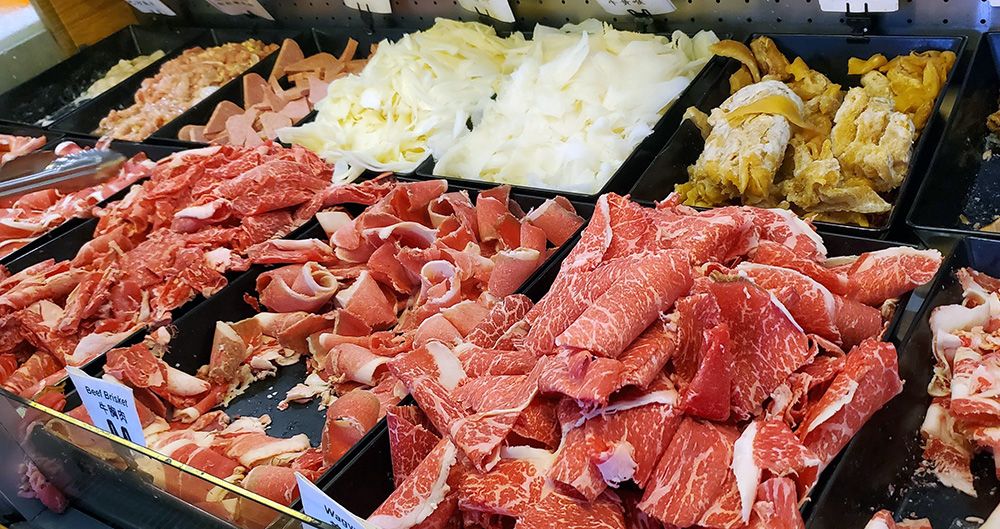 Malatang (a.k.a. ma la tang or mala tang) is a create-your-own Sichuan variation of traditional…