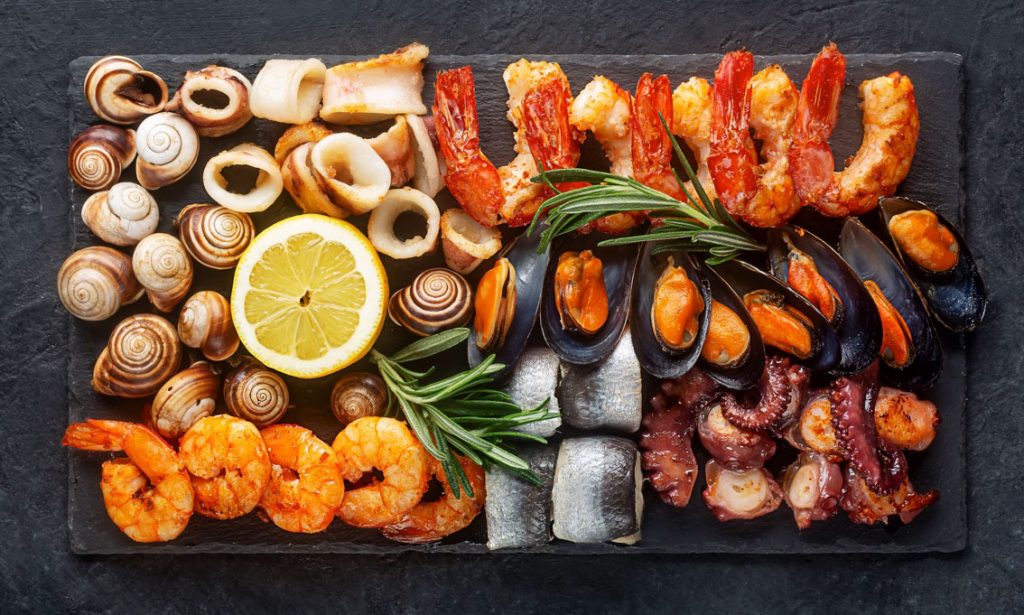 Hosting a seafood dinner party? Hosting any dinner party? Change things up with a seacuterie board!
What is a seacuterie board?
A seacuterie board is a food board (although not necessarily a charcuterie board in the strictest definition) that features seafood. This seafood party platter, which is also playfully called a "surf board" or a "shark cuterie board," is a great alternative that will delight all your guests, especially those who are pescatarians or don't particularly eat red meat.
What goes on a seacuterie board? How can I make it?
Looking for some easy seafood appetizer ideas to add to your surf board? Well, what you include depends on what kind of fresh seafood you can get your hands on. Remember, freshness is the #1 most important thing for a seafood charcuterie board. The last thing anyone wants is a fishy-smelling food board. So, the freshest fish or shellfish you can get for the day of your event is ideal.
It's up to you if you'd like to serve the seafood raw or cooked. Cooked seafood can be prepared a day or two in advance, but must be refrigerated and reheated as necessary. Raw seafood should be prepared just prior to serving and served on a chilled platter with ice (ideally food-safe dry ice packs to prevent leaking) and out of the sun as much as possible. The most important thing is to keep raw seafood cold and fresh!
If you need some specific seafood platter ideas, here is a list of different components you can include on your seafood board.
sliced fish: salmon, tuna, mackerel, etc.
shellfish: oysters, mussels, clams, scallops, crab legs, lobster tails, shrimp, etc.
prepared fish & seafood: crab cakes, salmon tartare, smoked salmon, grilled octopus, Oysters Rockefeller, seafood salad, tuna salad, etc.
sushi: nigiri, sashimi, maki, temaki, uramaki
caviar: Beluga, American osetra, Ossetra, Sterlet, etc.
cheeses: cheddar, cream cheese, blue cheese, feta, goat cheese, gruyère, parmesan, etc.
bread and crackers: dinner rolls, baguette slices, bagels, breadsticks, etc.
pickled fruits & veggies: capers, olives, pickles, sauerkraut, etc.
fresh herbs: basil, dill, chives, mint, parsley, etc.
chopped nuts: almonds, cashews, pecans, etc.
spreads & sauces: crab dip, cocktail sauce, melted butter, lemon juice, garlic aioli, salmon mousse, sour cream, tartar sauce, etc.
seasonings: Old Bay, Cajun seasoning, sea salt, pink Himalayan salt, black pepper, garlic pepper, lemon pepper, etc.
fresh citruses: sliced lemons, sliced limes, etc.
If you're looking for a simple customizable recipe to follow, here you go!
seacuterie board
a "charcuterie" board, but with seafood
Ingredients
Assorted Fresh Seafood (whatever you prefer):
Shrimp
Smoked Salmon
Oysters
Scallops
Crab legs
Mussels
Ceviche (if desired)
Dipping Sauces:
Cocktail sauce
Tartar sauce
Lemon aioli
Mignonette sauce (for oysters)
Remoulade sauce (for crab legs)
Accompaniments:
Sliced baguette or crackers
Melted butter
Lemon wedges
Fresh herbs (such as dill or parsley) for garnish
Fresh vegetables (e.g., cucumber slices, cherry tomatoes) for added variety and color
Seasonings (e.g. Old Bay, Cajun seasoning, Himalayan salt, sea salt, black pepper, etc.)
Instructions
Prepare the seafood by cook the shrimp in boiling water for 2-3 minutes until they turn pink, then drain and set aside.
Slice the smoked salmon into thin strips or bite-sized pieces.
Shuck the oysters and arrange them on the seacuterie board.
If using cooked mussels, crab legs, or scallops, chill them beforehand.
On a large serving board or platter, arrange the different seafood items in an appealing manner, leaving enough space for the dipping sauces and accompaniments.
Add the cooked shrimp, smoked salmon, oysters, and other seafood items of your choice, spacing them out to create an attractive presentation.
Place small bowls or ramekins on the board for each dipping sauce.
Pour cocktail sauce, tartar sauce, lemon aioli, mignonette sauce, and remoulade sauce into their respective bowls.
Add lemon wedges, sliced baguette, crackers, fresh herbs, and vegetables to fill any gaps on the board and provide variety and color.
Serve and enjoy!
Notes
If you decide to serve raw seafood, consider placing them over a layer of food-safe dry ice pods or on a cooling tray to keep them cold and fresh.
decor
Besides the seafood, adding decor will add additional life to your food board. It makes the theme of the sea much more obvious. Make sure you don't go overboard (pun intended) since a touch of table decor goes a long way.
Here are some sea-themed decor ideas to include.
colors, patterns and textures
You'll want to include colors of the ocean when possible for the full effect. These are some of the most commonly associated colors with the sea that you can incorporate in your decor and on your seafood board itself.
blue – represents the blue waters, of course
white – represents the foam of waves as well as white sand
turquoise – represents warm tropical waters
green – represents sea turtles, seaweed and ocean plants
Hungry for more charcuterie platters? Find out everything you must know about food boards here!
More food board posts
Just when you thought you'd seen it all with the butter board trend, here comes…