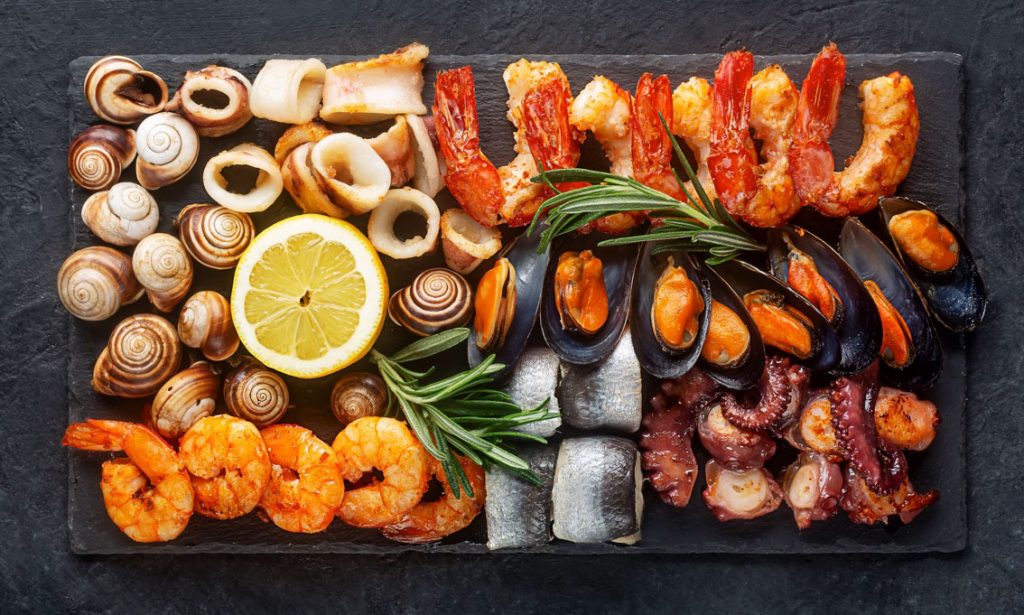 Hosting a seafood dinner party? Hosting any dinner party? Change things up with a seacuterie board!
What is a seacuterie board?
A seacuterie board is a food board (although not necessarily a charcuterie board in the strictest definition) that features seafood. This seafood party platter is a great alternative that will delight all your guests, especially those who are pescatarians or don't particularly eat red meat.
What goes on a seacuterie board?
Looking for some easy seafood appetizer ideas to add to your food board? Well, what you include depends on what kind of fresh seafood you can get your hands on. Remember, freshness is the #1 most important thing for a seafood charcuterie board. The last thing anyone wants is a fishy-smelling food board. So, the freshest fish or shellfish you can get for the day of your event is ideal.
It's up to you if you'd like to serve the seafood raw or cooked. Cooked seafood can be prepared a day or two in advance, but must be refrigerated and reheated as necessary. Raw seafood should be prepared just prior to serving and served on a chilled platter and out of the sun as much as possible.
If you need some specific seafood platter ideas, here is a list of different components you can include on your seafood board.
sliced fish: salmon, tuna, mackerel, etc.
shellfish: oysters, mussels, clams, scallops, crab legs, lobster tails, shrimp, etc.
prepared fish & seafood: crab cakes, salmon tartare, smoked salmon, grilled octopus, Oysters Rockefeller, seafood salad, tuna salad, etc.
sushi: nigiri, sashimi, maki, temaki, uramaki
caviar: Beluga, American osetra, Ossetra, Sterlet, etc.
cheeses: cheddar, cream cheese, blue cheese, feta, goat cheese, gruyère, parmesan, etc.
breads and crackers: dinner rolls, baguette slices, bagels, breadsticks, etc.
pickled fruits & veggies: capers, olives, pickles, sauerkraut, etc.
fresh herbs: basil, dill, chives, mint, parsley, etc.
chopped nuts: almonds, cashews, pecans, etc.
spreads & sauces: crab dip, cocktail sauce, lemon juice, garlic aioli, salmon mousse, sour cream, tartar sauce, etc.
decor
Besides the seafood, adding decor will add additional life to your food board. It makes the theme of the sea much more obvious. Make sure you don't go overboard (pun intended) since a touch of table decor goes a long way.
Here are some sea-themed decor ideas to include.
colors, patterns and textures
You'll want to include colors of the ocean when possible for the full effect. These are some of the most commonly associated colors with the sea that you can incorporate in your decor and on your seafood board itself.
blue – represents the blue waters, of course
white – represents the foam of waves as well as white sand
turquoise – represents warm tropical waters
green – represents sea turtles, seaweed and ocean plants
Hungry for more charcuterie platters? Find out everything you must know about food boards here!
Your dad is one of a kind. One of the best ways to show your…