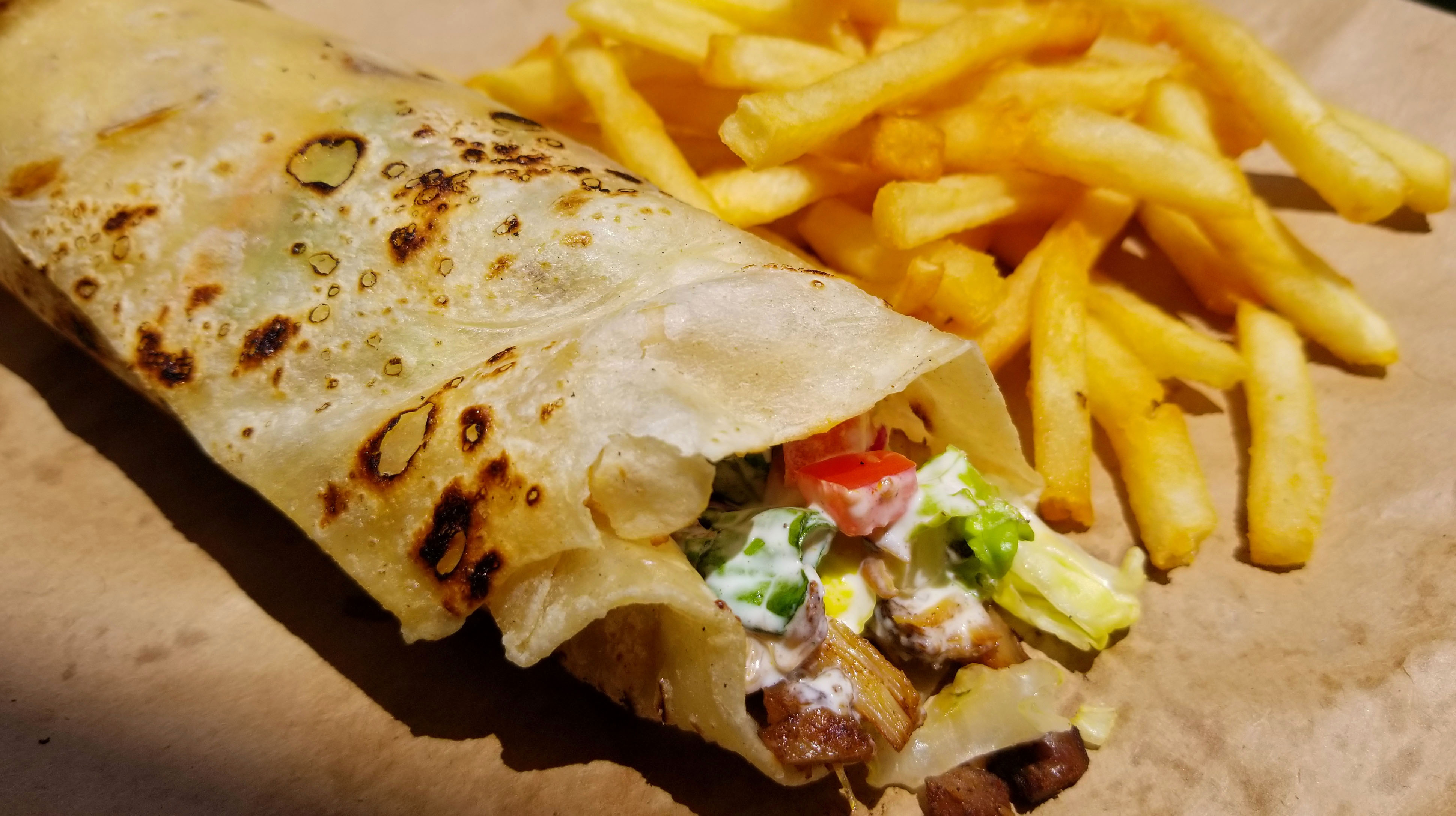 Where Can I Get it? | How Can I Make It?
What is shawarma?
Shawarma (sometimes spelled "shawerma") is meat prepared using a Middle Eastern process of grilling. Several pounds of seasoned meat are piled high onto a slowly rotating vertical spit and can be grilled for up to a full day.
The meat is shaved off of the spit with a knife or small saw and is served in a wrap, in a sandwich, or on a plate.
The meat used for shawarma includes: lamb, beef, chicken, turkey, veal, or a combination of these meats. It is usually accompanied by vegetables (lettuce, cucumber, tomato, onion, and french fries), dressing (tahini or hummus) and bread (pita or lavash).
This style of vertical meat grilling originated from the Turkish döner kebab in the 19th century. Other foods you may be familiar with that also evolved from the döner kebab include Greek gyros and Mexican tacos al pastor, both of which contain grilled meats turned on a spit.
In 2012, the Marvel film: The Avengers helped expand the popularity of shawarma. Tony Stark mentions wanting to try it during the film, then The Avengers are seen eating the wraps in the post-credits (scroll down to see the real-life location)…
"Have you ever tried shawarma? There's a shawarma joint about 2 blocks from here. I don't know what it is, but I want to try it."

– Tony Stark
Where can I get it?
You can find shawarma at many authentic Middle Eastern restaurants. These are some notable spots where you can eat like you've spent the day saving the world…
Detroit, MI (Dearborn):

Al-Ajami
Los Angeles, CA:

Elat Burger


(where the shawarma scene in "The Avengers" was filmed)
New York, NY:

Duzan
Looking for more places that serve shawarma? You can find a ton of them on Glutto right here.
How can I make it?
If you want to make shawarma properly, you'll need your own vertical broiler. Luckily, you don't have to buy a bulky industrial-sized one; a house-friendly counter-top rotisserie will do just fine. Follow this recipe for a relatively easy way to make homemade chicken shawarma.
Special Tools
Ingredients
2 pounds of sliced boneless chicken breasts and/or thighs
1 1/2 tablespoons shawarma spice blend
1/4 cup olive oil
1/4 cup white vinegar
1 medium onion (sliced)
4-5 cloves garlic (minced)
1 whole orange peel (sliced)
1 whole lemon peel (sliced)
2 tomato (1 whole – optional, 1 diced)
1 cucumber (sliced)
4-6 pieces of pita bread or lavash
1/4 cup tahini
Directions
First, combine these ingredients in a bowl: chicken, shawarma spice blend, onion, garlic, olive oil, vinegar, orange peel and lemon peel. Mix until the chicken is completely coated in the other ingredients evenly.
Place bowl (covered) in fridge for at least 2 hours (up to 12 hours).
Remove the bowl of marinated chicken from the fridge and stack the chicken on the spit/skewer of the rotisserie.
Top with a whole tomato (optional) and turn on the rotisserie to max heat. Grill until chicken is fully cooked through (times vary with machine).
Slice chicken from the spit and place in pita/lavash. Add cucumber, tomato and onion. Then, top with tahini. Enjoy!