What is Booza, Dondurma and Kaimaki?
Booza, dondurma and kaimaki all refer to Middle Eastern ice cream (a.k.a. Arabic ice cream or stretchy ice cream). They are all made with similar ingredients and are egg-free. Unlike most other types of ice cream, Middle Eastern ice cream has a unique texture and consistency that is undoubtedly elastic, dense and creamy.
This stretchy ice cream is one of the oldest types of ice cream in history as it was invented over 500 years ago in the Eastern Mediterranean. However, it wasn't until 2018 (when The Republic of Booza opened in New York) that it gained international visibility through viral social media videos.
What makes Middle Eastern ice cream so stretchy?
The stretchiness of this ice cream is attributed to two special ingredients: sahlab and mastic. Sahlab (a.k.a. salep or sahlep) is flour made from ground orchid root. Because sahlab can be difficult to obtain; corn starch, guar gum or konjac are sometimes used as substitutes. Mastic is a plant resin from the mastic tree and has a natural pine-like flavor.
The ingredients are mashed together inside a large mortar with a wooden pestle to create a gummy-like consistency.
Why make ice cream stretchy? Besides the fact that stretchy ice cream can be fun to serve and eat, it also helps keep the ice cream from melting immediately. This is very helpful in the Middle East, where temperatures can get uncomfortably hot.
Booza – Syrian ice cream
Booza is the traditional ice cream of Syria. Although the name makes it sound like it's infused with alcohol, it is completely alcohol-free. What separates this ice cream from other types of ice cream around the world is its distinct elastic texture and consistency; its creaminess makes it slightly chewy and taffy-like, yet still soft.
It has been marketed by booza vendors and media to be the "first ice cream in the world" having originated in the Levant during the mid-16th century. (However, the award for the first ice cream ever invented most likely goes to faloodeh which has been made in Iran since 400 BC.)
There is only one traditional flavor of booza called qashta (a.k.a. kashta or ashta). Qashta is a clotted cream made with rose water and orange blossoms. It is commonly served with nuts, honey and fruit. Booza is commonly rolled up and covered in pistachios, then cut into slices. However, many more flavors have been created over the centuries.
Bakdash, an ice cream shop in Damascus (the capital of Syria), is well known for its booza and attracts tourists from all over the world.
Dondurma – Turkish ice cream
Dondurma is traditional Turkish ice cream. The literal translation of dondurma is "freezing" and its ingredients typically include cream, mastic, salep and sugar. Because it is made in freezer drums that prevent air from building up inside, dondurma is slightly denser in texture than booza.
This Turkish ice cream is said to have originated in the city of Maraş around the 18th century and is actually known in Turkey as Maraş Dondurmasi.
Dondurma vendors often wear traditional Ottoman costumes and playfully tease customers by playing "keep away" with the dondurma on their wooden paddle.
Kaimaki – Greek ice cream
Kaimaki (a.k.a. kamaki dondurma or kaymak) is traditional Greek ice cream. The Greeks adopted dondurma from Turkey and made it their own when millions of Greeks were forced to escape Turkey around 1923.
Like booza and dondurma, kaimaki is stretchy and is made with salepi (sahlab) and masticha (mastic). Masticha is a Greek product made exclusively from the island of Chios, so it is often called "Chios Mastic" and sold in bags of small pieces called "tears."
It is often served alongside traditional Greek desserts like ekmek kataifi, galaktoboureko, karydopita or ravani.
Stretchy ice cream became an internet sensation in the US in 2018, but is only available in select cities.
Where can I find stretchy ice cream (booza, dondurma and kaimaki)?
You can find these variations of stretchy ice cream in their respective countries of Syria, Turkey and Greece. However, if you can't make it to those parts of the world anytime soon, you can check your local Syrian, Turkish and/or Greek restaurants if they serve these types of ice cream, or take a look at this map to see where you can try them near you.
Note: As closures can happen at any time, double-check whether or not these locations are still open.
How can I make it?
So you want to try your hand at making some stretchy ice cream? If you want a quick shortcut, you can simply add Well, in order to do it right, you'll need the right ingredients as well as the right equipment.
booza (stretchy ice cream)
Ingredients
4 cups whole milk
1 tbsp sahlab (or 1/4 cup cornstarch)
1/4 tsp mastic
1 cup sugar
1 tablespoon orange blossom water
nut toppings - e.g. pistachios, almonds, etc. (optional)
Instructions
In a pot, mix the sahlab, mastic and sugar.
While whisking the mix, add in the milk and cream to the pot.
Put the pot on medium heat. Continue to whisk until simmering (until mixture is thick).
Remove pot from heat. Mix the orange blossom water into the pot. Pour into bowl. Allow to cool to room temperature.
Whisk fully and freeze 30 minutes.
Whisk again, and freeze again for 30 minutes.
Mix and fold ice cream with a spatula.
Repeat steps 6 and 7 until the mixture reaches desired consistency.
Keep in airtight container in the freezer.
Scoop and top with nuts. Enjoy!
Notes
Feel free to replace the orange blossom water with flavorings of your choosing.
More dessert posts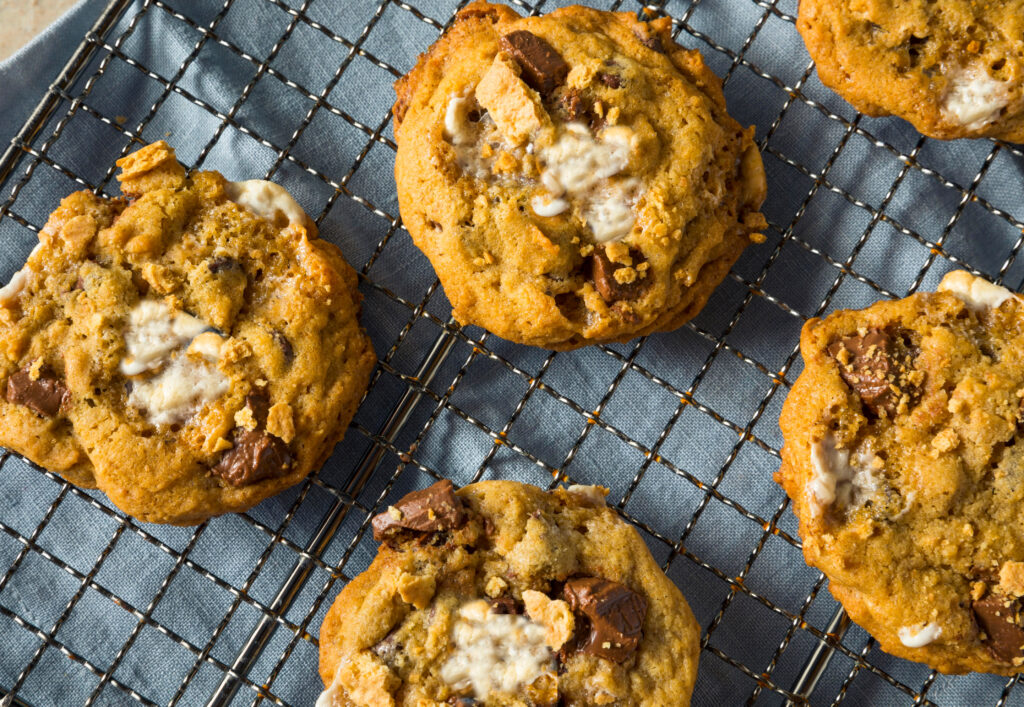 With comfort foods still going strong, s'mores cookies bring the essence of a crackling campfire…