This popular drink trend, using crazy and unusual drink containers, is constantly growing and evolving due to no shortage of business owners' creativity. It's led by a deluge of giant baby bottles, floating drink holders and other uncommon drink vessels.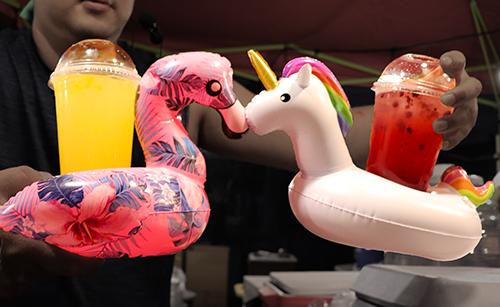 What kinds are there? | Where can I get them?
What is a crazy drink container?
Crazy drink containers are pretty much self-explanatory. They are drink containers or holders that are not your average cups and drink holders. Now, we're not just talking about coconuts at a tropical resort, or mason jars at your local hipster joint. These containers range from the cute & creative to the weird and bizarre.
Types of unusual beverage containers
Beakers give a fun science experiment feel to drinking. They can be used as glasses for drinks, cocktails and shots.
Buy beaker shot glasses on Amazon
Big plastic baby bottles have often been seen at many food-themed festivals for serving "value size" drinks. They are also a fun option for baby showers and baby birthday parties.
Buy pink baby bottles on Amazon
Buy blue baby bottles on Amazon
Bowls are a popular choice for island or water-themed events. They can be found in the form of fish bowls, punch bowls, tiki bowls and even spheres.
Buy fish bowls/punch bowls on Amazon
Buy ceramic tiki bowl on Amazon
Cookie shot glasses are a perfect way to enjoy cookies and milk. The cookie is baked in the shape of a shot glass and milk is poured inside.
Buy cookie shot glass tins on Amazon
Hand grenade glasses are a great drinking container for military, video game or action themed parties.
Buy hand grenade glasses on Amazon
Almost any rigid fresh fruit can be hollowed out and turned into a drink container. These include apples, oranges, watermelons, cantaloupes, honeydews, pineapples and (of course) coconuts. Even smaller fruits like lemons, limes, and strawberries can be hollowed out for shots. (Tip: make sure to prepare them just before being served so they don't brown or get soft.)
Ice shot glasses are a fun and useful container to keep your liquor ice cold while taking a shot. (Tip: for clear ice, boil the water before freezing it in the mold.)
Buy ice shot glass molds on Amazon
These floating drink holders are the ideal accessory for beach, pool and summer parties. Enjoy a dip in the water while keeping your drink close at hand.
Buy inflatable drink floaties on Amazon
Glass bears are a great drink container for animal themed events and school mascot themed parties (only if your school's mascot is a bear, of course).
Glowing jars are great drink containers for night parties, especially for a glow-in-the-dark theme.
Buy light-up ice cubes on Amazon
IV bags are a unique option for Halloween or medical themed events.
Light bulb glasses are a fun option for any party. Throw in some light up ice cubes for an added effect. 🙂
Buy light bulb glasses on Amazon
Large syringes are a really fun way to administer (jello) shots. Pair them with some IV bags for your next Halloween party.
Skull shot glasses are a great addition to any Halloween or Dia de Los Muertos event.
Buy skull shot glasses on Amazon
These go well with the hand grenade glasses mentioned earlier in the list.
Small sand buckets are great for beach themed parties. These are BPA-free so they're safe to drink out of. And after you've cleaned them out, the kids can play with them too.
Buy small sand buckets on Amazon
These test tube shot glasses would be a great addition for any Halloween party and pair perfectly with the beakers at the top of the list.
When did this trend of crazy drink containers start?
It's difficult to pinpoint the origin of crazy drink containers since people have been drinking out of all kinds of containers like shells, stones, or their own cupped hands since the beginning of human existence. Vikings have drunk out of animal horns since c. 500 BCE. Germans have been drinking from das boot since the early 19th century. Tiki mugs and volcano bowls have been in American tiki bars since the mid-20th century. Bennihana made drinking out of unique ceramic mugs like cats and Buddhas a dining ritual since the 1970s. Plus, many tourist cities known for imbibing, like Las Vegas and New Orleans, have had collectible drink containers in many of their bars for decades.
This most recent wave of creative containers, however, can be attributed to the widespread fervor of mason jars around 2014. These nostalgic yet versatile containers became ubiquitous, appearing in every eatery and bar appealing to the trendy crowd. Now, they are the trite grandfather of this latest wave of drink containers. It's worth noting that Dominique Ansel (the inventor of the cronut) also invented the first cookie shot in 2014, further bolstering the crazy container trend.
How did unusual drink containers become a craze?
Out of the ordinary drink containers like these have become popular mostly because they're "Instagrammable." These eye-catching vessels make people naturally want to share it on their social media. They are often sold by vendors at various outdoor festivals and events . Also, many places provide free refills with their reusable drink containers and holders so people are more willing to buy them (like that ol' giant theme park mug collecting dust in your cupboard).
Now, especially in the era of social distancing, these drink containers aren't limited to large events. People frequently look for unusual things to drink out of for their own events and parties to delight their guests. Also, they can still be found at many bars and eateries.
Where can I get unusual drink containers?
If you scroll through our list of unusual beverage containers above, you'll find links to buy each type of drink container online.
You can also find different types of crazy drink containers at annual fairs, night markets and large farmer's markets like NYC's and LA's Smorgasburg. There are certain trendy and themed eateries and bars that serve drinks in unique containers as well. Some places you'll want to check out include…
Los Angeles, CA:

LuckyBall Korean BBQ


—drink floaties (unicorns, flamingoes, etc.)—
Philadelphia, PA:

Mad Rex


—IV drip bags for drinks—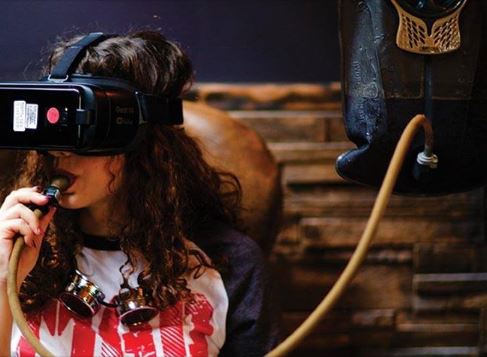 New York, NY:

Taiyaki


—unicorn drink floaties—
San Diego, CA (multiple locations):

Square Bar Cafe


—light bulb drinks—