Zeppole (singular: zeppola) are Italian doughnuts, or to put it more accurately: donut holes. They are normally about 4 inches in diameter but can range anywhere from the size of a golf ball to the size of a baseball.
This Neapolitan dessert is traditionally eaten by Italian Catholics on St. Joseph's Day (March 19).
What are zeppole made of?
These Italian donut holes are simply made of fried dough and covered in powdered (or confectioner's) sugar. Variations can include sweet fillings like jelly, custard, pastry cream, sweet honey butter, ricotta, chocolate or candied fruits.
Non-traditional eateries may provide different dipping sauces like chocolate, strawberry or vanilla for these fried dough balls.
How do you pronounce zeppole?
The proper Italian pronunciation is ZEH-po-leh. A common mispronunciation is ZEH-po-lee. It is traditionally said with a short "e" (like egg) not a long "e" (eagle), so you'll want to take note of this distinction.
What is the difference between zeppole and beignets?
Zeppole are Italian doughnuts and beignets are French doughnuts. Neither of these doughnuts have holes in them like traditional American doughnuts. Both are also commonly covered in powdered sugar.
So, how are they different? It primarily comes down to their shape. A zeppola is more spherical while a beignet looks more like a pillow.
Where can I get Italian donuts?
If you're looking to sink your teeth into a freshly made zeppola, you can find them at certain Italian restaurants and bakeries. View this map to find the closest locations to you that serve up these sweet doughnut balls. Ideally, you'll want to contact the specific location you plan to visit so you can find out what time they serve the freshest zeppole.
How can I make them?
If you're looking to enjoy the freshest zeppole from the comfort of your own home, your best option is to make it yourself. Follow this simple recipe to enjoy this Italian treat whenever you like!
zeppole
This is a simple method for making these traditional Italian donuts.
Ingredients
1 cup water
1/2 cup butter
2-3 tablespoons sugar (adjust to your preference of sweetness)
1/4 teaspoon salt
1 cup flour
4 eggs
oil (approx. 48 oz for frying)
powdered sugar (for dusting)
Instructions
In a medium pot, heat the water, butter, sugar and salt until butter is melted.
Pour flour into the mix and stir until a dough is formed.
Knead the dough with your hands (or a mixer) until cooled.
Gently add eggs to dough and continue to knead until fully incorporated.
In a large pot, heat enough oil to cover zeppole (about 2-3 inches deep) to 375° F.
Meanwhile, pull off pieces of the dough to shape into balls (about 2-3 inches in diameter).
With a long spoon, carefully place each zeppola in the hot oil and turn as necessary until golden brown.
Place on a paper towel-lined plate and dust will powdered sugar. Enjoy!
Looking for the top rolled ice cream machines? As you might assume, a quality rolled…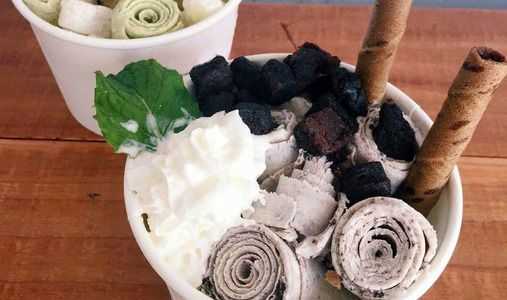 Where Can I Get Rolled Ice Cream? | How Can I Make It? What is…