Sfingi (a.k.a. sfinci or sfince) are the original doughnuts of Italy, specifically Sicily. They are deep-fried dough balls that are often sweetened with powdered sugar.
If you're a foodie, or somewhat familiar with Italian cuisine, you may be thinking, "But I thought Italian doughnuts are called zeppole!" Well, you'd be right. However, zeppole are not the only Italian doughnuts on the block.
How is sfingi pronounced?
These Sicilan doughnuts are pronounced as SFEEN-gee. It rhymes with "green tea."
The singlular version is called sfincia, pronounced SFEEN-cha.
Sfingi vs. Zeppole
Although they are generally less-known internationally, sfingi came before zeppole.
According to a third-generation Italian baker, traditional sfingi have a ricotta filling while zeppole are filled with custard. Sfincia di San Giuseppe is a variation covered with ricotta and candied fruit. Apparently, zeppole were made as an alternative for those who didn't care for the ricotta filling of sfingi.
When there is no filling or topping and simply sweetened balls of fried dough, it can be very difficult to tell them apart. Depending on where you are in Italy, their names are pretty much interchangeable. Sicilians tend to call these fried dough balls sfingi while Napoletani call them zeppole.
Both of these Italian doughnuts traditionally enjoyed in Italy on March 19, the day of St. Joseph.
Where can I get Sicilian doughnuts?
You may not find sfingi on the dessert menu of your local Italian restaurant, but you'll have a better chance of finding them at an authentic Italian bakery. View this map to find locations where you can pick up these Sicilian doughnuts.
How can I make them?
If you can't get these Sicilian doughnuts from your local Italian bakeshop, your next best bet is to make them at home. Follow this straightforward recipe to taste this piece of Italian heaven.
sfingi
Yield:
approximately 8-9 sfingi
Ingredients
10 ounces ricotta cheese
1 egg
3/4 teaspoon vanilla extract
1 1/4 teaspoon sugar
2 1/4 teaspoons baking powder
1/2 cup and 2 teaspoons all-purpose flour
4 cups vegetable oil (for frying)
2 tablespoons confectioners' sugar (for dusting)
Instructions
In a medium bowl, mix baking powder and 1/2 cup flour.
In large bowl, mix ricotta, egg, vanilla and sugar.
Slowly mix the powder mixture into the large bowl until fully incorporated and allow batter to rest 1 hour.
In a pot, heat oil on high heat for 2-3 minutes or until hot. (You know it's hot when you sprinkle water on the oil and it sizzles.)
Carefully place spoonfuls of batter in oil. (Don't let them touch.) Allow to fry until golden brown. Immediately remove with a slotted spoon and place on a paper towel-lined plate to absorb oil.
Place sfingi on a plate and dust with confectioner's sugar. Enjoy!
Looking for the top rolled ice cream machines? As you might assume, a quality rolled…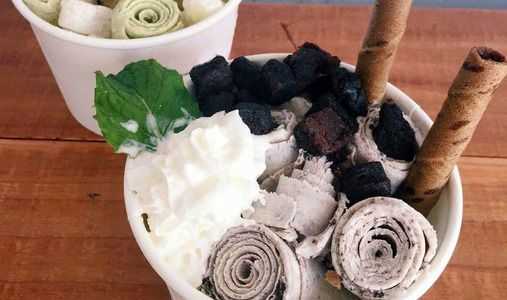 Where Can I Get Rolled Ice Cream? | How Can I Make It? What is…