Arancini is a traditional Italian rice croquette appetizer from the region of Sicily. These crispy golden balls are traditionally filled with rice and ragu (i.e. al ragù), which is a meat sauce. Other variations use different types of rice, meats, cheeses and vegetables.
These Sicilian snacks, which have become a staple street food in Italy, date back to the 10th century.
On December 13 every year (The Feast of Santa Lucia), those living in the Sicilian cities of Palermo, Siracusa and Trapani traditionally eat arancini since they abstain from breads and pasta on that day.
Variations
There are many different types of less traditional variations of arancini that can be made by substituting the main ingredients with alternatives. Here are some examples of the most commonly used ingredients and substitutes.
rice
risotto
short-grain white rice
sushi rice
meat
ground beef
ground turkey
prosciutto
cheese
mozzarella
pecorino
provolone
cheddar
vegetables
peas
capers
eggplant
tomatoes
zucchini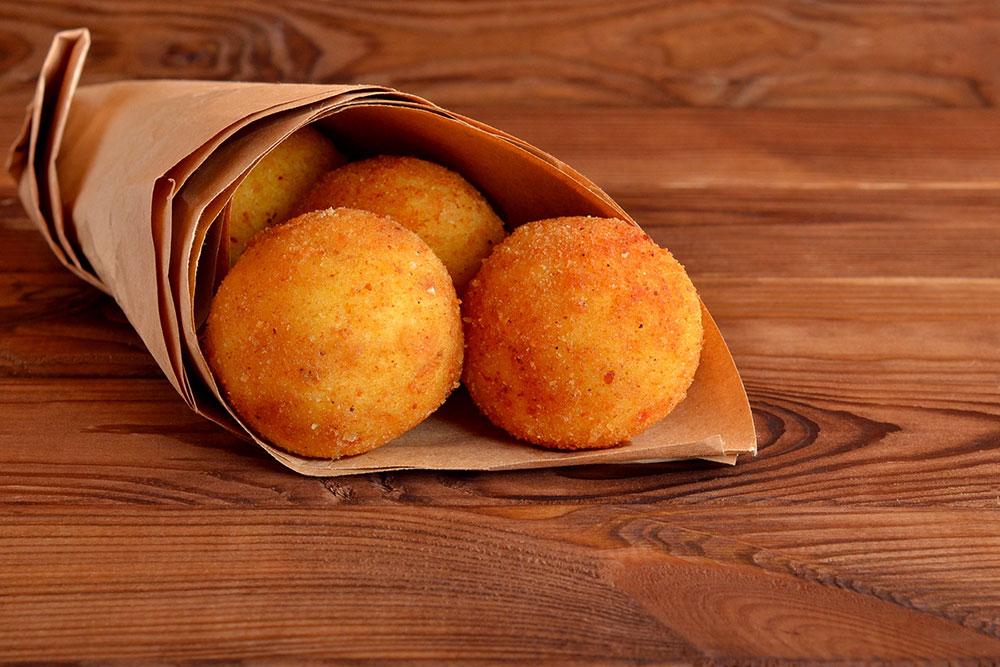 How do you pronounce arancini?
The correct pronunciation of this Sicilian snack is a-rran-CHEE-nee. The "rr" represents a slight rolling of the r.
The singular version is "arancino" pronounced a-rran-CHEE-noh. (e.g. I had one arancino left on my plate while my brother ate all of his arancini.)
What does "arancini" mean?
Arancini means "little orange" as it is the diminutive form of arancia which means "orange." It is named as such since it physically resembles a small orange. The singular form is arancino (arancina or arancinu in Sicilian).
Arancini vs. Supplì
Both these snacks are quite similar. They are both round, deep-fried snacks with a savory rice and tomato-based filling.
Arancini tend to be spherical or conical in shape. They are most commonly filled with rice, ragu, cheese (e.g. mozzarella, Parmigiano-Reggiano and pecorino) and vegetables (e.g. eggplant, mushrooms, peas and zucchini).
Supplì is the Roman version of the arancino. They are shaped more like an oblong or a thick pill, similar to mini corn dogs. Their filling is more simplified and typically filled only with rice, tomato sauce, and mozzarella. Due to the long string of mozzarella formed when breaking apart a supplì, it is also referred to as supplì al telefono (on the telephone).
These two appetizers can also be compared to the Brazilian coxinha, a protein-based alternative to the Italian rice croquettes.

What do you serve with arancini?
Since this is a rice and tomato sauce-based appetizer, it would go well with dips and side dishes that complement the crispy fried balls.
Dips
Side Dishes
bruschetta
soups: barley, minestroni, wedding soup
salads: Caesar, caprese, panzanella (Tuscan chopped salad), bead salad, pasta salad
Where can I get arancini?
You can find these crispy fried appetizers in many Italian restaurants. Use this map to find an eatery that serves this dish near you.
How can I make arancini?
Arancini can be quite simple to make. Simply follow the preparation in the recipe below and you'll be able to enjoy this Italian snack fresh from your kitchen!
Arancini
Ingredients
2 cups white rice (cooked and cooled down)
1/2 cup Parmesan (grated)
3 eggs
1 ball fresh mozzarella or 2 sticks of string cheese (cut into 1/2 inch cubes)
1 cup Italian breadcrumbs or panko (crushed for finer texture)
1 cup marinara (or desired sauce)
oil (to fry)
Instructions
Pour oil in large pot about 2 inches from the bottom. Place on medium heat until it is 350ºF.
In a bowl, mix one egg, parmesan and rice until even.
Roll mixture into balls about 1.5-2 inches in diameter.
Fill each ball with a mozzarella cube. Make sure the cube is tightly sealed in the mixture. Repeat until entire mixture is used.
Create an egg wash by whisking 2 eggs in a bowl.
Coat one arancino in the egg wash, then coat with breadcrumbs. Repeat for every arancino.
Fry 4-5 arancini until golden brown, then place on paper towel-covered plat to absorb oil.
Serve as is or with desired sauce. Enjoy!
Notes
You can either make your own white rice or pick some up fresh from any local Asian restaurant.