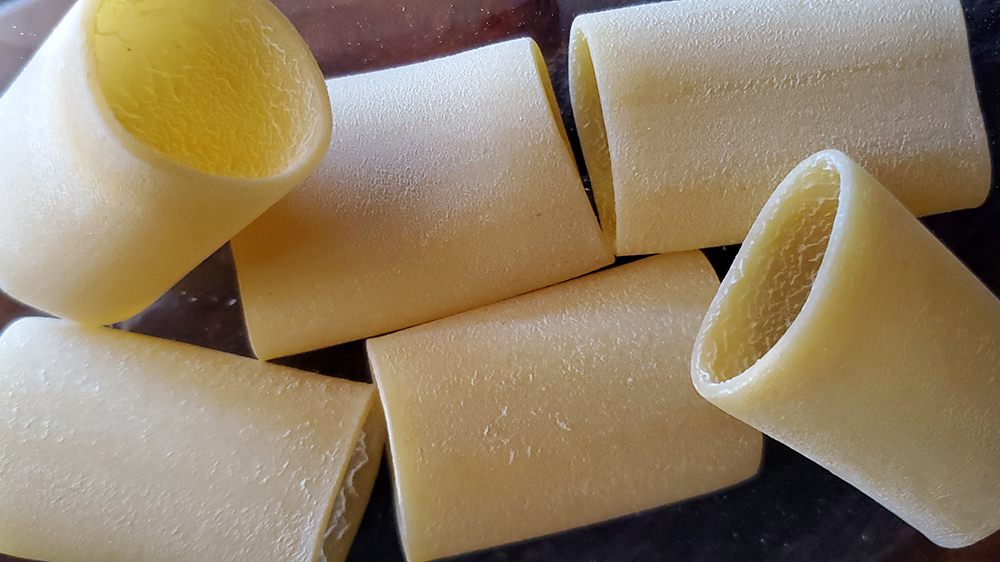 What is paccheri?
Paccheri is a type of pasta shaped like large tubes. Its diameter is usually around 1 inch, much larger than the common macaroni. These big pasta tubes can be made from either white or whole wheat flour. It is typically cooked by boiling it in water until it is soft or al dente, and then serving it with a sauce or filling.
It is thought to have gotten its name from the word pacchiare, which means to slap, beat or strike. This is because the dough for paccheri is traditionally made by hand, which requires a lot of pounding and kneading. A secondary explanation tells that Paccheri is believed to have originated in the Campania region of Italy. It was invented during the garlic ban in the 1600s. Several cloves of garlic would be concealed in each tube so they could be smuggled across the border into Prussia, present-day Austria.
What types of sauces does it go well with?
This large tubular pasta can be enjoyed with a variety of sauces, depending on your preference. However, popular options include a hearty marinara, meat sauce, Alfredo, and pesto. Additionally, you can also experiment with other sauces, such as Bolognese or even a simple olive oil and garlic mixture. No matter which sauce you choose, paccheri is sure to be a delicious and satisfying dish.
Where can I buy paccheri?
This pasta shape is sold by several large supermarket chains including Albertsons, Target and Walmart. However, not all locations may carry it. If your local supermarket doesn't carry it, you will have to visit your local Italian grocer or shop online. Here are several online retailers that offer paccheri.
How can I make paccheri?
Paccheri only requires a few basic ingredients. You can make it at home by following this simple recipe.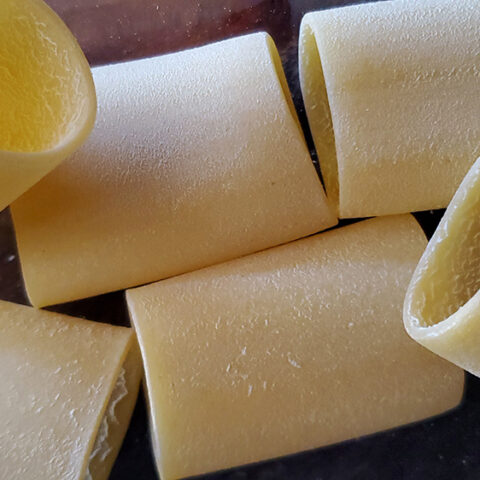 Paccheri Pasta
A recipe for handmade paccheri, a type of Italian pasta shaped into large tubes that hold fillings and sauces well.
Ingredients
250 g 00 flour
50 g durum semolina flour
1 tsp olive oil extra virgin
3 eggs
3 egg yolks
1/2 tsp salt
Instructions
On a clean countertop or surface, combine 00 and semolina flour by hand and shape into a mound with an indentation or "well" at the top.
Place egg yolks and olive oil in the well. Gently mix with hands until all ingredients are evenly incorporated into a dough.

Knead for 8-12 minutes. (If too sticky, add a bit of flour until dough is easy to knead.)

Form into a sphere and place in a large sandwich bag or plastic wrap. Allow to rest at room temperature for half an hour.

If using a paccheri maker, divide into pieces small enough to feed through maker. As the tube of paccheri is squeezed out, cut to desired length with a knife.

If using a pasta dowel/narrow rolling pin, flatten evenly into a sheet with rolling pin and cut into small rectangles just long enough to wrap around pasta dowel. Seal edges with water and remove from dowel.

Stand each noodle up on tray/baking sheet.

Chill in refrigerator at least half an hour to dehydrate and create an al dente texture.

Cook by boiling in water for 7-10 minutes, or until desired level of al dente is reached. Add your favorite sauce and cheese. Enjoy!
Recommended Products
Glutto earns a tiny commission from qualifying Amazon purchases.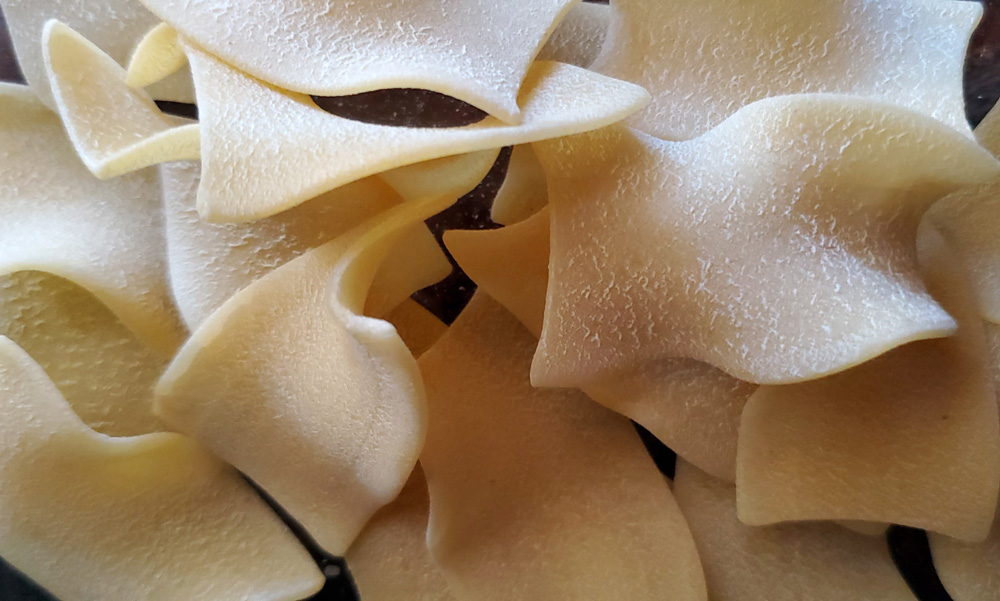 What is taccone pasta? Taccone (a.k.a. tacconi) is a unique type of pasta that is…