Arrosticini (singular: arrosticino) is a traditional Italian barbecue made of lamb or sheep's meat cooked on a skewer. It hails from the region of Abruzzo, east of Rome.
Abruzzese cuisine often includes sheep products with arrosticini being the most popular.
What are some other types of Italian BBQ?
Although Italy is primarily known for pastas and pizzas, it does have some incredible barbecue known as grigliata.
A popular barbecue platter is grigliata mista di carne (mixed grilled meats). It is simply an assortment of marinated beef, chicken, hen, quail, lamb, pork, veal or other available cuts of meat that are grilled until cooked and tender.
Red meat is usually rubbed with a mix of rosemary, garlic, salt and pepper. High-quality red meat is only enhanced with extra virgin olive oil and salt to allow the natural flavors to shine.
Poultry uses the same seasoning as red meat but often includes lemon juice and red pepper flakes for a kick.
Italian seafood barbecue (known as grigliata mista di pesce or frutti di mare alla griglia) tends to be flavored with lemon juice as well, along with a mix of olive oil, garlic and parsley.
Italian vegetable barbecue (known as verdure grigliate) is usually flavored with olive oil, garlic, rosemary and lemon.
What is arrosticini eaten with?
Arrosticini are traditionally eaten with bread dipped in extra virgin olive oil. Additionally, it is commonly paired with an Italian red wine called Montepulciano d'Abruzzo.
Where can I get arrosticini?
These Italian barbecued skewers are relatively uncommon outside of Italy. However, there are a handful of Italian restaurants and eateries that do serve them. Find out where they are located on this map.
How can I make arrosticini?
Although many feel intimidated to make this Italian barbecue because it is relatively unknown to non-Italians, it is actually quite easy to make. As always, the best ingredients will make for the best dishes. So, pick up some fresh lamb at your local butcher shop as well as some fresh rosemary and you'll be well on your way to enjoying some incredible arrosticini!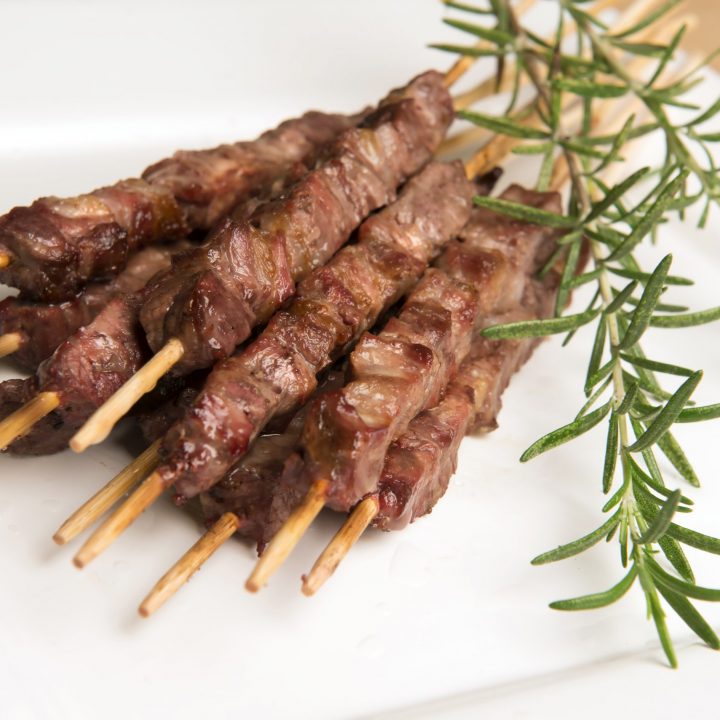 arrosticini
Ingredients
2 pounds lamb (cut into 3/4 in cubes; more fat=more flavor)
1 branch fresh rosemary
sea salt & ground black pepper (to season)
extra virgin olive oil
Instructions
In a shallow dish, soak wooden skewers in water for 30 mins (to prevent burning).
Coat lamb cubes with olive oil using rosemary as a brush. Then season with salt and pepper to taste.
Spear about 6 lamb cubes onto each skewer so they fit tightly against each other.
Place skewers on a hot grill (high heat) for 2-3 mins on each side or until golden brown.
Enjoy!
Recommended Products
Glutto earns a tiny commission from qualifying Amazon purchases.
Looking for the top rolled ice cream machines? As you might assume, a quality rolled…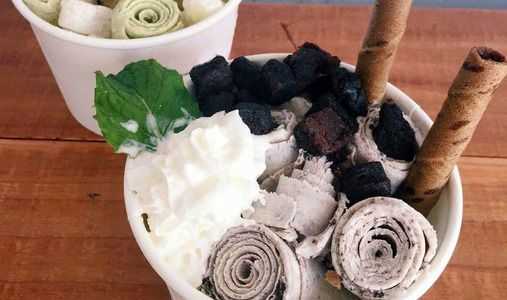 Where Can I Get Rolled Ice Cream? | How Can I Make It? What is…