Love meat and potatoes, but tired of the same steak and mashed potatoes? Enter carne asada fries.
This Mexican-inspired dish consists of a plate of fries topped with grilled seasoned beef (translated to Spanish as "carne asada") and traditional Mexican fixings including pico de gallo/salsa fresca, crema (a less sour version of sour cream), Mexican cheese and guacamole. Think of it as loaded Mexican fries.
Are carne asada fries Mexican?
Carne asada fries are technically Americanized Mexican food. In other words, they are not authentically from Mexico.
Lolita's in San Diego, California claims to have invented the dish in the 1990s from Lolita's family recipes.
(Fun fact: Lolita is the nickname of Dolores, the daughter of Roberto, the namesake of the San Diego-based regional chain Roberto's Taco Shop.)
That being said, there are some Mexican dishes that do combine meat with potatoes like picadillo, but they are a far cry from the Mexican-inspired fries dish.
What cheese do you use?
Carne asada fries are topped with a Mexican cheese blend (usually shredded cheddar, Monterey, queso quesadilla and asadero/oaxaca cheese). Other Mexican cheeses like cotija and queso fresco are suggested in some recipes.
Where can I get carne asada fries?
This beefy fry dish can be found in most taco shops, especially in Southern California. It's a staple "Mexican" food item in San Diego and Los Angeles.
How can I make carne asada fries?
This is a relatively easy dish to make. In the simplest terms, you're just heating meat and fries (until cooked), then tossing them together with a bunch of toppings. 😉
The most important things to keep in mind are to cook the potatoes and meat for the right amount of time so they don't get over/undercooked and to use fresh ingredients for the best flavor. Get those right and you're well on your way to enjoying this Mexican fusion dish!
Carne Asada Fries
An easy version of the Mexican-inspired french fry dish.
Ingredients
1 lb carne asada
1 pack frozen fries (your favorite brand)
1-2 tablespoons crema (or sour cream)
1-2 tablespoons guacamole
1 cup Mexican cheese blend
Instructions
Preheat oven and bake fries according to instructions.
Lightly oil skillet and heat on medium-high.
Place carne asada on hot skillet and cook 6-8 minutes per side or until internal temperature reaches 160°F. Then, immediately remove from heat and allow to rest at least 5 minutes.
Slice carne asada into 1/2 inch thick strips and place over baked fries.
Top with cheese, crema, guacamole and pico de gallo. Enjoy!
Recommended Products
Glutto earns a tiny commission from qualifying Amazon purchases.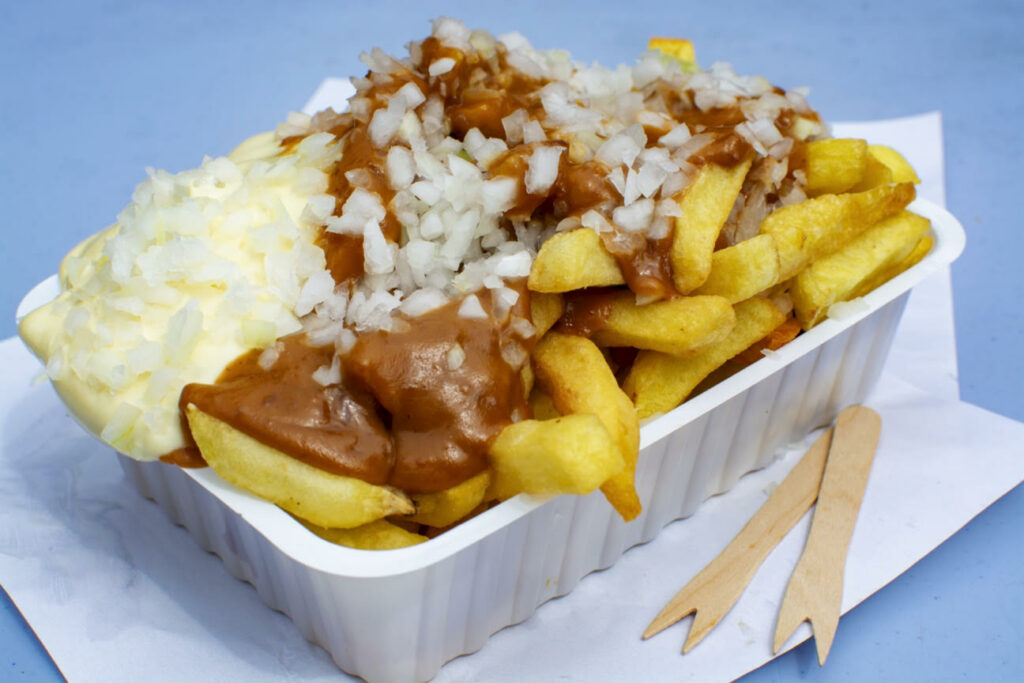 Patatje oorlog (a.k.a. friet oorlog, war fries or war chips) are an Indo-Dutch street food…