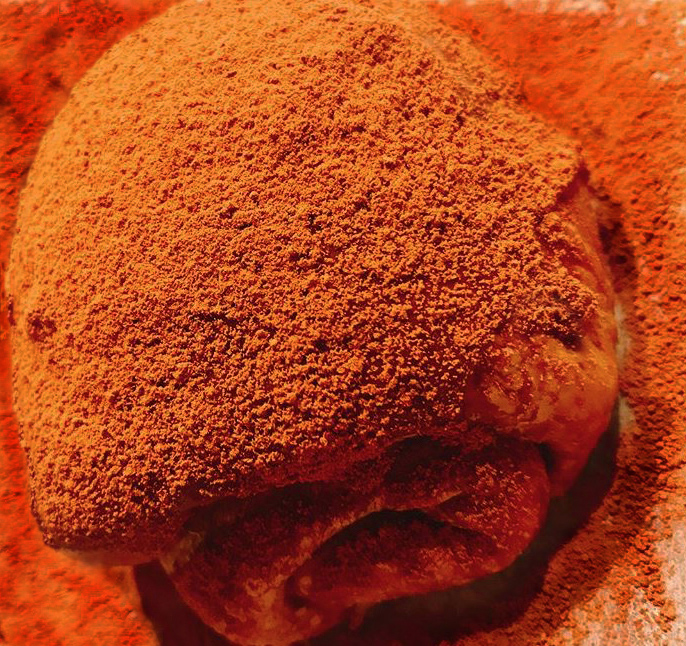 Where Can I Get it? | How Can I Make It?
What is dirty bread?
Dirty bread is a chocolate cream-filled croissant, coated in chocolate ganache and generously covered in cocoa powder. It's mass appeal is that it inevitably gets your face "dirty" when you eat it.
This food craze started in China where it is known as zang zang bao (translation: "dirty dirty bread"). It was inspired by Japanese chocolate croissants and introduced to the public in 2017. The chocolate bread became a sensation going viral on social media and quickly spreading internationally across Singapore, Taiwan, Malaysia, Kuala Lumpur, New Zealand and other countries.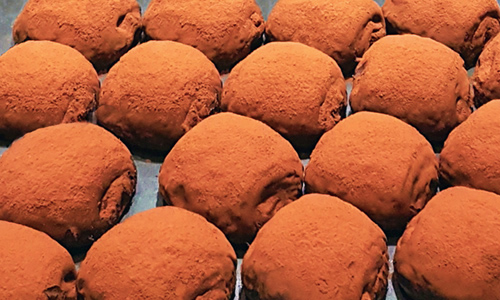 Other names for this chocolate bread include: dirty bun, dirty cocoa bread, mud bun, muddy bun, messy bun, messy bread and messy chocolate.
video: making dirty bread
Although this bread has become famous for using excessive amounts of chocolate to mimic dirt, this bread isn't just for chocoholics. Besides chocolate, other common flavors include matcha green tea, powdered sugar (or white chocolate, and strawberry.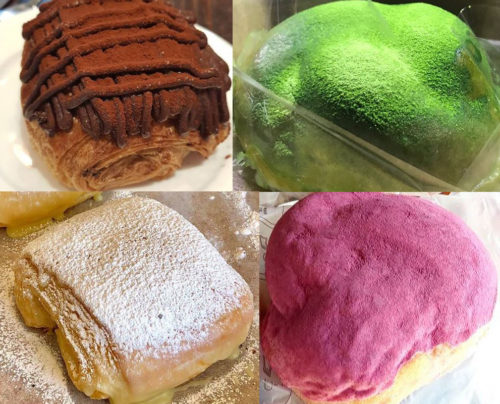 Where can I get it?
If you want to get your hands (and face) dirty with this messy bread, your best bet is to travel to one of the international locations that currently serve it since US locations are scarce. However, it is presumed that bakeries and dessert shops in other countries will want to hop on this messy food trend asap.So, if you're not lucky enough to live in the aforementioned countries or near the bakery locations below, you can patiently wait for this "filthy" food trend to make its way over to you. But if you can't bear to wait another second, scroll down to the bottom to find out exactly how to make these muddy buns yourself.
San Francisco Bay Area, CA (Dublin & multiple other locations):


Kee Wah Bakery
Alternative locations
These places don't necessarily serve dirty bread, but they do serve some foods & drinks you can get now that could provide you with a similar fun, messy experience you've been looking for…
Chicago, IL: Cocoa + Co.
—drinking chocolates (hot chocolate covered in cocoa powder)—
New Orleans, LA: 

Cafe du Monde


—

beignets

 (French doughnuts covered in powdered sugar)—
Los Angeles, CA: 

Little Fluffy Head Cafe


—dirty mess milk tea (milk tea covered in chocolate crumbs)—
San Diego, CA (locations nationwide): 

85°C Bakery


— chocolate cookie bread (chocolate bread covered in powdered Oreos)—
Looking for more places that serve dirty bread? We'll provide an updated list of locations on Glutto right here.
How can I make it?
Not sure if dirty bread will ever make it to your city? Here's a super quick and easy way to make it yourself and finally get your hands on these dirty buns.
Special Tools
Ingredients
Directions
First, fill the food syringe with chocolate mousse.
Inject the mousse into one end of each of the croissants.
Brush a thin layer of chocolate ganache or chocolate syrup on top of each croissant (or all over, if you want to go crazy).
In a bowl, generously cover the croissants in cocoa powder. Make sure all the ganache/syrup is well covered.
Add an extra drizzle of chocolate syrup on top (optional).
Enjoy and get dirty!