This treat is not the same forbidden dough you used to lick out of your parents' mixing bowl, fearing the lecture on the dangers of raw ingredients. In other words, "this ain't yo mama's cookie dough."  Instead, it is a safe-to-eat version specifically made to be eaten raw while avoiding the dangers of raw eggs and flour.  
What is edible raw cookie dough?
Edible raw cookie dough is a far cry from the traditional cookie dough we once knew. It's crafted meticulously to ensure that you can indulge without fretting over the risks associated with raw eggs and flour. How, you ask? Well, some genius minds use pasteurized eggs, ensuring that they're safe to consume. Meanwhile, others have decided to walk the vegan path, eliminating eggs and dairy entirely. It's the cookie dough evolution we didn't know we needed.
The Science Behind Safe Consumption
Ever hesitated before sneaking a spoonful of raw cookie dough? It's often because our parents didn't think raw eggs were safe to eat, which is true. However, both raw eggs and uncooked flour could contain some uninvited bacterial guests.
Pasteurized eggs have undergone a heat process that kills potential pathogens, making them safe for raw consumption.
Meanwhile, untreated flour can be a hiding place for E. coli. It's not the flour itself but the way it's processed. Flour comes from grinding wheat. So, if the wheat became exposed to bacteria in the field or at the factory, it might be unsafe to eat. To get rid of any harmful bacteria, a complete heat treatment is required.
Edible Cookie Dough Variations
Beyond the classic chocolate chip or oatmeal raisin, the world of edible cookie dough has seen a plethora of innovative flavors and applications. A variety of mix-ins like matcha, caramel swirls, and even exotic fruits can completely change the flavor profile of the cookie dough. Also, it can be added to other desserts like popsicles, truffles or cakes.
Now, if you think that's the peak of cookie dough innovation, we introduce the cookie dough sandwich. Picture a scoop of raw cookie dough, with its rich, creamy texture, nestled between two perfectly baked cookies. It's a harmonious blend of textures and flavors – the soft, raw center complemented by the crunch of the baked cookies.
Where can I get it?
While it might seem like a new-fangled trend, the truth is, safe-to-eat raw cookie dough has been tickling palates for decades. However, its journey to mainstream adoration is relatively recent. Today, this 100% edible raw dessert can be found gracing the menus of numerous establishments. The popularity surge means that you're within arms reach of savoring this delicacy. And if you're scratching your head, wondering where you can indulge, fear not. We've got a curated list for you…
Miami, FL:

Dough
New York, NY:

DŌ
Looking for more places that serve cookie dough that you can safely eat? You can find them on Glutto right here.
How can I make edible raw cookie dough?
Making cookie dough that is safe to eat is probably one of the easiest desserts you can make since you're primarily mixing the ingredients together while completely eliminating the baking process. Follow this recipe, which you can save on Glutto Eats here.
The most important things to keep in mind are 1) making sure the flour is properly heated so it is safe for consumption and 2) mixing all the ingredients in the proper order so you can achieve the best doughy texture.
edible raw cookie dough
Ingredients
1/4 cup brown sugar (tightly packed)
5 tablespoons flour (microwaved 1 min – mix every 15 seconds, or until 160°F)
2 tablespoons butter (room temperature)
2 tablespoons chocolate chips (white, milk or dark)
1 tablespoon milk (whatever you prefer—cow's milk, almond, soy, etc.)
1/4 teaspoon vanilla extract
2 pinches salt
Instructions
In a large bowl mix the sugar, butter, vanilla and salt with the mixer (or by hand).
Mix in the milk, then slowly mix in the heated flour to create the texture of cookie dough.
Add the chocolate chips until evenly mixed. Enjoy!
Recommended Products
Glutto earns a tiny commission from qualifying Amazon purchases.
The edible raw cookie dough trend underscores the culinary world's ability to reinvent and reimagine. What was once a sneaky treat, frowned upon for its potential health risks, has been transformed into a celebrated dessert, enjoyed by many across the globe. Its rise in popularity not only speaks to its undeniable appeal but also to the innovative spirit of chefs and food enthusiasts alike. Whether you're savoring a scoop at a trendy parlor or whipping up a batch in your kitchen, one thing's for certain: raw cookie dough is here to stay.
More desserts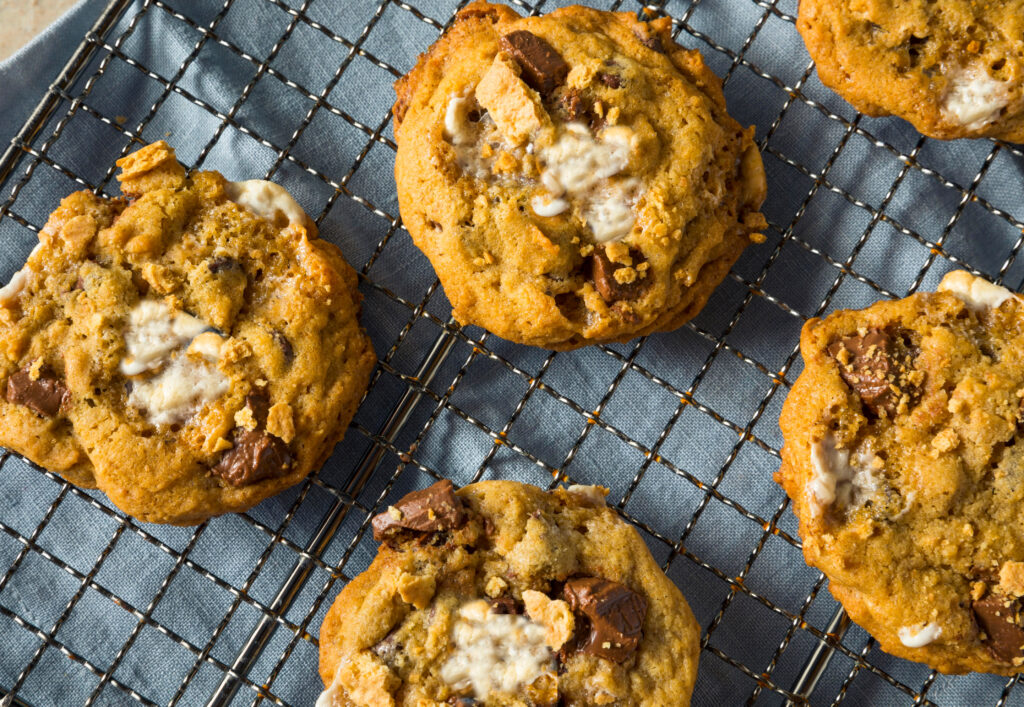 With comfort foods still going strong, s'mores cookies bring the essence of a crackling campfire…