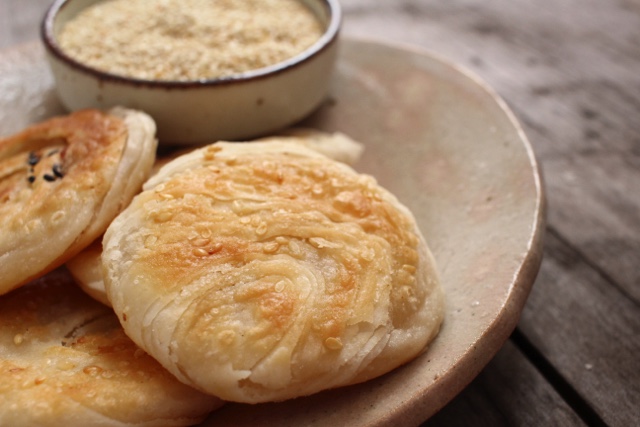 What is hotteok?
Hotteok (a.k.a. hoeddeok or hodduk) is a stuffed pancake that is popular South Korean street food, It's viewed as a comfort food or even soul food in Korean culture.
The name "hotteok" is derived from the Korean words "ho" which means "pancake" and "tteok" which means "rice cake.". Traditionally, this Korean pancake is simply made by filling the soft, chewy dough with brown sugar, cinnamon, and chopped nuts.
What makes this Korean snack so special is its versatility. While the classic brown sugar and cinnamon filling is a classic, there are countless variations to suit different tastes. Fillings can range from savory cheese and ham to sweet fillings like chocolate and ice cream.
It is most commonly enjoyed in colder months as a warm, comforting food; but can be enjoyed any time of the year. The relatively high-calorie content is also assumed to be a strong contributing factor to its heightened popularity during the winter.
Origin
In the late 1800s, this sweet pancake was brought over by the Chinese who immigrated to Korea. It was based on bing, a popular Chinese bread or pancake.
During the Korean War in the 1950s, food shortages were common, and hotteok became a staple snack that was easy to make with limited ingredients. In the decades that followed, it continued to be a popular street food, especially in cities like Seoul.
How did it become popular?
Today, hotteok is enjoyed in food stalls and Korean eateries all over the world, thanks in part to the growing popularity of Korean pop culture and cuisine.
In the late 2010s and early 2020s, the world-renown K-pop boyband, BTS, had shared photos of themselves eating hotteok on social media leading their massive dedicated fanbase to pine for this snack.
Types of hotteok
Although this Korean street food is essentially a sweet, filled pancake, there are many variations. Here are some of the different variations of hotteok that you might come across:
traditional: filled with a mixture of brown sugar, cinnamon, and chopped peanuts
savory: filled with ingredients like cheese, kimchi, or vegetables
ice cream: features a scoop of ice cream in the center of the pancake
Nutella: a delicious combination of chocolate and hazelnuts
anko (sweet azuiki paste): this sweet azuki (red bean) paste is a popular filling in many Korean desserts
green tea: incorporates green tea powder into the batter and often features a sweet red bean filling
mochi: features a chewy mochi filling in addition to the sweet syrup filling
Where can I get hotteok?
You can find hotteok at many Korean markets and select Korean restaurants that serve Korean street food. Here is an interactive map where you can find this snack near you.
How can I make it?
If you can't make it to South Korea or any places that serve hotteok near you, the best way to try it is to make it yourself. Simply follow this straightforward recipe and you'll be able to enjoy this Korean snack in no time!
hotteok
Korean pancakes with a sweet filling
Ingredients
2 cups all-purpose flour
1/2 tsp salt
2 tbsp granulated sugar
1 tbsp active dry yeast
1/4 cup lukewarm water
3/4 cup milk
1/4 cup vegetable oil
1/2 cup brown sugar
1 tsp ground cinnamon
1/4 cup chopped nuts (walnuts or peanuts work well)
Instructions
In a large bowl, combine the flour, salt and granulated sugar.
In a separate small bowl, dissolve the yeast in the lukewarm water. Let it sit for 5 minutes.
Add the yeast mixture, milk, and vegetable oil to the dry ingredients and mix until a dough forms.
Knead the dough on a floured surface for about 5 minutes, or until smooth and elastic.
Place the dough in a greased bowl and cover with a cloth. Let it rise in a warm place for 1 hour, or until it doubles in size.
While the dough is rising, mix together the brown sugar, cinnamon, and chopped nuts in a separate bowl.
Once the dough has risen, divide it into 10-12 equal-sized pieces.
Flatten each piece of dough with your hands or hotteok press and place a spoonful of the brown sugar mixture in the center.
Fold the edges of the dough over the filling and pinch them together to seal.
Heat a non-stick skillet over medium heat and add a small amount of oil.
Place a few of the filled dough balls into the skillet and cook for 2-3 minutes on each side, or until golden brown and crispy.
Repeat with the remaining dough balls.
Serve hot and enjoy!
Notes
You can experiment with different fillings for your hotteok, such as chocolate chips, sweetened cream cheese, or even diced fresh/canned fruit. Alternatively, you can get a pre-made mix (see "Recommended Products") for an even faster alternative to making these Korean pancakes. Be creative and have fun!
Recommended Products
Glutto earns a tiny commission from qualifying Amazon purchases.
More Korean food posts
Collagen jelly drinks (a.k.a. collagen gel pouches) and collagen jelly sticks (a.k.a. collagen gel packets)…