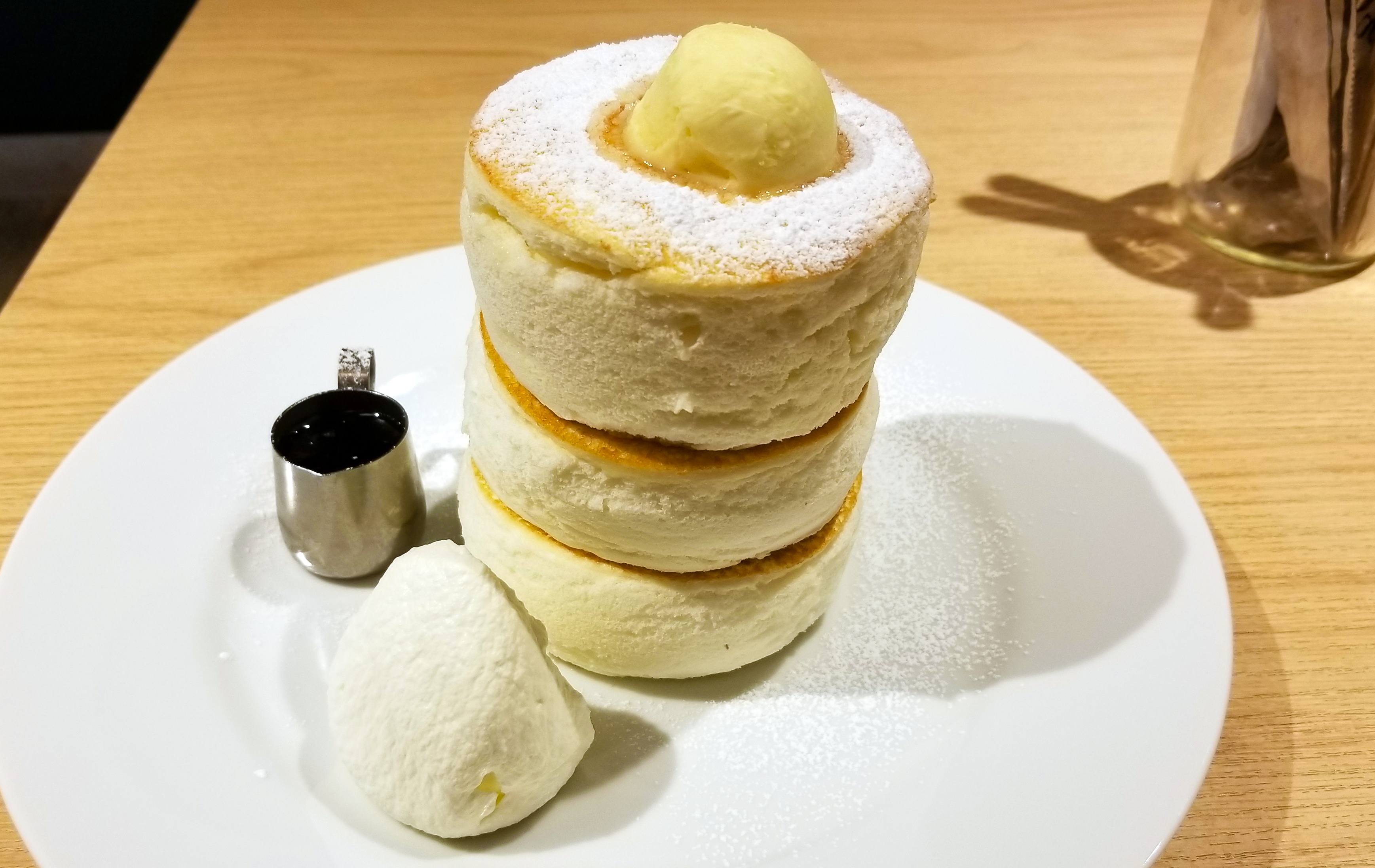 Where Can I Get it? | How Can I Make It?
What are Japanese soufflé pancakes?
Japanese soufflé pancakes (a.k.a. fluffy Japanese pancakes, fluffy pancakes, Japanese pancakes, Japanese style pancakes, or soufflé pancakes) are a variation of pancakes that are extremely soft and fluffy…sort of like a cross between a super puffy marshmallow (after it has been heated and expands) and an airy angel food cake. This cloud-like texture is known as "fuwa fuwa" in Japanese. Given their light structure and low density, Japanese pancakes are naturally—and amusingly—bouncy, jiggly, wobbly, wiggly…
These airy, yet blubbery breakfast pancakes were popularized by Gram Cafe & Pancake which opened their first location in Osaka in April 2014. Now they are available in Gram Cafe & Pancake's 50+ restaurants and other establishments all over Japan, Asia and Europe.
Japanese soufflé pancakes are thicker and smaller in diameter than traditional American and European pancakes, or Japanese rice cooker hotcakes.
Also, they are not to be confused with savory Japanese pancakes known as okonomiyaki, azuki red bean paste-filled pancakes which are called dorayaki, or azuki red bean paste-filled fish-shaped pancakes called taiyaki.

Where can I get it?
Naturally, the best place to get fluffy Japanese soufflé pancakes is in Japan. Some of the most popular places include: Gram Cafe & Pancakes, Mee's Pancake, House Made Pancake and Flippers. If you happen to be in Japan, make sure to arrive early because some of these places only sell these soufflé pancakes in limited amounts.
As of 2018, a few locations in the US have started creating their own renditions of these incredibly light and spongy pancakes. The fast-growing Japanese chain, Flippers, actually opened its first US location in New York in 2019. Here are other locations where you can taste these unique Japanese style pancakes for yourself…
Los Angeles, CA (Artesia):

Cafe D.er
Looking for more places that serve super soft and fluffy Japanese soufflé pancakes? Although they can be hard to come by, you can find the latest list of places on Glutto right here.
How can I make it?
If there's no way you can make it out to any of the locations that serve Japanese style pancakes, or you just want to try your hand at making them, here's a recipe you can try it at home. This is the absolute easiest way to make these airy pancakes and you can save this recipe on Glutto here.
Special Tools
Ingredients
Directions
First, combine the egg, milk and vanilla extract in a bowl. Whisk until an even consistency is reached.
In a separate bowl, slowly pour in the souffle pancake mix (so it's not tightly packed). Then slowly cover with the egg and milk mix. Carefully combine the ingredients with a spoon and add the mayonnaise. Continue to mix gently until all ingredients are fully incorporated into a batter.
Spray the inside of the rings and the frying pan. Place the pan on low heat. Arrange the rings next to each other in the center of the pan.
Pour even amounts of the batter inside the rings and let it cook for 10-15 minutes (until golden brown on the bottom).
Then flip the rings with a spatula and allow to cook 10 more mins (or until golden brown on the other side).
Use a toothpick to make sure the batter is cooked through the pancake. If the toothpick comes out dry, it's cooked. If it is wet with batter, place the pancakes back over low heat until cooked through.
Serve with butter, syrup and whipped cream. Enjoy!