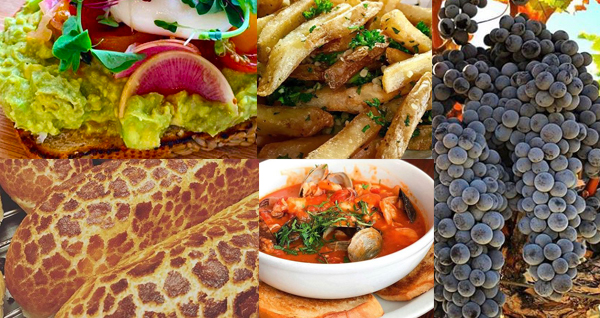 What are Northern California and Bay Area regional foods?
Since California is so large and diverse, we had to split it into two parts.  Here we focus on Northern California's (a.k.a. NorCal's) Bay Area regional foods. 
The most populated region in Northern California, by far, is the San Francisco Bay Area (the greater area surrounding San Francisco, Oakland and San Jose) with the greater Sacramento area and the greater Fresno area in a distant second and third.
The Bay Area (a.k.a. The Bay) is packed with diversity as it is home to millions of first, second and third-generation immigrants.  With this great medley of denizens comes their heritage, culture and, most importantly…cuisine.
Some of the most popular foods and dishes associated with Northern California and the Bay Area include:
avocados – Although avocados are grown throughout California, this specific dish originated in NorCal…
avocado toast: fresh avocados flavored with salt, pepper, lemon and a variety of other ingredients served on an open-faced slice of toast; although this is known as a food trend of the 2010's, San Franciscans have been eating avocado toast since at least 1885
baked bread – Baked bread was a durable, relatively easily accessible food in San Francisco during the Gold Rush era.
Dutch crunch (a.k.a. "tiger bread" in other countries): a baked bread roll with a natural cracked pattern on the top that creates a crusty exterior and soft interior; it is one of the most popular sandwich breads in Northern California
sourdough: a baked bread roll made by the fermentation of the dough (sourdough starter) which produces a distinct slightly sour flavor; it was a staple food in San Francisco since the Gold Rush in 1849
garlic – Gilroy (located south of San Jose) is the garlic capital of the world.
garlic fries: french fries flavored with chopped garlic and seasoning; a staple at local burger joints and baseball games
garlic ice cream: vanilla ice cream with a mild and surprisingly pleasing garlic flavor; a popular item at the annual GiIroy Garlic Fesitval
garlic crab with garlic noodles: roasted garlic crab served with garlic noodles; a signature dinner combination at An family restaurants
seafood – The geography of the Bay Area and coastal areas of Northern California provide easy access to fresh seafood.
cioppino: a tomato and wine-based fish stew made with locally caught seafood (crab, shrimp, clams, etc.) and commonly served with sourdough bread; originally created and popularized by Italian immigrants in the North Beach area of San Francisco
clam chowder in a sourdough bread bowl: white clam chowder served in a hollowed-out round sourdough roll
lobster rolls:  fresh lobster either served warm with butter (Connecticut-style) or served cold with mayo (Maine-style) in a bread roll; technically this is a New England thing (as you can tell by the styles), but with plenty of quality seafood restaurants…it has become one of the most popular Bay Area regional foods too
dessert – These desserts have a history deeply-rooted in the San Francisco Bay Area.
Ghirardelli chocolate: a maker of premium-quality chocolates; based in San Francisco, Ghirardelli is the 3rd oldest chocolate company in the US
gourmet ice cream: San Francisco takes it's ice cream seriously (there's even a museum of ice cream); long-standing ice cream shops in SF make their unique flavors of ice cream locally including: Bi-Rite, Humphrey Slocombe, Mitchell's and Swensen's.
It's-It: an ice cream treat consisting of a scoop of ice cream between two oatmeal cookies and dipped in dark chocolate; It's-It was founded in San Francisco back in 1928 and is sold at select stores in the US
wine – Wine Country is the area north of San Francisco that covers Napa, Sonoma, Mendocino, and Lake.  It is world-renowned for its 400+ vineyards and wine production.  These are the most popular wines made in the region.
cabernet sauvignon: a bold, full-bodied red wine; it is the most popular wine in Napa Valley, which is one of the only world-class producers of this varietal (along with France)
merlot: a medium-bodied red wine commonly referred to as a milder version of cabernet sauvignon; one of the most popular wines in the region, but temporarily fell out of favor with the public due to the movie "Sideways"
(please excuse the language)
pinot noir: a light to medium-bodied red wine; grew in popularity…also largely due to "Sideways"
syrah: a full-bodied red wine with dark berry and peppery notes
zinfandel: ranges from a lighter pink wine with fruity flavors (white zinfandel) to a heavier red wine with berry flavors
chardonnay: a medium to heavy-bodied white wine that can have a vanilla or fruity taste; this is the most popular white wine in California
sauvignon blanc: a crisp light white wine typically on the dry (non-sweet) side
viognier: a white wine that ranges from a lighter fruity flavor to a creamier vanilla and spice flavor; over the years, it has become a popular alternative to chardonnay
Where can I get Bay Area regional foods?  
You can get these Northern California and Bay Area regional foods in many restaurants and venues throughout the region.  Below are several of the best places to try them.  The wines listed can be found in the numerous wineries in Wine Country.
avocado toast in San Francisco, CA:

Toasty
garlic crab & garlic noodles in San Francisco, CA:

Thanh Long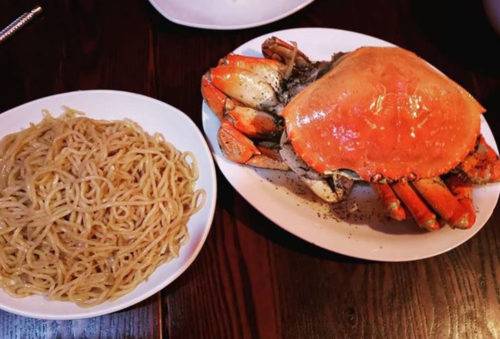 garlic fries in San Francisco, CA:

Oracle Park


(Home of the San Francisco Giants)
Being foodies based out of California, it pains us to leave so many incredible restaurants (especially the lesser-known holes-in-the-wall) off this extremely abbreviated list.  However, we had to keep this short, sweet and focused on iconic NorCal and Bay Area regional foods.  So, if we omitted your favorite Northern California restaurants and you feel the need to get them off your chest, feel free to include them in the comments below…we understand.
Nevada regional foods Nevada is a state of extremes, from its hot arid deserts to…