Nevada regional foods
Nevada is a state of extremes, from its hot arid deserts to its frigid snowy mountains—bustling casinos to desolate ghost towns. Its food scene is no different. The Silver State is home to tons of notable eating establishments: simple traditional diners, extravagant Michelin-starred restaurants and everything in between.
As a primarily tourist state, Nevada's restaurants cater to all kinds of tastes to appeal to their visitors. Here's a list of all the different types of foods and restaurants you should add to your bucket list for your next visit.
classic foods
shrimp cocktail – Frequently served in a martini glass primarily filled with red cocktail sauce and cooked shrimp or prawns, it is one of the quintessential classic casino foods ever since the Golden Gate hotel-casino introduced it to southern Nevada in 1959.
prime rib – Prime rib became popular in Vegas around the 1940s, back when it was available as a complete meal for $2.99.
burgers & sandwiches – The Awful-Awful "awful big and awful good" burger served at the Golden Nugget has been a local tradition since 1955. Port of Subs was founded in Sparks, NV in 1972 and is headquartered in Reno. Their sandwiches are a Nevada staple.
eggs benedict – This traditional breakfast dish of Hollandaise-coated poached eggs and Canadian bacon atop an English muffin is a popular item at many breakfast institutions in Nevada from Reno to Vegas.
steak 'n eggs – A filling meal commonly available at all hours of the day, this dish is a popular breakfast choice for many tourists and casino workers alike.
The Western Sundae – This creamy, frozen dessert made with fresh cream and eggs was first made at the Vegas mom 'n pop shop Luv-It Frozen Custard in 1973.c
international foods
cornish pasty – This baked meat-filled pastry from Cornwall, a county in Southwest England, was introduced to Nevada during the Gold Rush and can still be found in many historical Gold Rush towns. In case you're wondering, yes this baked pastry is spelled "pasty" and yes, it is very similar to empanadas.
Basque-American food – Basque immigrants who came to Nevada due to the Gold Rush. Since then, a small number of Basque restaurants have survived and are considered to be some of the most authentic regional cuisine found in the west.
Chinese food – The Chinese migration to Nevada in the mid 19th century led to the development of Chinatown and its popular Chinese restaurants on Spring Mountain Road in Vegas.
Thai food – There are hundreds of Thai restaurants in Las Vegas alone, which also happens to be the home of one of the top-rated Thai restaurants in the US, Lotus of Siam.
restaurant styles
all-you-can-eat buffets – Las Vegas is a city of indulgence. AYCE hotel casino buffets (featuring multiple types of cuisines) and sushi buffets are definitely a big part of the dining scene here.
themed restaurants – With Las Vegas commonly known as "The adult Disneyland," themes aren't just for parks…They're for the casinos and their restaurants as well.
strip mall restaurants – Not all the best restaurants are situated in luxurious hotel casinos. Strip malls are where you can find some of the best unassuming, hole-in-the-wall restaurants.
drinks
alcoholic slushies – It can get really hot in many areas of Nevada, especially in tourist-laden Vegas. In order to cool off while maintaining a good buzz, many turn to boozy frozen slushies.
yard drinks – These alcoholic beverages poured in yard-tall beverage vessels are a common sight on the Las Vegas strip.
flaming drinks – Commonly found in tiki bars, flaming alcoholic beverages are definitely more widespread at bars along The Strip. They are flashy, over-the-top and quintessentially Vegas.
atmospheric river – This vodka-based cocktail was invented in Lake Tahoe and mimics the lake's blue water.
Where can I get them?
You can most easily find these foods in the most populous cities (including Las Vegas, Reno and Lake Tahoe) and their surrounding areas. However, if you want a super quick rundown of some of the best "uniquely Nevada" restaurants not already mentioned above, make sure to stop by these places…
all-you-can-eat buffet in Las Vegas, NV:
The Buffet at The Wynn

: Glutto Digest
Chinese food in Las Vegas, NV:
Wing Lei

: Wing Lei on Instagram
cornish pasties in Las Vegas, NV:


Cornish Pasty Co.

:Cornish Pasty Co. on Instagram
Eggs Benedict in Reno, NV:
Peg's Glorified Ham n Eggs

: Peg's Glorified Ham 'n Eggs on Facebook
classic Vegas-themed restaurant in Las Vegas, NV:
Peppermill

: The Peppermill on Facebook
Atmospheric River cocktail at Lake Tahoe, NV:
Harrah's and Harvey's Casino

: Harrah's and Harvey's Lake Tahoe on Facebook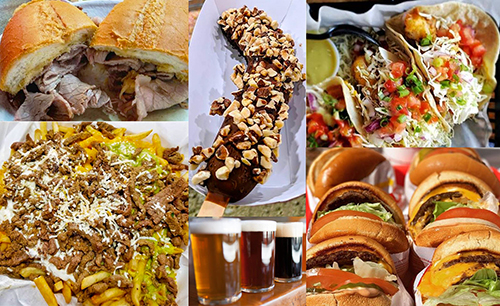 What food is Southern California (LA, San Diego, the OC and surrounding areas) known for? …