Nevada regional foods
Nevada is a state of extremes, from its hot arid deserts to its frigid snowy mountains—bustling casinos to desolate ghost towns. Its food scene is no different. The Silver State is home to tons of notable eating establishments: simple traditional diners, extravagant Michelin-starred restaurants and everything in between.
As a primarily tourist state, Nevada's restaurants cater to all kinds of tastes to appeal to their visitors. Here's a list of all the different types of foods and restaurants you should add to your bucket list for your next visit.
classic foods
international foods
restaurant styles
drinks
Where can I get them?
You can most easily find these foods in the most populous cities (including Las Vegas, Reno and Lake Tahoe) and their surrounding areas. However, if you want a super quick rundown of some of the best "uniquely Nevada" restaurants not already mentioned above, make sure to stop by these places…
all-you-can-eat buffet in Las Vegas, NV:
The Buffet at The Wynn

: Glutto Digest
Chinese food in Las Vegas, NV:
Wing Lei

: Wing Lei on Instagram
cornish pasties in Las Vegas, NV:


Cornish Pasty Co.

:Cornish Pasty Co. on Instagram
Eggs Benedict in Reno, NV:
Peg's Glorified Ham n Eggs

: Peg's Glorified Ham 'n Eggs on Facebook
classic Vegas-themed restaurant in Las Vegas, NV:
Peppermill

: The Peppermill on Facebook
Atmospheric River cocktail at Lake Tahoe, NV:
Harrah's and Harvey's Casino

: Harrah's and Harvey's Lake Tahoe on Facebook
Tip: If you're interested in learning more about restaurants that offer unique experiences, check out experiential dining.
More state-related foods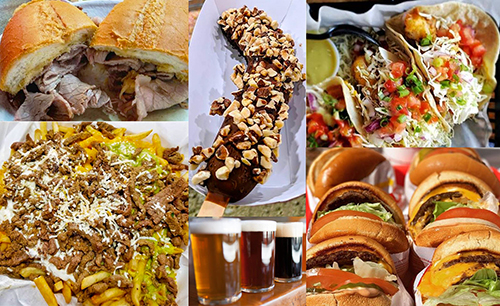 What food is Southern California (LA, San Diego, the OC and surrounding areas) known for? …