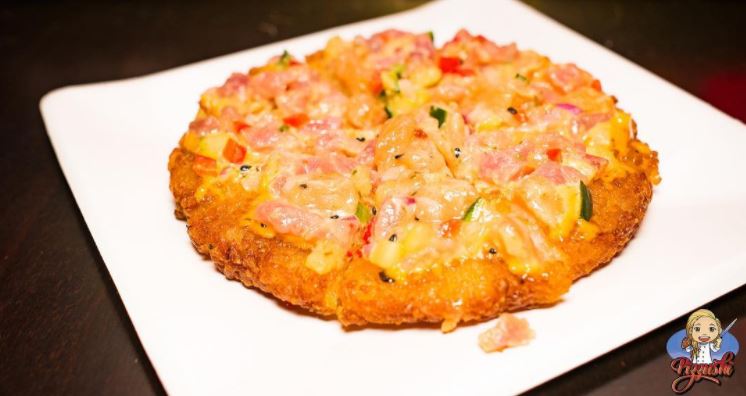 Where Can I Get it? | How Can I Make It?
What is pizzushi?
Pizzushi (a.k.a. pizza sushi) is a contemporary food hybrid made up of a flattened circular bed of crispy fried rice topped with raw poke and other popular sushi roll ingredients. In other words, it's sushi with crispy rice in the shape of a pizza.
This version of pizzushi was invented by LA-based chef, Vy Duong, and first became available in the summer of 2017 at LA's 626 Night Market.
Where can I get it?
Since pizzushi is a recent phenomenon, it can only be found at the original Pizzushi (an LA food stand) and Pho N Mor (call for availability), which is the inventor's aunt's restaurant. If/when this food mashup continues to take off, it will likely be found at avant-garde sushi restaurants and places that serve trendy hybrid foods.
(If you can't make it to LA and can't wait for pizzushi to become available in your city, you can scroll down further to find out how to make it yourself.)
Los Angeles, CA: Pizzushi
How can I make it?
You can make pizzushi by following this "recipe" inspired by Duong herself.
Special Tools (optional)
Ingredients
1/3 cup raw salmon poke in sesame sauce (from your local poke/sushi restaurant)
1 cup sushi rice (from your local poke/sushi restaurant)
1/2 teaspoon fresh cilantro (chopped)
1/2 teaspoon fresh green onions (chopped)
1-2+ tablespoons spicy mayonnaise (add more if you like it spicy )
vegetable oil (for frying)
Directions
First, take the sushi rice and flatten it with a rolling pin, or your hands. Then, form it into a "pizza crust."
Wrap it in plastic wrap and put it in the freezer for at least an hour, or until it holds its shape.
Heat up vegetable oil in a large pan (enough submerge the "pizza crust") until it sizzles when you put a drop of water in it. Deep-fry the frozen "pizza crust" for approximately 30 seconds, or until crunchy.
Put the "pizza crust" on a paper towel to soak the oil. Then, transfer it to a cutting board. Top it with spicy mayonnaise (the "pizza sauce"), salmon poke (the "pepperoni"), cilantro and green onions. Cut the pizza into slices and enjoy!