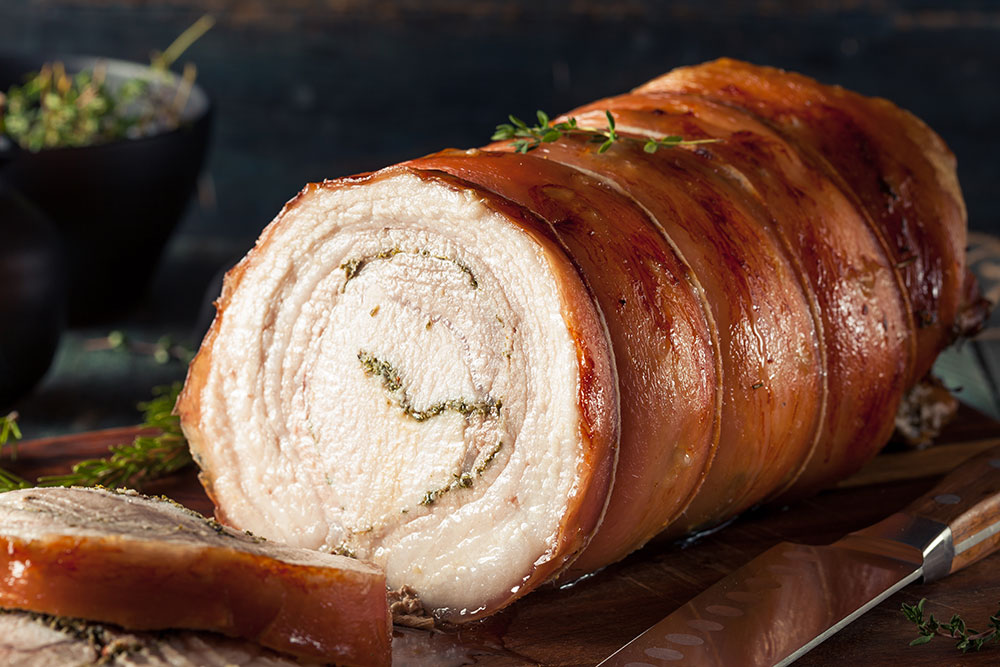 Porchetta (also "porketta") is a traditional Italian roast pork that is often seen as a primary dish for family feasts.
While porchetta is a great fancy-looking dish to serve on special occasions like the holidays, it is also eaten for everyday meals. It Rome, it's often served as an Italian street food as a basic bread and meat sandwich called panino con la porchetta.
What cut of meat is porchetta?
It is a large rectangular piece of pork belly still attached to the loin. The ribs are removed from the meat and the skin is left on.
What does porchetta taste like?
It tastes like a very tender, juicy piece of roasted pork that is infused with herbs (i.e. fennel, rosemary, garlic, fennel, salt and pepper). The fennel provides the predominant flavor. The light crispy exterior is easy to chew and is wrapped around the juicy meat.
How do you pronounce porchetta?
It is pronounced por-KE-tah, which is why it is also sometimes spelled as "porketta." It is often mispronounced as "por-SHET-ta" or "por-CHE-tah".
The emphasis is on the second syllable and the "ch" is replaced with a "k" sound.
What is the difference between porchetta and pancetta?
Porchetta is a log-shaped pork roast. It is often cut into thin slices and is served as a main dish with sides or as a sandwich.
Pancetta, on the other hand, is a salt-cured pork belly that is usually thinly sliced or cut into small cubes. It can be likened to a smoke-less bacon. Although it is also served in sandwiches, it is also commonly added to soups and pastas to add a meaty flavor and crispy texture.
Where can I find porchetta?
You can enjoy this traditional Italian dish at many Italian delis and restaurants, especially in "Little Italy" neighborhoods. These are predominantly located in coastal metropolitan areas. View this map to find a restaurant that serves this Italian pork roast near you.
How can I make it?
porchetta
A relatively simple way to make this traditional Italian dish.
Ingredients
1 1/2 pounds pork belly or pork butt (pork shoulder)
1 teaspoon sea salt
1 fresh rosemary (chopped)
1 tablespoon fennel seeds (chopped)
2 teaspoons ground black pepper
extra virgin olive oil (to coat pork & eat with bread)
1-2 Italian rolls (optional)
Instructions
Heat oven to 400°F.
Place pork belly skin side down. Lay flat if using pork butt. View thickness and cut to 1/2 inch thickness if necessary leaving one side connected (like a big book).
Cover pork in extra virgin olive oil. Then, massage salt into both sides of pork.
Evenly cover pork with rosemary, fennel and pepper.
Roll pork and tie with twine. Repeat as necessary to keep roll closed.
Lightly drizzle entire roll with extra virgin olive oil, then place in oven (seam facing down) for about an hour or until interior of roll reaches 165°F.
Remove porchetta from oven and carefully cut off twine. Eat as-is or with Italian rolls dipped in olive oil. E!
Recommended Products
Glutto earns a tiny commission from qualifying Amazon purchases.
Looking for the top rolled ice cream machines? As you might assume, a quality rolled…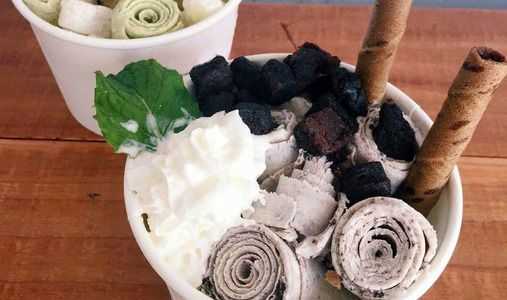 Where Can I Get Rolled Ice Cream? | How Can I Make It? What is…