Tempura ice cream (a.k.a. fried ice cream or deep fried ice cream) is a dessert made of a scoop of ice cream contained in a crispy fried batter. It is often topped with a chocolate syrup and whipped cream.
It is commonly served using green tea in Japanese restaurants and using cinnamon and sugar in Mexican restaurants.
Don't confuse this with Thai fried ice cream, which is a uniquely shaped ice cream that does not have a fried outer shell. Other desserts related to fried ice cream are fried fruits served with ice cream on the side. These include fried banana ice cream or banana fritters (bananas in a fried batter) served with ice cream or apple fritters served with ice cream.
Origin
Fried ice cream was said to be invented at the 1893 World's Fair in Chicago, according to The Daily Courier in 1983. The earliest explicit mention of "fried ice cream" in print was in the Chicago Daily Tribune on April 14, 1894 mentioning the dessert as a Philadelphia fad.
In the 1960s, many Japanese restaurants in the United States began serving tempura ice cream. Wonder how to say tempura ice cream in Japanese? Well, its 天ぷらアイス (pronounced tenpura aisu).
In the 1980s, Chi-Chi's Mexican restaurants started serving fried ice cream at their locations. What is fried ice cream called in Mexico? Technically fried ice cream is translated to "helado frito." However, it is commonly known as "nieve frita."
How does deep fried ice cream not melt?
Fried ice cream works because each scoop of ice cream is insulated by a layer of breading (e.g. castella (Japanese cake), corn flakes, cookie crumbs, wafer crumbs, and/or tempura batter) when it is briefly fried. Also, the ice cream is frozen solid to a temperature below freezing, which also helps keep it from melting right away.
Where can I get tempura ice cream?
You can find this type of ice cream at many Japanese or Mexican restaurants and specialty dessert shops. View this interactive map to find a place that serves tempura ice cream near you.
How can I make it?
Tempura ice cream is relatively simple to make. It is also highly customizable, so use whatever ice cream flavors and toppings you like. Some of the most popular fried ice cream toppings include: chocolate syrup, strawberry syrup, sliced fruits, whipped cream or chantilly, and chopped nuts. Keep in mind that it takes at least a few hours to properly freeze the ice cream, so be patient. Follow this easy recipe to enjoy some tempura ice cream at home!
Tempura Ice Cream
Ingredients
6-8 scoops ice cream (your favorite flavor)
3 cups crushed corn flakes, vanilla wafers or bread crumbs (can substitute with slices of castella)
1 1/2 teaspoons cinnamon
4 egg whites
toppings syrups, fruits, nuts (optional)
oil (enough to submerge scoops of ice cream)
Instructions
Scoop ice cream into balls and place onto baking sheet. Make sure there is space between each ice cream ball. Freeze for at least one hour or until fully frozen.
In the meantime, combine crushed corn flakes/vanilla wafers/bread crumbs and cinnamon in a bowl.
In a second bowl, use the hand mixer to whip egg whites into a light foam.
When ice cream is fully frozen, dip each ball into egg whites until completely coated. Then, dip into corn flakes and cinnamon mixture (or cover with castella slices) until completely covered. Make sure no ice cream should be exposed as this helps insulate the ice cream when frying. If using castella, wrap balls tightly with foil to hold shape.
Place coated ice cream balls back on baking sheet and freeze again for at least 2.5-3 hours or until frozen solid.
Heat oil in sauce pan to 400°F. Fry ice cream balls in hot oil for about 10 seconds or until golden brown.
Add desired toppings. Enjoy!
Notes
For smaller saucepans, fry the ice cream one scoop at a time to prevent overcrowding and lowering the oil temperature.
Looking for the top rolled ice cream machines? As you might assume, a quality rolled…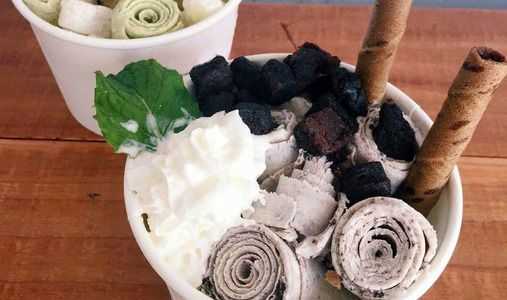 Where Can I Get Rolled Ice Cream? | How Can I Make It? What is…
Aburi sushi is a type of nigiri (i.e. sushi that consists of a small ball…