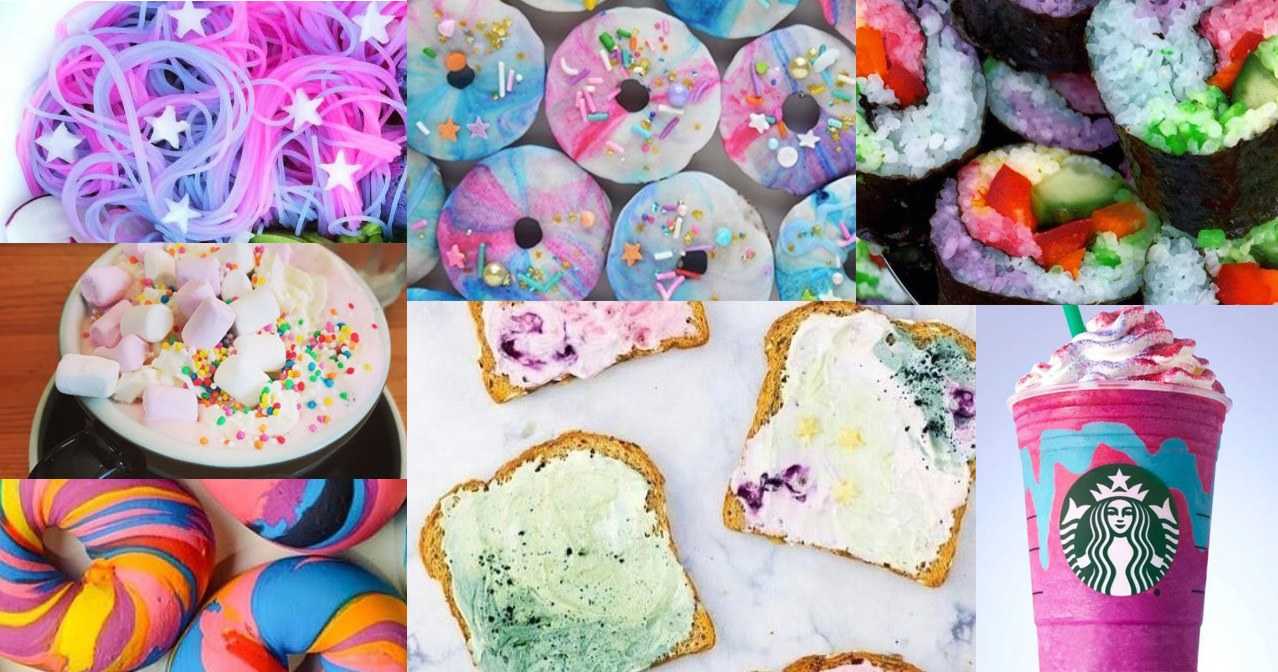 Where Can I Get it? | How Can I Make It?
What is unicorn food?
Unicorn food is any type of food that has been transformed to a multicolored, pastel (and sometimes sparkly) version of itself with the use of artificial or natural food coloring.  The unicorn food trend began sometime around June 2016 and has infiltrated different areas of the food world since then.
A very similar food trend, rainbow food, has enjoyed the same trajectory of popularity. As you may correctly assume, the rainbow food trend features any type of food that boast the colors of the rainbow. The subtle difference is that rainbow foods are more vibrant and incorporate most of the ROYGBIV spectrum. These fanciful foods look like the creations of Lisa Frank, had she been a chef instead of a school stationery queen. Unicorn foods, on the other hand, are mostly light pinks, blues, yellows and purples. Some popular unicorn/rainbow foods include:
rainbow bagels
unicorn toast
rainbow grilled cheese
rainbow pancakes
unicorn cookie dough
rainbow sushi
unicorn noodles
unicorn lattes
unicorn hot chocolate
unicorn milkshakes
Because there must be balance in the world (and due to much criticism regarding the preference of gimmicky visuals over quality & taste), the rise of unicorn food has also precipitated the creation of "Goth food," black and grey food which we talk about here. Since these are all widely accepted as fads, chances are they won't last. So, if you're curious, get them while you can…unless you want to try your hand at making your own (scroll down to the bottom for recipe).
Where can I get it?
You can find find unicorn foods at most trend-centric eateries. Unicorn Frappuccinos are available on a limited basis at select Starbucks locations (with friendly/patient/bored baristas)…although some avant garde Starbucks franchises have already moved on to dragon, mermaid and narwhal Frappuccinos. Anyway, here are a few places known for their unicorn and rainbow creations.
How can I make it?
Since pretty much any food under the sun can be turned into unicorn or rainbow food, we'll give you a list of ingredients you can use to color your food however you like. A bit of experimentation and patience may be necessary to get the desired hues for your food.
Special Tools
Ingredients (note: use savory ingredients for savory foods & sweet ingredients for sweet foods)
red: blended beet (savory) | blended raspberries, cranberries or pitted wild cherries (sweet)
orange: blended carrots or blended beet & ground turmeric (savory) | powdered Tang (sweet)
yellow: saffron flowers (savory) | ground turmeric (savory or sweet)
green: blended fresh spinach leaves (savory) | green tea matcha powder or pandan (sweet)
blue: boiled red cabbage and baking soda (savory) | Blue Majik powder, spirulina, or ground butterfly pea tea (sweet)
purple: boiled red cabbage, purple carrots, or purple yam/ube (savory) | blended blueberries or blackberries (sweet) |
pink: blended beet and sour cream (savory) | blended raspberries/pitted wild cherries with whipped cream (sweet)
light blue: red cabbage and sour cream (savory) | Blue Majik powder or ground butterfly pea tea with whipped cream (sweet)
pale yellow: ground turmeric and sour cream (savory) | ground turmeric and whipped cream (sweet)
light purple: blended red cabbage and sour cream (savory) | blended blueberries and whipped cream (sweet)
edible glitter, edible pearls and/or colored marshmallows(optional toppings for unicorn food)
Directions
First, decide what food you're making (e.g. donuts, cupcakes, bagels, sushi, lattes, etc.) and pick which colors you want to dye your food with. The amounts of ingredients will vary based on the amount of food you're making. Experiment by starting with a small amount of the ingredients and incrementally add more to adjust the color (note: separately strain any solid ingredients of each color in a cheese cloth to filter out any residue)
Slowly add each color into separate sections of your food while preventing them from blending into each other.
Then, if necessary, finish cooking/baking/heating up your food and add your edible glitter or other toppings. Enjoy!