Wondering what a cotton candy burrito or ice cream burrito is? Find out what they are made of and where you can get your hands on them!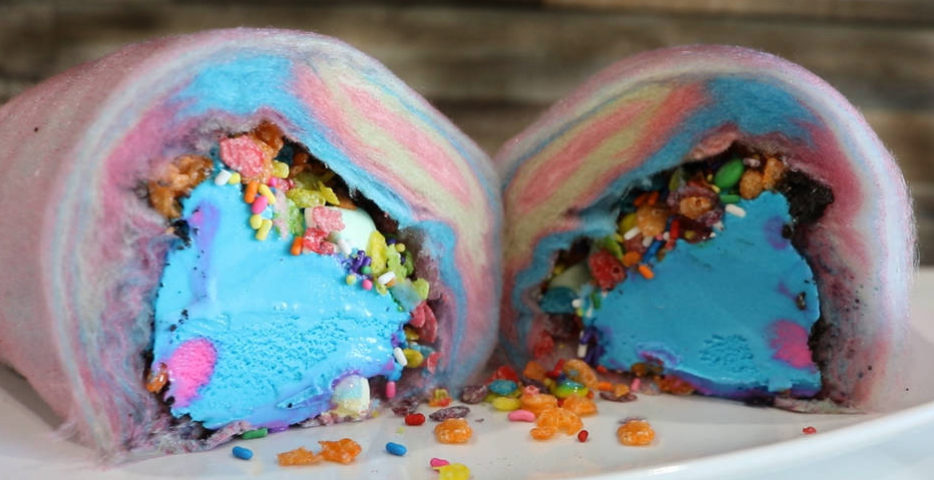 Where Can I Get it? | How Can I Make It?
What is a cotton candy burrito?
A cotton candy burrito (a.k.a. ice cream burrito, cotton candy ice cream burrito, cloud roll or rainbow cloud roll—as lauded by Andrew Zimmern in season 17, episode 5 of Hot Ones) is a hybrid dessert made up of ice cream, cotton candy and toppings. Multiple ice cream scoops are placed side-by-side on a flattened cloud of pink, yellow, and/or baby blue cotton candy. Then, the ice cream is covered in various ice cream toppings like cereal, candy, sprinkles, sparkly "unicorn dust" and other sweet, visually appealing edible accents. Lastly, everything is wrapped like a burrito in the cotton candy "tortilla" and cut in half to expose the colorful filling.
What do cotton candy burritos taste like?
Just thinking of ice cream combined with cotton candy might give you a toothache, but those who have tasted this unicorn-esque food admit they pair quite well together. (This pairing has already been done by topping off ice cream with a fluffy cloud of cotton candy.) The most common reaction, according to servers, is that these rainbow cloud rolls are not as sweet as expected. The cotton candy, which is usually wrapped in paper, adds a fluffy texture to the creamy ice cream. It also holds up to the ice cream fairly well without disintegrating in your hands…almost like magic.
Are rainbow cloud rolls bad for my health?
It's no surprise that combining multiple sweet treats with minimal nutritional value isn't the best thing for your health. However, you can eat it guilt-free if you eat responsibly. One no-brainer way to do this is by splitting it with one or more family members or friends. (This is a treat meant to be eaten right away, so it's probably not a good idea to eat half right away and take the other half home because you'll likely end up with a sugary puddle.) That way, you not only share the joy of eating, but you also cut your sugar intake by at least half. Sharing is caring—for others as well as yourself. 🙂
How many calories are in a cotton candy burrito?
As you may guess, the calories in a cotton candy burrito can range greatly depending on the exact size and ingredients of the "burrito." But, for the sake of answering the question, let's break it down…
One serving size of cotton candy is 1 ounce. There are 105 calories in one ounce of cotton candy.
One serving size of ice cream is about 1 scoop. There are 137 calories in a scoop of vanilla ice cream.
The serving size of the candies and other toppings can vary greatly. Cotton candy burritos are often topped with a handful of Fruity Pebbles cereal (60 calories), gummy candies (120 calories per serving) and sour belts (150 calories per serving). Adding them together would be 330 calories.
Combine the calories of these ingredients and you get 572 calories for 1 serving size of a cotton candy burrito. But, if you eat the entire thing, it would be closer to double. So, you probably don't want to go at it alone. Make sure you have your friends or family around to enjoy it with you…That way, everyone wins.
Where were these rainbow cloud rolls invented?
The creative inventors of these ice cream-filled cotton candy desserts own the appropriately-named store Sugar Sugar, a Canadian ice cream shop in Sarnia, Ontario. They began selling cotton candy burritos in-store in April 2017. Since then, several other ice cream places started getting in on the sweet action.
video: making a cotton candy burrito
Where can I get a cotton candy burrito?
You can find these satisfyingly sweet desserts across the country. Usually, they are served by food vendors at outdoor markets (i.e. farmer's markets, night markets, state & county fairs, etc.), or at trendy dessert shops. Here are some places throughout the US that serve these made-to-order cotton candy burritos.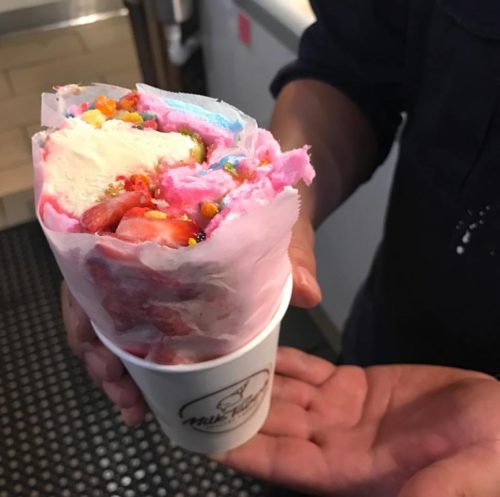 Looking for more places that serve cotton candy burritos? You can find them on Glutto right here.
How can I make cotton candy burritos?
Cotton candy ice cream burritos are really quite easy to make, or more accurately…assemble. Here's a simple way to get your trendy dessert fix.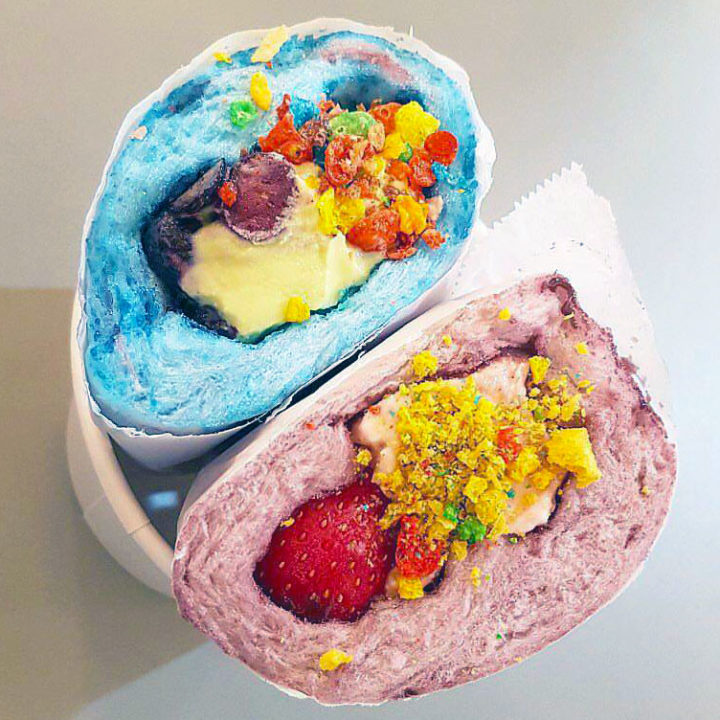 Cotton Candy Burrito
Ingredients
1 bag cotton candy
1 pint ice cream (your favorite flavor...or flavors)
ice cream toppings (as you like) cereal, sprinkles, edible sparkles, etc.
Instructions
First, remove the cotton candy from the bag and flatten it with the rolling pin.
Scoop out 3-4 scoops of ice cream and place in a row in the middle of the flattened cotton candy.
Top the ice cream with your favorite toppings.
Roll the ice cream and toppings with the cotton candy like a burrito until it is completely wrapped.
Cut in half and enjoy!
Recommended Products
Glutto earns a small commission from qualifying Amazon purchases.
Cotton candy vodka is a flavored alcoholic beverage that tastes like cotton candy or spun…