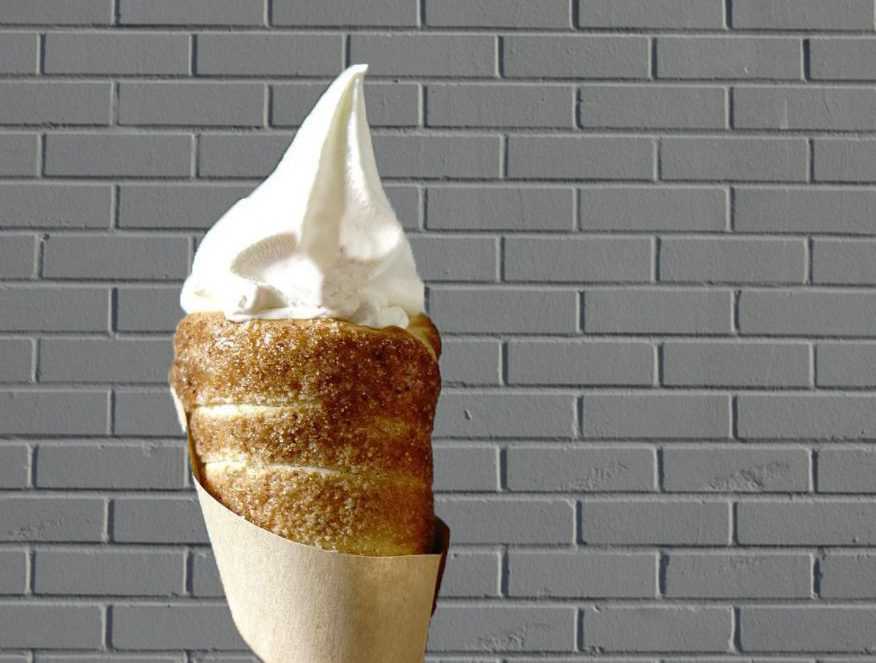 What is a doughnut cone?
A doughnut cone (a.k.a. donut cone or chimney cone) is a dessert pastry that is baked or barbecued on a rotating cone-shaped spit, then covered with cinnamon & sugar.  In other words, a donut cone is a cone-shaped sugar-covered baked donut.  Sometimes they are coated on the inside with a chocolate spread like Nutella to add flavor while preventing the ice cream from leaking. 
These upgraded ice cream cones have been served by specialty donut and ice cream shops since the 2010s and are sometimes referred to as chimney cakes, the traditional Czech predecessor of these baked cones.
Fun fact: These Czech treats were seen on Shark Tank as a company named Crispý Cones promoted their rotisserie-style cones with soft serve ice cream.
What is a chimney cake?  
An actual chimney cake is a traditional cylindrical pastry that originated in Eastern Europe made of dough and cooked on a rotating spit. They are known as trdelník in Czech/Slovak, kürtőskalács in Hungarian, or chimneys in the UK. Because donut cones and chimney cakes are made in the same manner with the same main ingredients, they taste and feel the same. Both are slightly crispy on the outside and soft on the inside. The only real difference between donut cones and a chimney cakes is that the chimney cake is not tapered on one end like a cone. Instead, it is the same diameter throughout…like a chimney.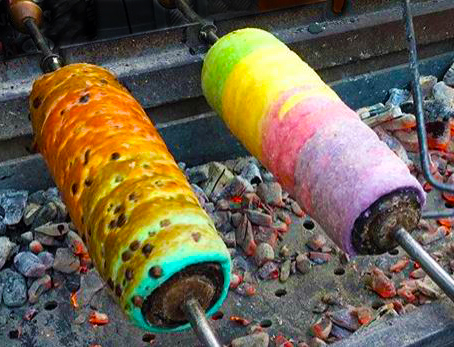 BBQ'd trendy unicorn and chocolate chip chimney cakes
Other versions
Alternate versions of the doughnut cone include the
Where can I get it? 
Doughnut cones have become quite popular internationally from Canada to Australia. Although they are not widely available in the US, they can most frequently be found in large farmers' markets and food fairs. Here are some places that are known to serve amazing doughnut cones and chimney cakes.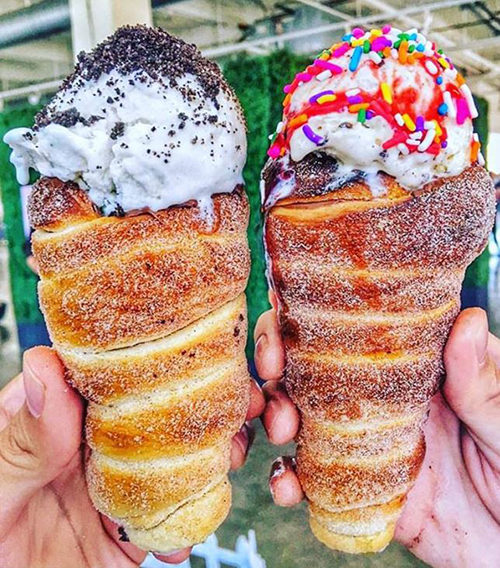 Tampa, FL:

Dough
Looking for more places that serve doughnut cones? Find them on this interactive map:
How can I make it?
video: making a donut cone a.k.a. chimney cone
As you can see in the video above, doughnut cones can be a bit unwieldy to make with a traditional rotisserie and spit rod, so we have a simplified version you can make at home. All you need are a few common household items and ingredients. Follow this recipe, and/or save it for later on Glutto here.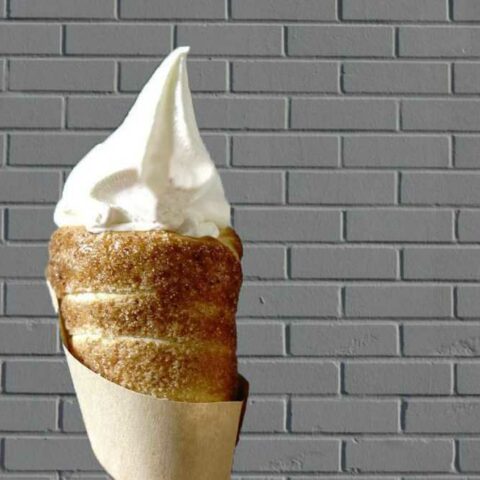 donut cones
Cone-shaped chimney cakes filled with ice cream.
Ingredients
1 tube of dough (e.g. Pillsbury Grands)
1/4 cup all-purpose flour
1 teaspoon cinnamon
1/4 cup granulated sugar
1 tablespoon unsalted butter, melted
1 pint ice cream
toppings (as you like e.g. sprinkles, chocolate chips, chocolate syrup, fruits, etc.)
Instructions
First, move your oven rack to the bottom and preheat to 375ºF.
Shape the foil into 4-6 cones (big enough to put a scoop of ice cream on top).
Cover your work surface with flour and use a rolling pin to roll out the dough. Cut and form the dough into 1/4 in. thick ropes.
Wrap the dough around the foil cones starting from the tip and use water to help "glue" the dough together.
On a greased baking sheet, put the cones (open side down) and bake 7-9 minutes.
In the meantime, combine the cinnamon and sugar in a bowl.
Once the cones are done baking, brush the cones with melted butter and cover with cinnamon and sugar.
Return the cones to the oven and bake another 2-3 minutes.
Remove the cones from the oven and separate from the foil.
When the cones have cooled down, add a scoop of ice cream in each cone and add your toppings. Enjoy!
Recommended Products
Glutto earns a tiny commission from qualifying Amazon purchases.
More dessert posts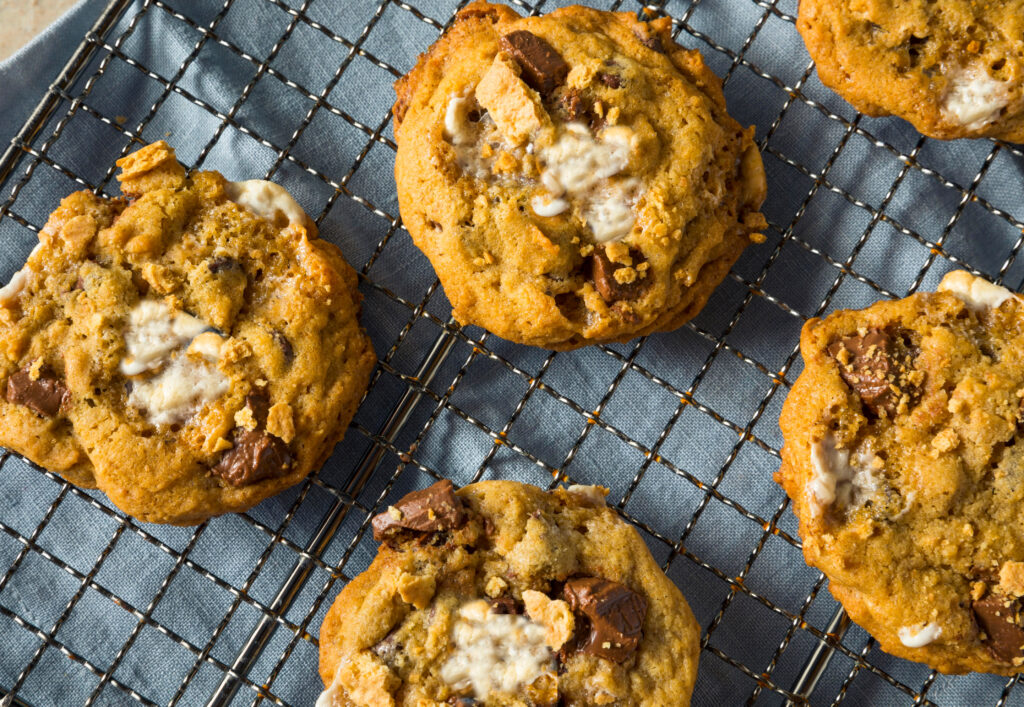 With comfort foods still going strong, s'mores cookies bring the essence of a crackling campfire…