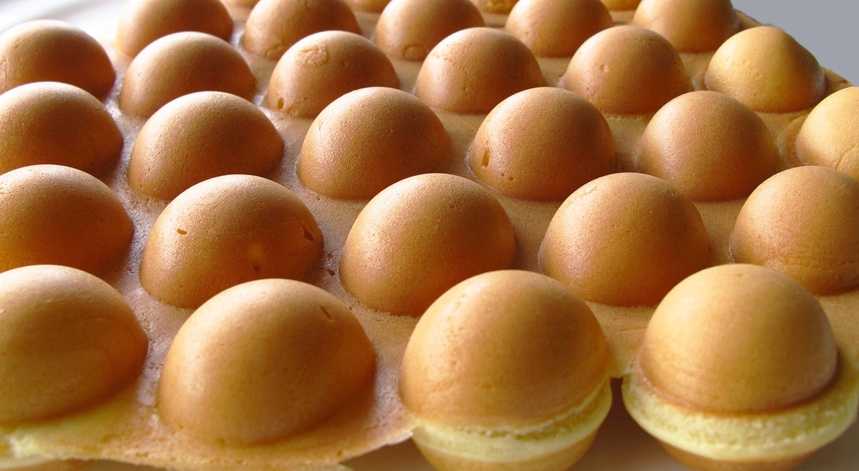 What are egg waffles?
Egg waffles are a variation of traditional waffles.  They are known by many names: bubble waffles, Hong Kong style waffles, eggettes, egglets, egg puffs, puffles, pancake balls…and its Cantonese name gai daan jai (translation: "little chicken egg").  They're similar to traditional waffles in the sense that they are both made from leavened batter and cooked in a hot iron.  Although there are minor variations in the main ingredients, the primary difference of bubble waffles is that they are cooked in special griddles which cook the batter in a repeating pattern of connected spherical shapes, similar to bubble wrap.
They come in a wide range of flavors (e.g. plain, green tea and purple sweet potato) and variations (e.g. cones, pockets and sandwiches). Sometimes they are served with ice cream, sauces, or other toppings.
Egg waffles originated from the streets of Hong Kong and Macau in the mid-20th century, but have gained global popularity throughout the 2010's. Now, they are often eaten as a snack or dessert with ice cream.
Where can I get them?
Egg waffles have become fairly widespread and can be found in most major cities and surrounding areas with large Asian populations. More specifically, they are often found in many Asian ice cream shops since these bubble-shaped waffles are commonly used as a substitute for waffle cones filled with ice cream. Take a look at this interactive map to find places you can visit to try freshly made egg waffles.
How can I make egg waffles?
If you've made traditional waffles before, you pretty much already know how to make this bubble style of waffles.  Just make sure you have the right tools.
No matter what your waffle-making experience level is, they are quick and easy to make.  Simply follow this recipe that you can easily modify with whatever toppings and flavors you like best!
egg waffles
Ingredients
2 large eggs
1 cup all-purpose flour
1/2 cup granulated sugar
2 tablespoons evaporated milk
2 tablespoons vegetable oil
1 teaspoon tapioca/corn starch
1 teaspoon baking powder
1 teaspoon vanilla extract
5 fl ounces water
toppings of your choice (fresh fruits, ice cream, syrups, etc.)
Instructions
Mix all ingredients (except toppings) in a large bowl until it becomes a smooth batter.
Lightly coat egg waffle maker with vegetable oil or spray.
Heat egg waffle maker until hot.
Add the batter and set egg waffle maker to medium heat for 2-2 1/2 mins.
Flip egg waffle maker and heat for an additional 2-2 1/2 mins.
Remove egg waffle from the maker, add your favorite toppings and enjoy!
Recommended Products
Glutto earns a tiny commission from qualifying Amazon purchases.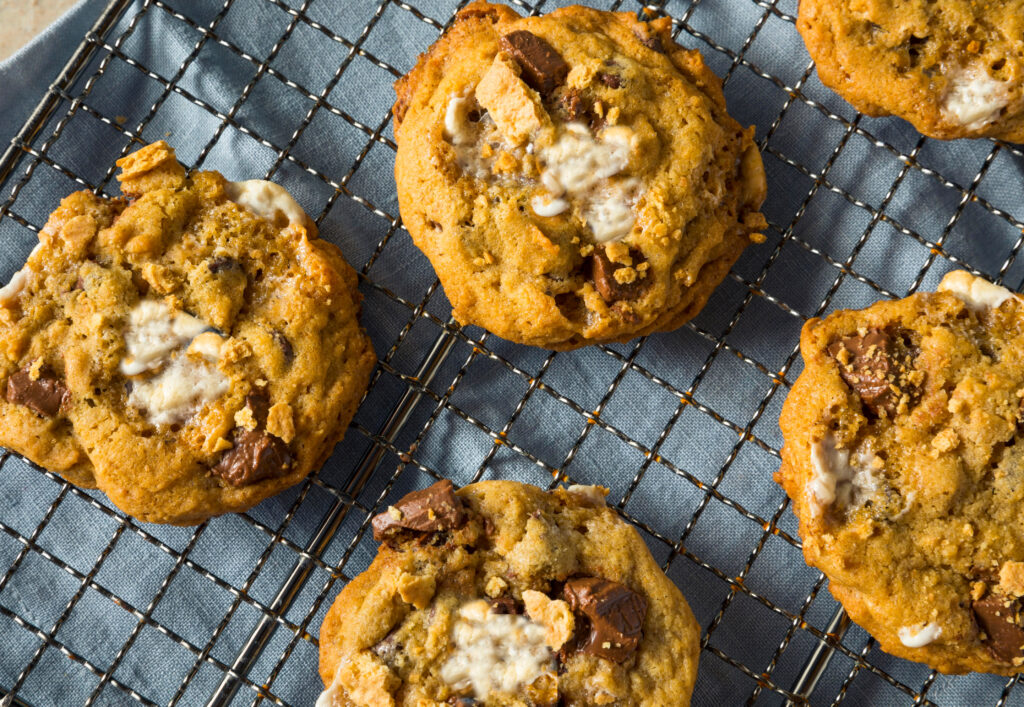 With comfort foods still going strong, s'mores cookies bring the essence of a crackling campfire…