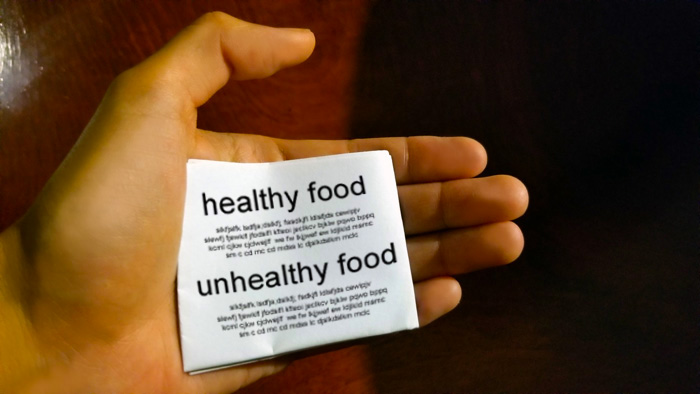 Here's a guide following the KISS (Keep It Simple, Stupid) principle to quickly make better, healthier food decisions.  Keep in mind that these are general guidelines, not a strict all-inclusive set of rules, designed to steer all types of eaters towards responsible eating.
Browse through these categories to see your healthiest (and unhealthiest) food options at a glance:
Cooking Methods | Protein | Carbs | Sweet Snacks | Salty Snacks | Frozen Treats | Drinks
Cooking Methods:
Notes: 1) charred meat can contain carcinogens, 2) air frying is a healthier alternative to frying/deep-frying—it doesn't use oil, 3) learn more about sous-vide here
Protein:
Note: cooking methods & leanness of meats greatly affect healthiness (e.g. a grilled piece of lean pork is healthier than fried chicken nuggets)
Carbs:
Notes: authentic sourdough bread will include the ingredient "sourdough starter"; good carbs are high in fiber (complex carbs) while bad carbs are high in sugar (simple carbs)
Sweet Snacks:
Note: if you have a sweet tooth try sticking to fresh fruits and moderate amounts of dark chocolate
Salty Snacks:
Note: the healthiest common salts are Himalayan salt and sea salt; avoid over-salting your food, unless you're this guy…
Frozen Treats:
Note: rankings may vary based on the amount of sugar & fat in each serving
Drinks:
Note: water is generally the healthiest option; most other drinks should be consumed in moderation—and definitely not like this…
Science-backed summary to eating healthy food (no surprises here):
eat plenty of fruits, vegetables, whole grains, and legumes
eat moderate amount of nuts, lean meats, vegetable oils, and dairy products
moderation is the key to a healthy lifestyle
Since each and every body is different, what may be perfectly healthy for one person may not be so healthy for someone else. So, always make sure to give preference to what fits your personal needs (i.e. fitness goals, medical restrictions, food allergies, etc.) according to your dietitian and/or doctor.
For more info on eating healthy and responsibly through mindful eating, visit our post "Eat Whatever You Want While Staying Healthy."
The Winter Fancy Food Show 2022 was held February 6-8 at the Las Vegas Convention…