Where Can I Get it? | How Can I Make It?
What is goong sarong?
Goong sarong is a Thai appetizer made of cooked shrimp or prawns wrapped in crispy noodles. It's usually accompanied by a chili sauce to dip the prawns in. A very similar dish is goong hom pha (a.k.a. "prawns in blankets"), which are prawns wrapped in crispy egg roll wrappers.
The word "goong" means shrimp or prawn in Thai, while "sarong" means wrapped around…like the sarongs frequently worn by women at the beach.
Where can I get it?
Goong sarong is available in certain Thai restaurants that serve authentic dishes. While many people travel to Phuket or Bali to enjoy this dish, here are some places that serve this crispy appetizer stateside…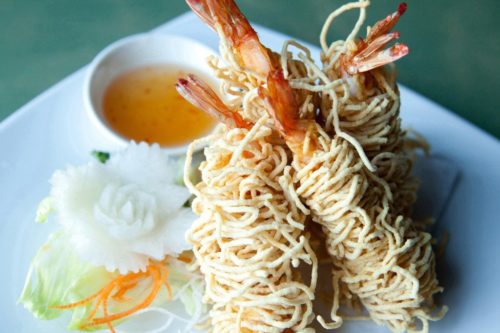 Looking for more places that serve goong sarong? You can find them on Glutto right here.
How can I make it?
The most important thing when making this dish is using the freshest ingredients. Follow this relatively easy recipe to enjoy this exotic-looking food in the comfort of your own home.
Special Tools
air fryer (healthier option than frying with oil)
Ingredients
1/2 pound fresh prawns
1/4 pound rice noodles
2 tablespoon chopped garlic
1 tablespoon chopped coriander root
1 teaspoon black pepper
1 cup vegetable oil (if not using healthy air fryer)
sweet and sour sauce (for dipping)
Directions
First, peel and de-vein the prawns while leaving the tail on.
With the mortar and pestle/blender/food processor, crush the coriander and garlic into a paste.
Mix the shrimp and pepper to the paste. Marinate for at least 30 mins in the refrigerator.
Put noodles in hot water. As soon as noodles become soft, drain the noodles.
Individually wrap each prawn in the soft noodles until all the prawns are covered.
Fry the noodle-covered prawns in hot oil or the oil-less air fryer until golden brown and crispy.
If fried in oil, drain the prawns on a paper towel.
Dip the goong sarong in the sweet and sour sauce. Enjoy!