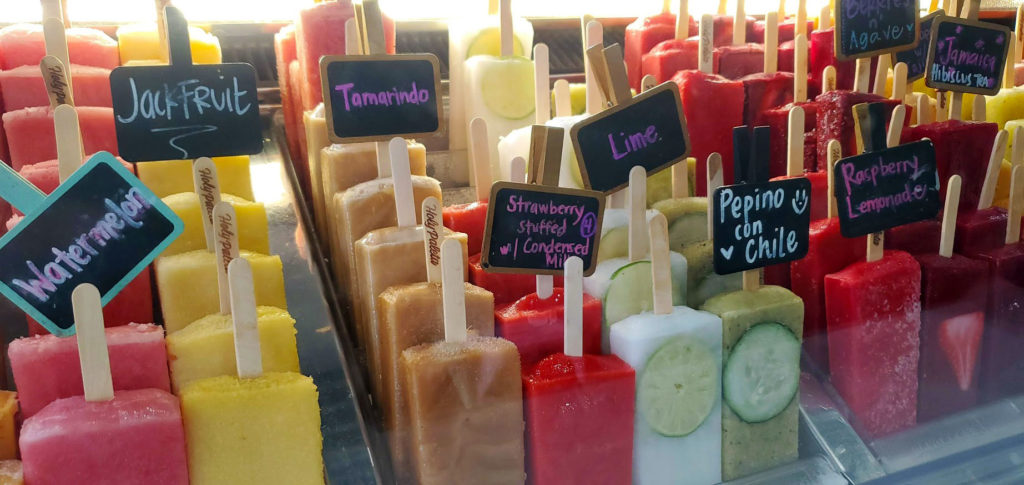 Paletas (pronounced pa-LE-tas) or "paletas Mexicanas" are traditional Mexican popsicles, which come in many types of flavors and combinations. They are a popular snack sold by street vendors, Mexican stores and paletarias.
Who invented paletas?
There is not one unrefutable origin of these Mexican popsicles. However, one prominent theory points to the early 19th century, when Mexico gained independence from Spain. Since Spain no longer held monopolies on many products, including ice, prices plummeted. The widespread use of ice lead to its combination with fresh fruits and the frozen Mexican treat was born.
Paletas vs. Traditional Popsicles
The main difference between these Mexican popsicles and other traditional popsicles is that Mexican popsicles are usually made from whole fruits, nuts, spices and other ingredients; not sugary syrups and food coloring. Flavors go far beyond the basic array of cherry, orange and grape popsicles and into the realm of mangonada, tamarind and arroz con leche. Specialty paletarias often make gourmet Mexican popsicles made-to-order, so you can customize them with your preferred flavors and toppings.
Flavors of Mexican paletas
Mexican popsicles come in a wide variety of flavors. Here is a list of those that are the most commonly-seen.
Dairy-free (water-based):
coconut
cucumber
guava
jackfruit
jamaica
lemonade
mango
papaya
pineapple
strawberry-kiwi
tamarind
watermelon
Dairy (milk-based):
avocado
arroz con leche
cafe con leche
horchata
Mexican chocolate
strawberry-banana
vanilla
Are paletas healthy?
If you enjoy sweets but want to find a healthier alternative, then paletas are a good choice. They will satisfy your sweet tooth without the extra calories of other common desserts like cakes and cookies.
Of course, some paletas are healthier than others, depending on the ingredients used. Those that include fruits are generally healthier than those that don't. Also, those that are dairy-free tend to have fewer calories since they don't contain milk fat. The sugar content is the most concerning ingredient of paletas. So even though they are relatively healthier than other desserts, don't go overboard and, like all foods, enjoy it in moderation.
Paleta brands
There are two popular paleta brands that have pretty much taken over the entire paleta market and can be found in many grocery stores. They are Helados Mexico and La Michoacana.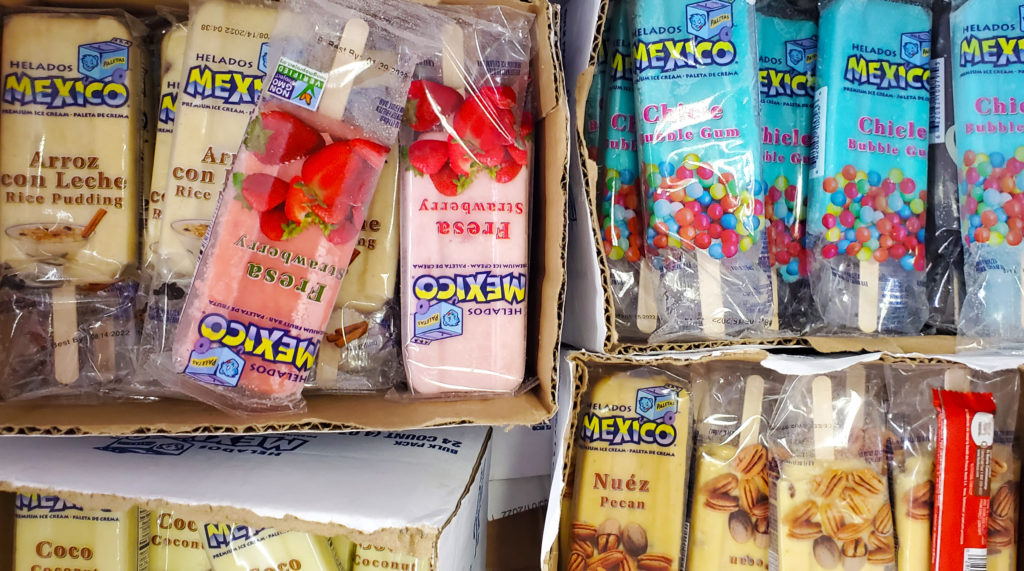 Where to find paletas near me
You can find paletas Mexicanas at paletarias located in Mexican neighborhoods outside of Mexico. Many of them primarily sell made-to-order Mexican popsicles so they often provide a variety of flavors and toppings that you can choose from and customize however you like. Use this map to find a paletaria near you.
If you want to buy pre-made paletas, you can find them at most major supermarkets and big-box stores like Costco, Safeway and Walmart.
How to make paletas
If you don't have a paletaria nearby, you can always make them at home. Heres a simple recipe that you can use and customize to your liking.
Paletas
Ingredients
1 cup sliced fruits (mangoes, strawberries, pineapples, etc.; remove seeds/stems/leaves)
1/2 cup heavy whipping cream
1/4 cup Zulka Morena sugar (a Mexican non-GMO sugar)
2 tablespoons sugar
toppings (chocolate syrup, sliced almonds, etc. - optional)
Instructions
In a large bowl, put sliced fruits and completely cover with Zulka Morena sugar. Allow to sit for 1 hour.
At the same time, put heavy whipping cream in freezer for an hour and mix every 20 mins to prevent ice buildup.
Put sweetened fruit in food processor/blender and pulse 3-4 times so it is still chunky.
Place chunky fruit back in large bowl.
Blend chilled heavy whipping cream in clean food processor/blender with regular sugar until thick and smooth.
Fold chunky fruits into heavy whipped cream.
Pour mixture into popsicle molds and freeze overnight or until fully frozen.
Add any desired toppings. Enjoy!
Notes
This makes about 4 servings, so make sure to double or triple the ingredients for larger parties.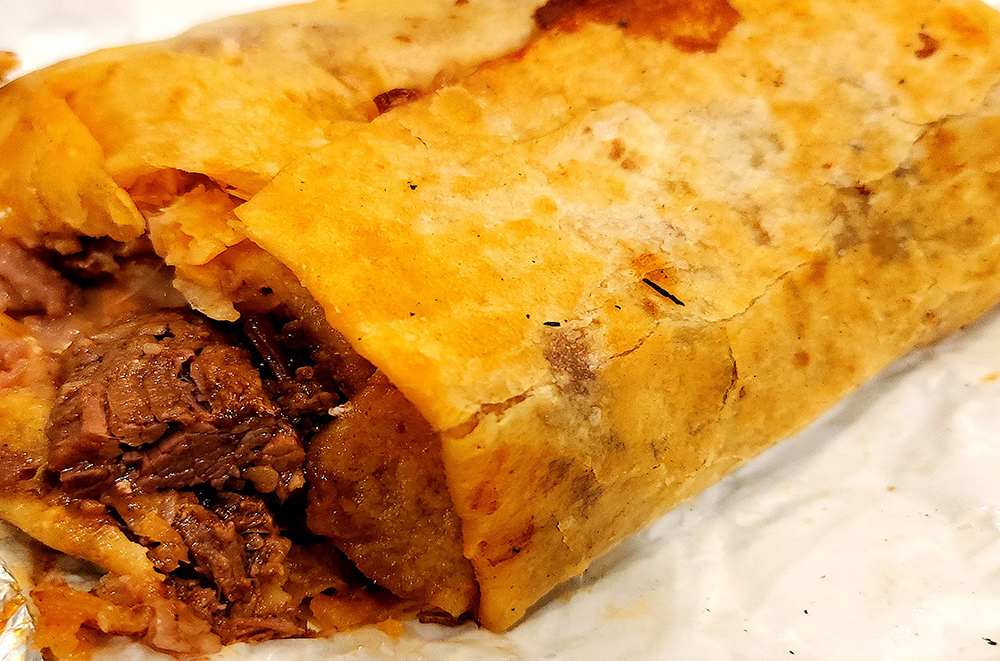 With the creation of the quesabirria and birria taco, the birria burrito. was inevitable. This…