Pizza al taglio (a.k.a. sheet pizza) is a Roman-style pizza that is shaped into a large rectangle and cut into rectangle slices. In Italy, it is known as a popular Roman street food that is often ordered by the slice and sold by weight.
Besides the shape, what sets pizza al taglio apart from the typical pizza is the crust, which is relatively thicker yet and (surprisingly) lighter than most. Its dough is made with a greater proportion of water, then cold fermented to help it rise and create its unique texture.
Another version of this pizza can be found in Sardinia in which slices are cut longer and folded in half.
What does taglio mean?
Taglio is the Italian word for "cut."
In terms of pizza, taglio refers to a rectangular pizza that is cut into rectangular slices versus the common round pizza that is cut into triangular slices. It is also not uncommon to see this pizza cut with scissors or shears instead of a pizza wheel or single blade.
How does pizza al taglio taste?
Pizza al taglio tastes relatively similar to other pizzas in flavor but is unique in its texture. The crust is thicker than a typical pizza, but light and airy due to the dough's high water content and cold fermentation process.
Although it has a relatively thick crust, it is unlike deep-dish pizza which is thick and dense. It can be more likened to a slice of focaccia with pizza sauce and traditional Italian pizza toppings on top. When you bite into this style of Roman pizza, you'll notice a bit of a crisp on the bottom of the crust, but then your teeth will sink into the toppings and soft interior.
There is a simplified variation of this cut pizza in Sicily called sfincione.
What are the different types of Roman pizza?
While pizza al taglio is the most popular style of Roman pizza or pizza Romana, other forms of Roman pizza do exist. Here are other types of pizza that hail from Rome:
pizza alla pala – A flatbread pizza on a paddle.
pizza tonda – A round thin crust pizza.
pinsa Romana – A round or oval-shaped pizza with a light airy dough.
Where can I get pizza al taglio?
Pizza al taglio is commonly found in Rome and enjoyed on the streets throughout Italy. In the US, you can get pizza al taglio at Roman-style pizzerias which are often found in Little Italy regions near metropolitan areas. View this map to find locations that serve this Roman pizza near you.
How can I make it at home?
If you don't have the opportunity to pick up a slice of Roman pizza locally, you always have the option of making it yourself. In a way, it can be easier than making traditional pizza because you don't have to toss it and shape it into a circle. Follow the recipe below for a taste of this popular Roman street food.
pizza al taglio
Additional Time:
1 day
1 hour
Total Time:
1 day
1 hour
20 minutes
Roman-style pizza (see notes for quick version)
Ingredients
Crust
1 cup warm water (separated into four 1/4 cups - warm to touch)
1 envelope active dry yeast
4 cups bread flour
4 tablespoons olive oil
1 teaspoon sea salt
Toppings
1 cup pizza sauce
1 cup mozzarella (shredded)
your favorite pizza toppings (e.g. pepperoni, sausage, mushrooms, olives, onions, etc.)
Instructions
In large bowl, mix yeast and 1/4 cup water. Allow to rest 10 mins or until bubbly.
Mix in flour until fully incorporated. Allow to rest another 10 mins.
Mix with salt and olive oil until evenly incorporated.
Flatten and fold dough in half about ten times to aerate (i.e. make air pockets for a lighter fluffier crust). Allow to rest 15-20 mins.
Repeat step 4 three times or until dough is less sticky and easier to handle.
Brush baking dish with olive oil and gently place dough on it. Then brush dough with olive oil as well. Cover with plastic wrap and rest in refrigerator over night
Remove dough from refrigerator and allow to rest on kitchen counter to room temp approx. 1 hour.
Preheat oven to 500°F.
Oil baking sheet and transfer dough onto it.
Gently shape dough into a rectangle to fill the sheet while keeping air pockets intact.
Brush sauce onto dough. Sprinkle cheese and any desired toppings evenly on top.
Place in oven for 10 minutes or until cheese is melted and dough is golden brown.
Cut into rectangular slices (with scissors if you want to be more authentic). Enjoy!
Notes
Short on time? If you want a quick, albeit less authentic version, buy a loaf of focaccia at your local bakery and skip to step 11. You're welcome.
Looking for the top rolled ice cream machines? As you might assume, a quality rolled…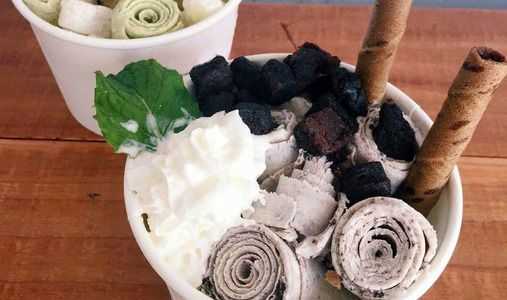 Where Can I Get Rolled Ice Cream? | How Can I Make It? What is…