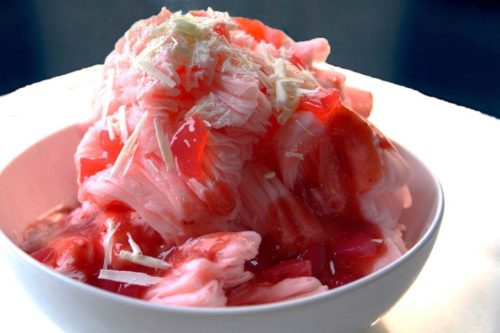 What is shaved snow?
Shaved snow (also known as snow ice, snow fluff, snow cream, shaved ice cream, or shaved cream) is a flavored block of frozen milk or non-dairy cream that is shaven into thin, fluffy ribbons. The ice shavings are supposed to be incredibly fine so that they melt slowly and release their sweetness into your mouth. These shavings are covered with a variety of sweet toppings like fruits, red beans, boba, chocolate chips, etc.  It has a light, smooth and creamy texture with a wide variety of flavors ranging from matcha green tea to strawberry shortcake.
Make sure not to confuse this frozen treat with other common ice-based desserts like snow cones and shave ice.  Snow cones are ground-up ice shavings covered with sweet colored syrup, while shave ice (or shaved ice in the mainland) is a Hawaiian dessert made of finely crushed ice covered in condensed milk, fruits, beans and other sweet toppings.
Shaved snow is said to have been invented in Taiwan at one of the largest night markets in the world, the Shilin Night Market. It is often enjoyed on hot summer days and has become a popular go-to dessert to satisfy those cravings for something sweet and refreshing.
Is shaved snow dairy-free?
Shaved snow is made with blocks of frozen milk or non-dairy cream so it can be dairy-free, depending on which base is used. If you are allergic to dairy, you should ask the specific place you plan to visit if their desserts contain dairy since different locations may use different ingredients.
Where can I get it?
Shaved snow can usually be found in areas dense with Taiwanese or Asian restaurants. Check out this interactive map to view places where you can enjoy this smooth frozen dessert.
How can I make it?
It's pretty straightforward and easy to make shaved snow, as long as you have the right equipment.  If you want to make this light frozen dessert at home, take a look at the following simple instructions on how to make those sweet fluffy ribbons like a pro.
shaved snow
Ingredients
1 large block of frozen milk (low-fat or soy)
toppings: fruits, sweet beans (optional)
sauces: chocolate, caramel, syrups (optional)
Instructions
First, shave the block of frozen milk with the shaved snow machine into a bowl
Top the shaved snow with your favorite toppings
Enjoy!
Recommended Products
Glutto earns a tiny commission from qualifying Amazon purchases.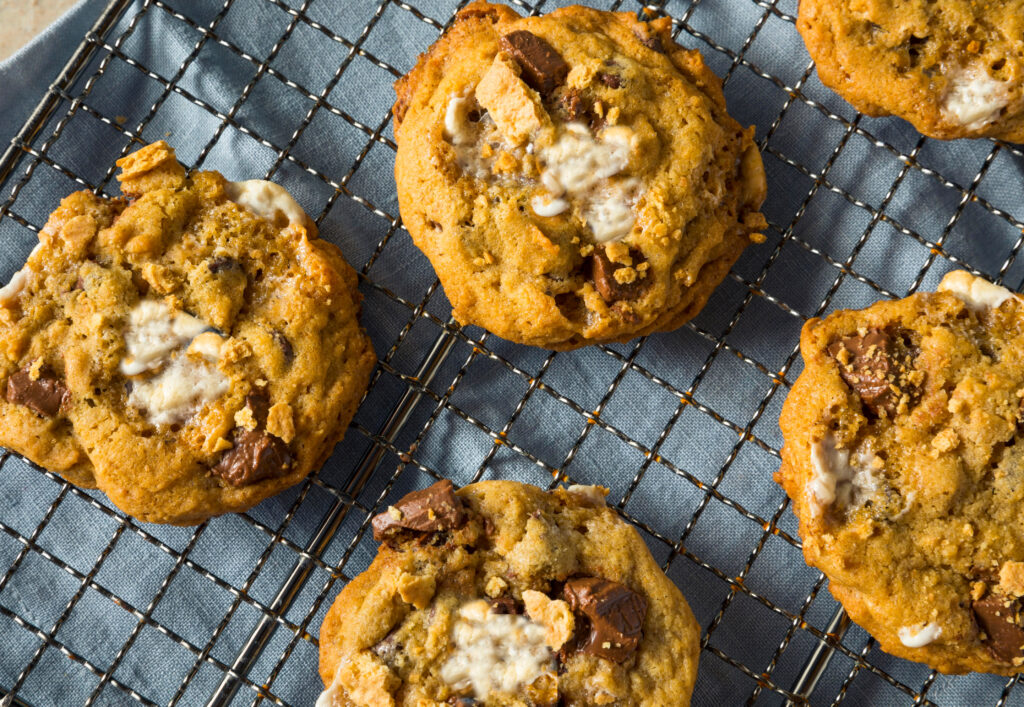 With comfort foods still going strong, s'mores cookies bring the essence of a crackling campfire…