Trapizzino is a triangular pocket-shaped sandwich that has become a popular street food in Italy. It is made with a pizza dough that is formed into a pocket stuffed with traditional Roman dishes including pollo alla cacciatora (chicken cacciatore), genoivese (beef ragu) and parmigiana di melanzane (eggplant parmigiana).
The word "trapizzino" is a portmanteau of pizza and tramezzino (an Italian sandwich made of soft white bread with the crust removed and cut into triangles). The plural form is trapizzini.
Where was the trapizzino invented?
This Italian pocket sandwich was invented in 2008 in Rome by a highly-decorated Italian pizza maker, Stefano Callegari. Stefano trademarked the term "trapizzino" and opened up his own restaurant in Rome named Trapizzino, later branching out throughout Italy and to the US.
What does a trapizzino taste like?
The bread of this "sandwich" is made of pizza bianca (plain pizza dough). Original trapizzini are made with a 200-year-old sourdough starter which has been passed down through generations of Southern Italian bakers. This dough is baked into loaves, which are cut diagonally to make a triangular shape. The exterior is crispy while the interior is warm and soft.
The filling can be any traditional Roman dish, which takes days to make and is simply scooped into the baked pizza dough. So, the flavor really depends on which Roman dish you decide on whether its an eggplant parm, beef ragu or otherwise.
Where can I find trapizzini?
Unfortunately, all Trapizzino locations are in Italy (Florence, Milan, Trieste and Turin), except for a location in New York City's Lower East Side. Visit Trapizzino's website for the latest on their locations. Time will tell if this food trend expands and becomes available at other restaurants or vendors.
How can I make trapizzino?
If you don't live in NYC and won't be visiting Italy any time soon, you can still try trapizzino by making it yourself. Here is a simple recipe for you to try.
trapizzino
Italian "Hot Pockets" done the quick and easy way.
Ingredients
1 unsliced square sandwich roll (any hearty/thick crust bread that can be hollowed out e.g. sourdough, ciabatta, etc.)
1 cup pizza or marinara sauce 
4 meatballs
1/2 teaspoon Italian seasoning
Instructions
Pre-heat air fryer/oven to 350°F.
Meanwhile, mix the marinara sauce, meatballs and Italian seasoning in a small saucepan over medium-high heat for 3-5 minutes or until hot.
Heat roll in air fryer/oven for 3-5 minutes or until warm throughout.
Slice roll diagonally to form two triangles. Hollow out center to create a pocket for filling.
Pour meatball sauce with 2 meatballs into each hollowed roll. Enjoy!
Notes
This is simply the quickest way to enjoy a trapizzino-style sandwich. Like any kind of sandwich, you can customize it to your taste and use whatever filling you like. (Tip: visit your local Italian restaurant and use your favorite dish as a filling.)
Also, visit your local bakery for fresh unsliced sandwich bread.
Recommended Products
Glutto earns a tiny commission from qualifying Amazon purchases.
Looking for the top rolled ice cream machines? As you might assume, a quality rolled…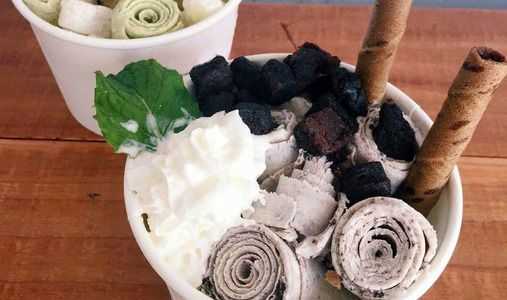 Where Can I Get Rolled Ice Cream? | How Can I Make It? What is…