Where Can I Get it? | How Do I Eat It?
What is a Vegas Bowl?
A Vegas Bowl is a one-of-a-kind foggy dessert invented by award-winning pastry chef and chocolatier, Jean-Phillippe Maury. It consists of house made gelato/sorbet, creme, cake, tubed sauce, fruits and toppings enclosed a hemispherical meringue or chocolate crust. Once assembled, it is served in a dome-covered bowl that seeps out a fog that seems like liquid nitrogen, but is actually dry ice. Yes, it's wonderfully crazy and over-the-top, hence the name "Vegas Bowl." iDessert first introduced the Vegas Bowl concept to the public in July 2015 in their first location in San Diego, CA.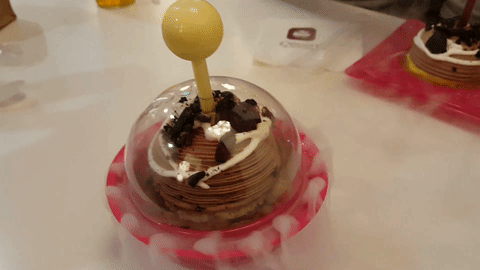 Where can I get it?
The Vegas bowl dessert is proprietary to iDessert (which serves an assortment of other desserts as well from crepes to milkshakes) and can only be found at their locations.
Las Vegas, NV: (no location yet…but seems likely since it is called the "Vegas Bowl")
How do I eat it?
Of course this unique treat at iDessert can be eaten any way you want. (The dessert police won't arrest you.) However, if you want to eat it the way it was intended follow these 3 steps:
First, squeeze the ball of creme to inject all the flavor in the middle of the dessert
Use the end of the spoon's handle to crack open the crust
Dig in!