Brioche gelato (a.k.a. brioche with gelato, gelato brioche, Sicilian ice cream sandwich, brioche con gelato, gelato con brioche, brioscia con gelato or brioche col tuppo) is Italy's version of an ice cream sandwich.
If you're from America, the words "ice cream sandwich" may bring to mind a rectangular block of vanilla or Neapolitan ice cream sandwiched between two pockmarked chocolate cookie wafers. Although related, the Italian variety looks nothing like the American brick-shaped dessert.
This Sicilian ice cream sandwich uses brioche, a puffy rich bread. More specifically, it uses Sicilian brioche. In Italy, you can often find this dessert with freshly baked Sicilian brioche served as street food.
What makes gelato different from other types of ice cream?
Gelato is the "ice cream" of Italy. It is different from traditional American ice cream because it is churned more slowly; less air is whipped into the ingredients making it denser. It also has a lower fat content.
The texture of gelato is smoother and less icy due to its density and it being served at a warmer temperature of 10-22°F (vs. 6-10°F for ice cream).
What makes brioche different from other breads?
Unlike most other types of bread, brioche contains butter, milk and eggs which give it a relatively high fat and protein content and a rich flavor. It also has a mild sweetness since it also contains sugar.
Sicilian brioche (a.k.a. brioche col tuppo) is a specific type of brioche that is mainly found in Sicily and has a "tuppo" or "bun" on top. This bun is simply a small ball also made of brioche dough. Its soft, airy yet slightly chewy and dense texture makes it a wonderful complement to gelato.
What flavors of gelato go well with brioche?
You really can't go wrong with any gelato flavor that you already enjoy. Here are some of the most popular flavors served on brioche.
pistachio
chocolate
hazelnut
stracciatella
tiramisu
What else does brioche go well with?
Brioche can go well with anything that bread is often accompanied by. Sicilian brioche particularly goes well with certain desserts and sweet spreads including:
granita (a.k.a granita al caffé con brioche) – Italian ice and brioche
Nutella
peanut butter & jelly
What are other types of ice cream sandwiches?
There is a French version of the ice cream sandwich served at Disneyland & Disney World called Croque Glacé. It is also on brioche, however it is not Sicilian (i.e. it doesn't have the tuppo) and it is pressed.
With the advent of hybrid foods and food mashups in the 2010s, many variations of ice cream sandwiches were inevitably created. These include:
brownie ice cream sandwiches
churro ice cream sandwiches
cinnamon roll ice cream sandwiches
cookie ice cream sandwiches
donut ice cream sandwiches
macaron ice cream sandwiches
waffle ice cream sandwiches
whoopie pie ice cream sandwiches
Furthermore, these ice cream cone variations exist as well:
Where can I get brioche gelato?
You can get this specialty Italian ice cream sandwich at specialty gelaterias and Italian restaurants. Use this map to find a location that serves brioche with gelato near you.
How can I make brioche gelato?
brioche gelato
A super quick and easy way to make brioche gelato.
Ingredients
2 brioche buns (ideally Sicilian style & sliced open)
6 scoops gelato (your favorite flavors)
chocolate syrup, chopped nuts, sprinkles, whipped cream, powdered sugar (or any other desired toppings - optional)
Instructions
In each bun, place 3 scoops of gelato and add any desired toppings.
Enjoy!
Notes
The best brioche gelato is made from the best, most authentic ingredients.
Rather than buying grocery store gelato and bread, visit your closest gelateria and Italian bakery. That way, you know you're getting the best gelato and brioche available to you that will yield the best tasting dessert.
More ice cream posts
Looking for the top rolled ice cream machines? As you might assume, a quality rolled…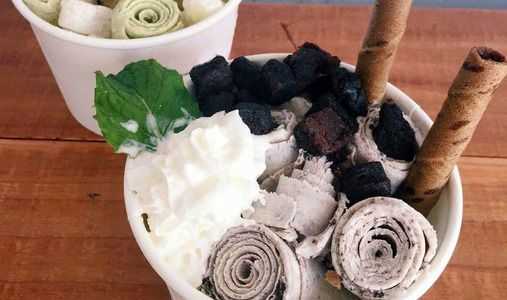 Where Can I Get Rolled Ice Cream? | How Can I Make It? What is…