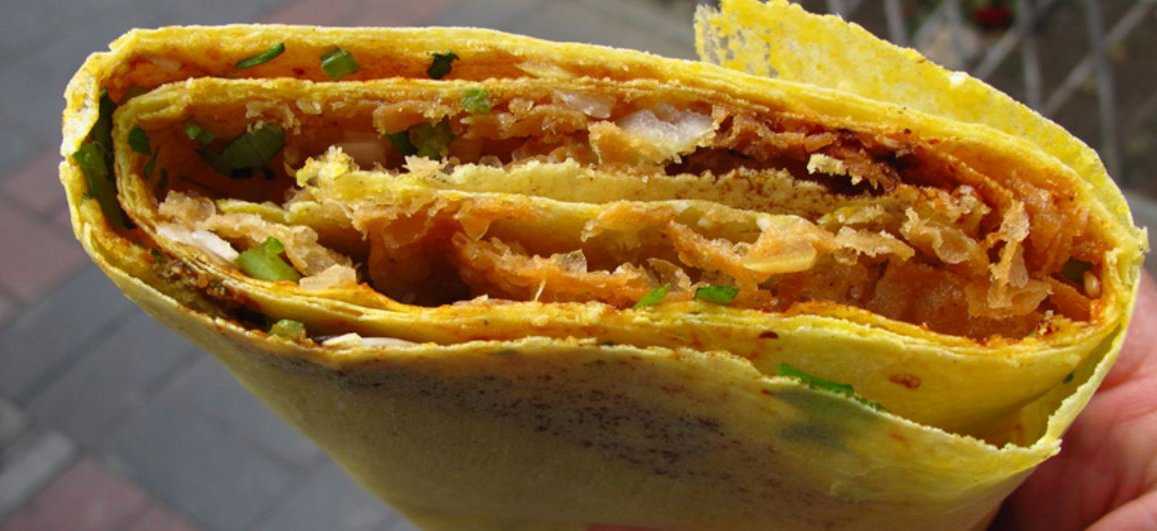 What is jianbing?
Jianbing is a popular street food in China that means "fried pancake."  However, this Chinese pancake not your typical syrup-laden pancake; it's more like a rolled crepe with layers of savory flavor.  It resembles a vegetarian breakfast crepe which is made fresh on a griddle with various ingredients including a flour-based batter, eggs, scallions, chili sauce and a cracker.
Jianbing has quite a rich history. It is commonly believed that this dish was created in the province of Shandong in the 1st century AD. During the period of the Three Kingdoms (when China was divided into the states of Wei, Shu, and Wu), many military belongings were destroyed including woks. A military leader advised his army to use their shields to cook their batter over open flames instead of the woks. This led to the invention of these Chinese crepes that were filled with accessible ingredients like eggs, scallions and crackers.
A variation of jianbing is cong you bing. It is a thicker, more pancake-like scallion pancake and is also a popular street food in China.
Where can I get jianbing?
This Chinese crepe is often found in the Chinatown areas of most large cities. Here are some locations where jianbing can be found in the US.
Looking for more places that serve these Chinese crepes? You can find them on Glutto right here.
How can I make jianbing?
Since this Chinese crepe is a popular street food that is made fresh in front of the customer, it is naturally pretty simple to make. Here's a quick recipe you can follow and save on Glutto here.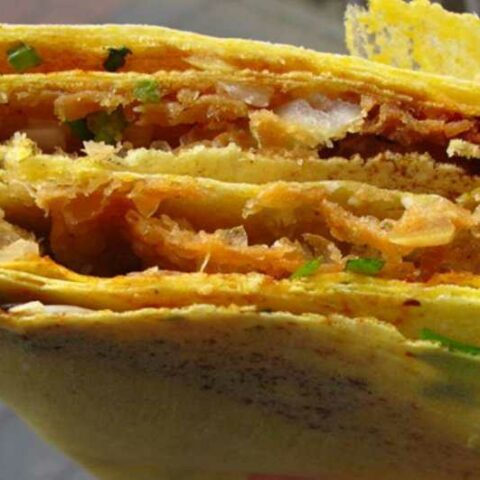 jianbing
A healthy delicious Chinese breakfast crepe.
Ingredients
1 large egg
2 tablespoons milk
2 tablespoons millet flour
1 tablespoon black bean sauce
1 tablespoon cilantro (chopped)
1 teaspoon water
1/2 teaspoon vegetable oil
1/2 teaspoon chili pepper sauce (adjust to taste)
1/2 green onion (chopped)
wonton crackers
cooking spray
Instructions
Create the batter by mixing the flour, milk and vegetable oil. Consistency should be like heavy cream. Add water to thin, if necessary.
Mix black bean sauce and chili pepper sauce
Spray crepe maker or flat skillet with cooking spray, then heat on medium-low. Pour batter on hot surface and spread evenly to cook 1-2 mins.
Crack egg on crepe and spread evenly. Cook another 1-2 mins until egg is no longer raw.
Spread green onions and cilantro evenly over crepe.
Remove crepe from crepe maker or skillet and brush with black bean and chili pepper sauce mixture. Place a wonton cracker in the middle and fold crepe into thirds. Cut in half and enjoy!
More on Chinese food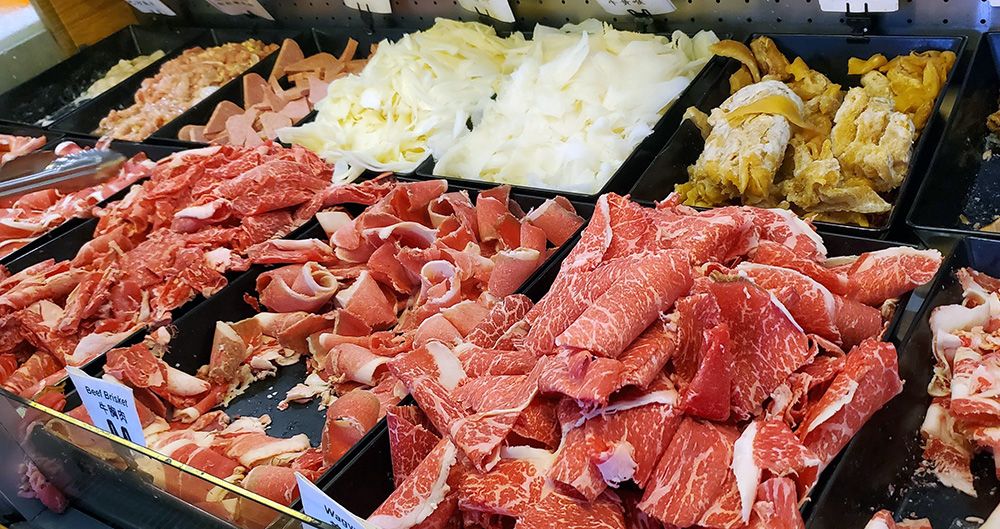 Malatang (a.k.a. ma la tang or mala tang) is a create-your-own Sichuan variation of traditional…