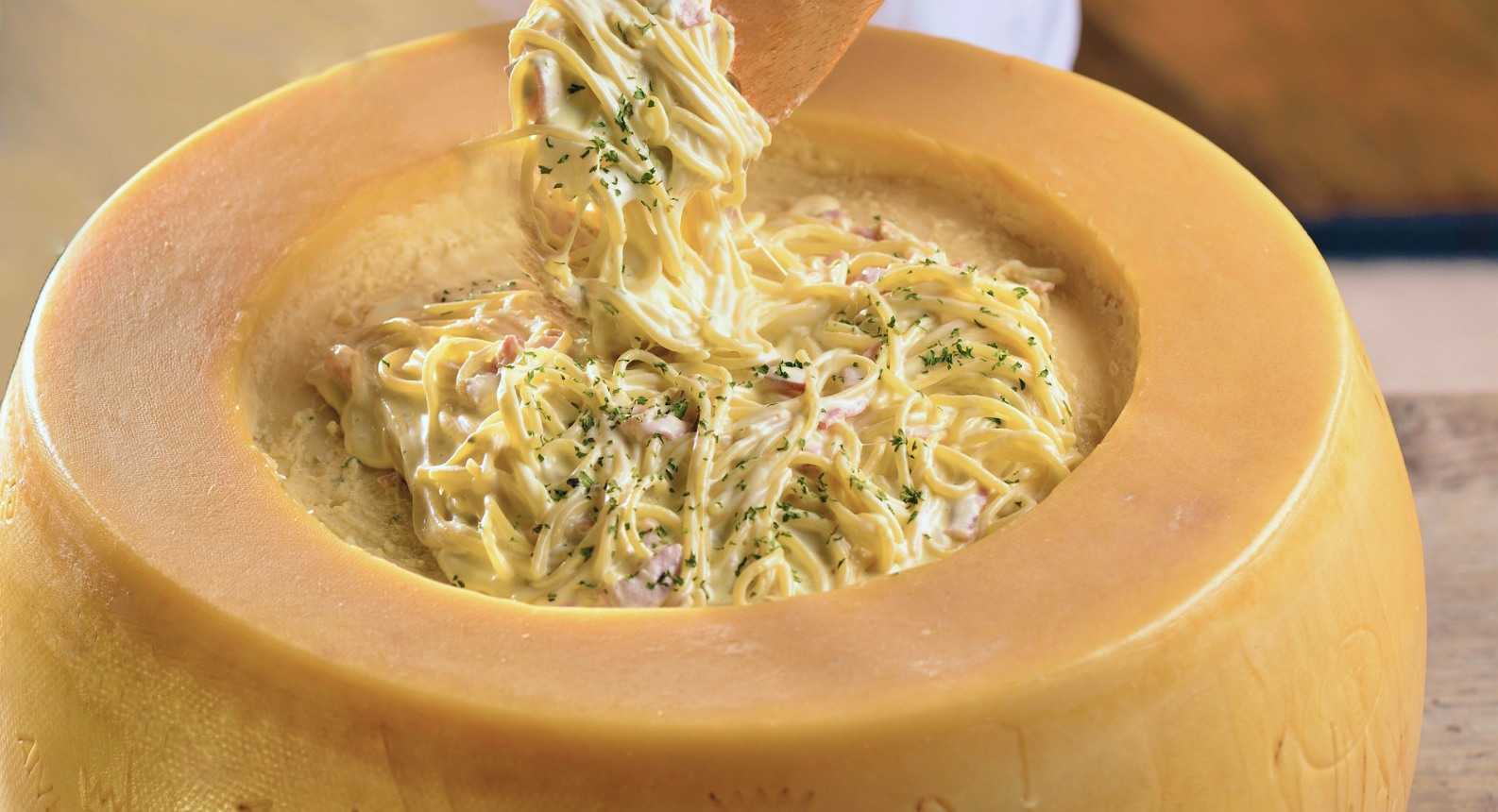 Where Can I Get it? | How Can I Make It?
What is cheese wheel pasta?
Cheese wheel pasta (a.k.a. pasta alla ruota) is a style of pasta that is made tableside by mixing freshly cooked pasta in a hollowed cheese wheel. A layer of cheese is scraped inside the wheel so it melts when the hot pasta is mixed in. Sometimes, the cheese is lit on fire to induce melting…
As far as the internet has told us, there is no single official name for "cheese wheel pasta" since pasta dishes made in cheese wheels are known by many different names depending on the restaurant. However, one particular restaurant in Santa Monica, California is taking credit for naming this style of pasta "dalla forma" which literally translates to "from form" or "from forma" (Forma is the name of the restaurant).
Btw, if you love melted cheese dishes, you'll also want to check out raclette and flaming saganaki.  And if you're feeling a tad adventurous, you may want to try cheese tea.
The Fittest Food Lovers
How EVERY BODY Can be Incredibly Fit and Still Enjoy Food
What do Tony Hawk (legendary skateboarder), Andre Rush (strongest chef in the world) and Caroline Labouchere (international model of mature age) have in common? They are all unbelievably fit and they all LOVE food. How could it be possible to love food & enjoy eating while remaining perfectly fit?
Discover the many different ways that these role models of diverse backgrounds have figured out how to sustainably eat what they want and remain the fittest versions of themselves…and how you can too.
Where can I get it?
You can get this pasta made hot and fresh from a carved cheese wheel in select Italian restaurants across the country. Here are several places that serve the best versions of this melted cheese dish.
Las Vegas, NV:

Salute
San Diego, CA:

Monello
Santa Monica, CA:

Forma
Looking for more places that serve cheese wheel pasta? You can find them on Glutto right here.
How can I make it?
Cheese wheel pasta is a great dish to make if you really want to impress your friends and family.  The ingredients are very simple and can be customized to your taste.  To make the popular cheese wheel pasta dish "cacio e pepe" you'll need to follow this recipe that you can also save on Glutto here.
Special Tools
Ingredients
Directions
First, cut open the parmigiano reggiano wheel by following the above video.
Then, boil a pot of salted water to cook the pasta.
Once the water is at a rapid boil, place the pasta in the water and cook until al dente.
Scrape the inside of the cheese wheel to create a bowl shape (leave cheese scrapings).
Put the hot cooked pasta in the scraped cheese wheel and mix until the cheese is creamy and melted onto the pasta.
Add black pepper and serve immediately. Enjoy!
Looking for the top rolled ice cream machines? As you might assume, a quality rolled ice cream machine is required to make rolled ice …