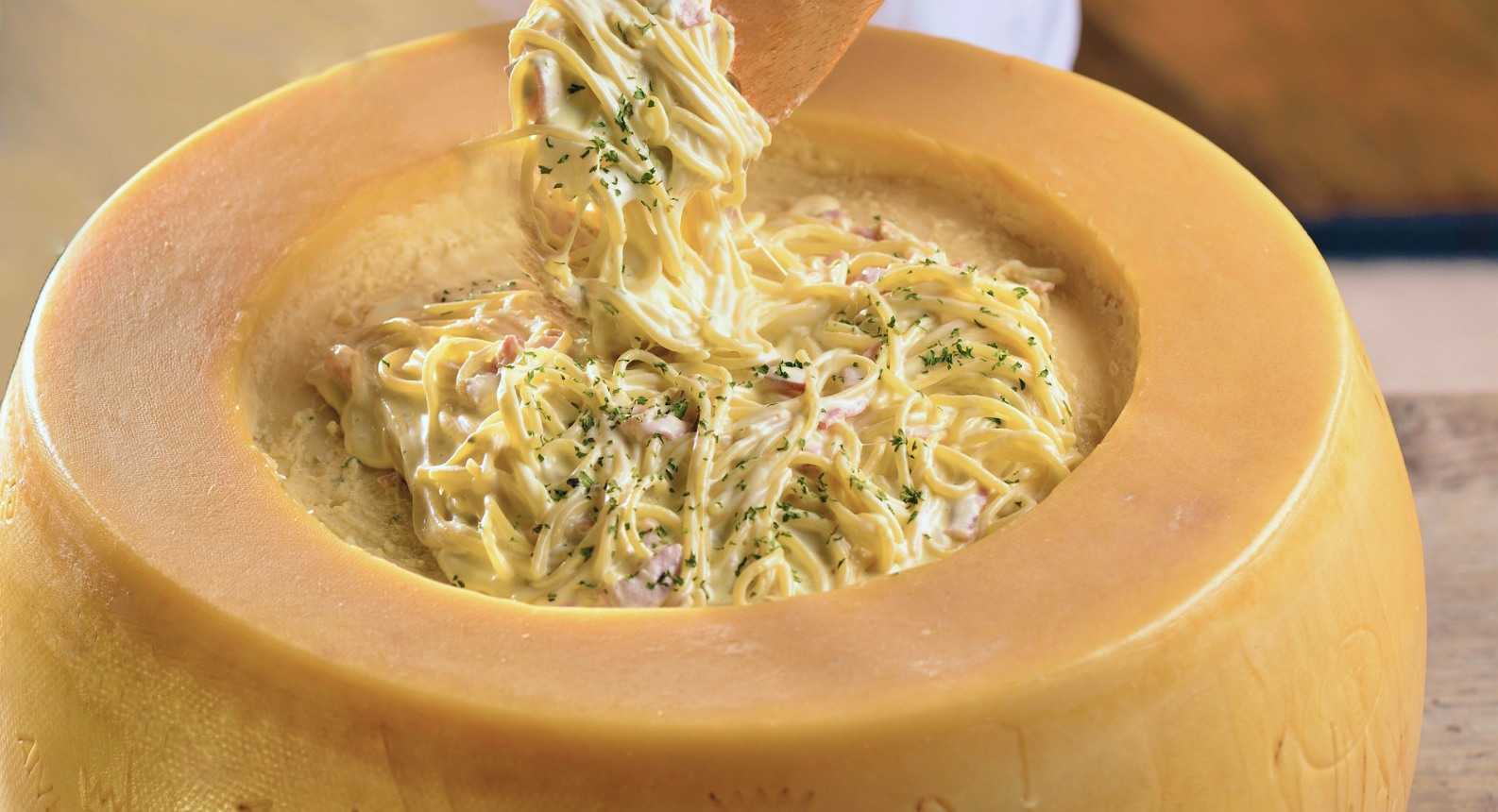 What is cheese wheel pasta?
Cheese wheel pasta (a.k.a. pasta alla ruota) is a style of pasta that is made tableside by mixing freshly cooked spaghetti, linguini, or any other type of pasta in a hollowed cheese wheel, most commonly parmigiano reggiano. A layer of cheese is scraped inside the wheel so it melts when the hot pasta is mixed in by hand. Sometimes, the cheese is flambéed (i.e. lit on fire with a splash of alcohol like vodka or brandy) to induce melting. This variation made in a flaming wheel of cheese is appropriately called "flaming cheese wheel pasta" or "flaming cheese wheel."
When this style of pasta first became popular in the mid-2010s, it had no single official name since various dishes made in cheese wheels have been called many different names depending on the restaurant. One particular restaurant in Santa Monica, California had taken credit for naming this style of pasta "dalla forma" which literally translates to "from form" or "from forma" (Forma is the name of the restaurant). Unfortunately, restaurants still choose to list this menu item by different names depending on the pasta and sauce used making it a tad difficult to find in various cities, but the most popular term is still "cheese wheel pasta."
Btw, if you love melted cheese dishes, you'll also want to check out raclette and flaming saganaki. And if you're feeling a tad adventurous, you may want to try cheese tea.
Tasty Tees Hot Off the Press
Where can I get it?
You can get this dish made tableside, hot and fresh from a carved wheel of cheese, in select Italian restaurants across the country. Here are several places that have served the best versions of this melted cheesy pasta. Please contact any restaurant you are interested in to verify that they are currently open and serving this dish.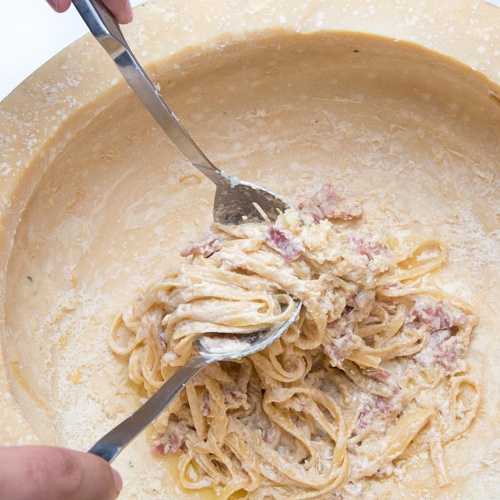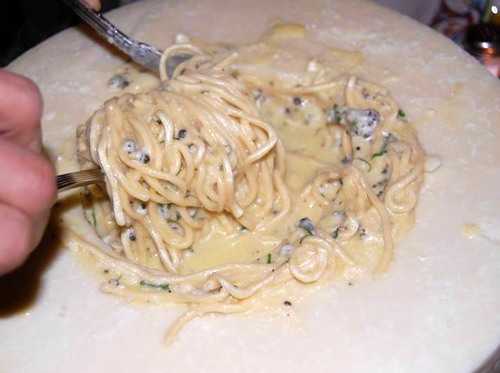 Las Vegas, NV: Prosecco Fresh Italian Kitchen (Henderson)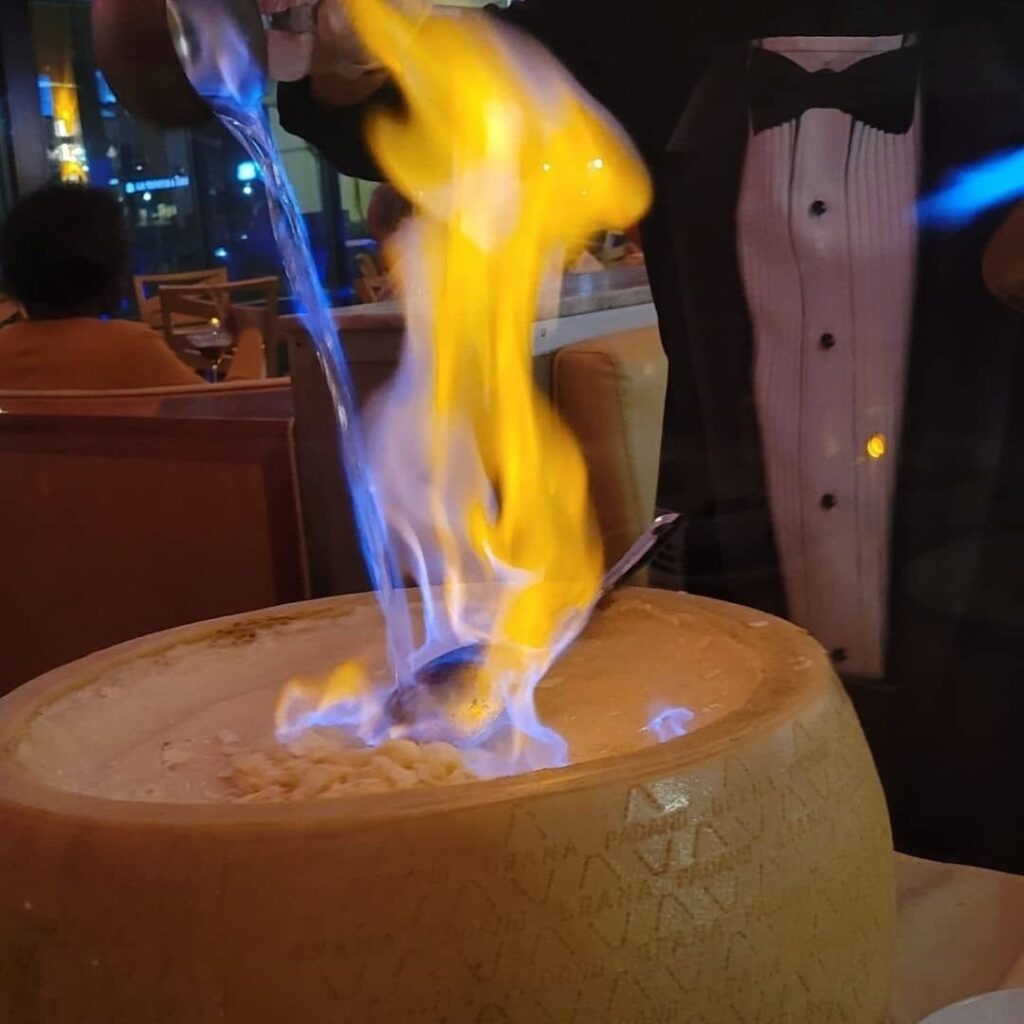 Note: Salute Trattoria Italiana (permanently closed)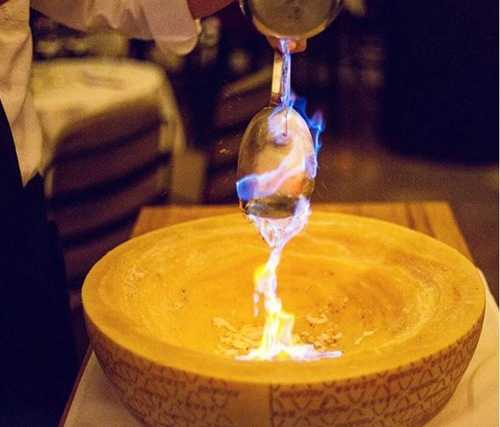 San Diego, CA:

Monello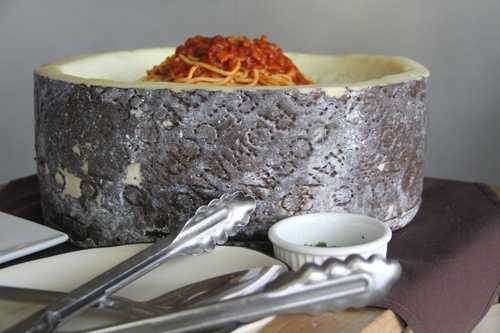 Santa Monica, CA:

Forma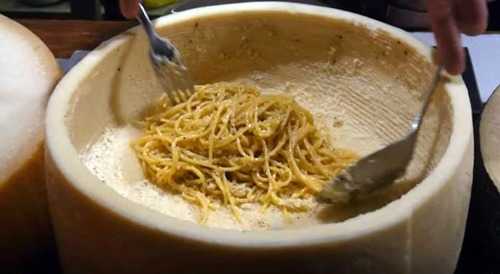 How can I make it?
This cheesy pasta is a great dish to make if you really want to impress your friends and family. The ingredients are very simple and can be customized to your taste. To make the popular dish "cacio e pepe" in a cheese wheel you'll need to follow this recipe.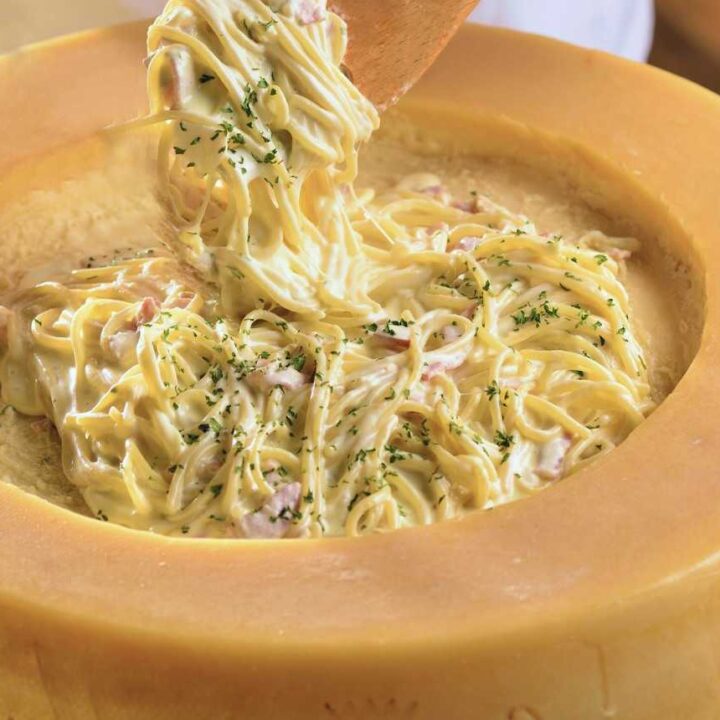 cheese wheel pasta
A cheesy pasta dish made in a hollowed cheese wheel.
Ingredients
1 or 1/2 wheel of parmigiano-reggiano
1 cup pecorino Romano
1 tablespoon ground black pepper
3/4 cup long pasta of your choice (spaghetti, linguini, etc.)
olive oil
salt (to taste)
Instructions
First, cut open the parmigiano reggiano wheel as seen in the video provided.
Then, boil a pot of salted water to cook the pasta.
Once the water is at a rapid boil, place the pasta in the water and cook until al dente.
Scrape the inside of the cheese wheel to create a bowl shape (leave cheese scrapings).
Put the hot cooked pasta in the scraped cheese wheel and mix until the cheese is creamy and melted onto the pasta.
Add black pepper and serve immediately. Enjoy!
More pasta-related food posts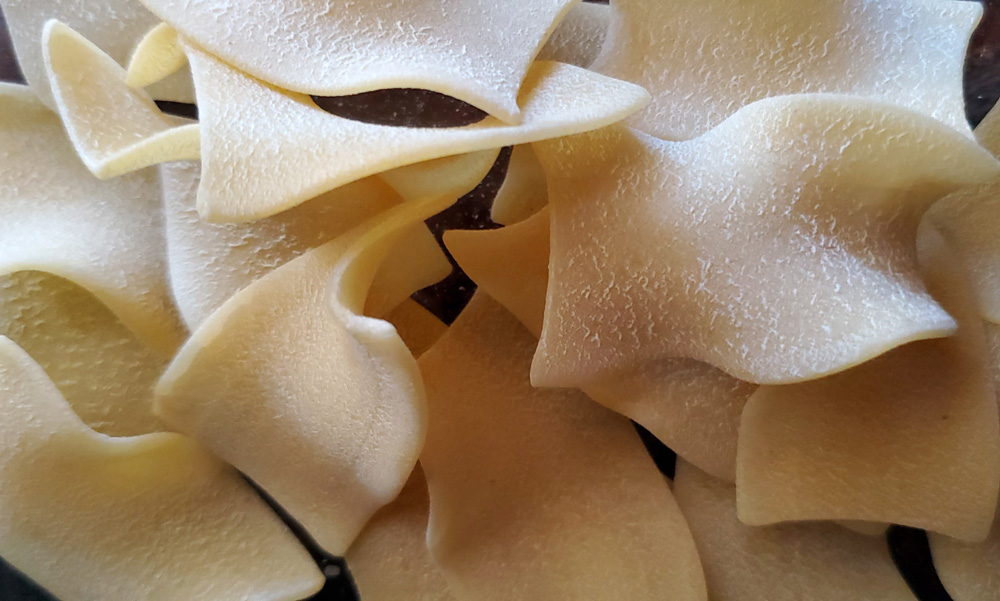 What is taccone pasta? Taccone (a.k.a. tacconi) is a unique type of pasta that is…