If you love Italian food, it's essential that you are familiar with basic Italian food terms. It is also important to have a fundamental understanding of Italy as a country.
Italy is a peninsula in south-central Europe that extends into the Mediterranean Sea. It is geographically diverse with the Alps running along the northern region and world-renown beaches along its coastal areas.
Family is paramount in Italian culture and has strongly influenced how meals are structured and shared. Homecooked food in Italy often includes family-style meals which are dishes large enough to serve families of four or more. (Bucca di Beppo anyone?)
Italian cuisine
As you may know, Italian cuisine is widely known for its dozens upon dozens of types of pasta. They can be categorized as long pasta, short pasta and filled pasta.
Long pasta is meant for creamy or tomato-based sauces and small bits of meat or vegetables. Types of long pasta include angel hair, buccatini, fettucine, linguine, pappardelle, spaghetti and tagliatelle.
Short pasta comes in all sorts of shapes and sizes from macaroni to bow ties. It is meant for heavier sauces and chunkier ingredients. Types of short pasta include elbow macaroni, farfalle, fusilli, gemelli, orecchiette, orzo, penne, rigatoni, rotelli, rotini and ziti.
Filled pasta is often filled with cheese, meat vegetables and/or sauces. They include cannelloni, jumbo shells, manicotti, ravioli and tortellini.
Two common types of pastas that have their own categories and lasagna (sheet pasta) and gnocchi (dumpling pasta).
Of course, there is much more to Italian cuisine that just pasta. Like France, wine and cheese are important as well. Seafood is an important aspect of Italy's coastal regions.
Italian food terms
Expand your international dining vocabulary with these basic food-related words translated from English to Italian.
before-meal drink – apertivo
appetizer – antipasto
salad – insalata
first course – primo
second course – secondo
side dish – contorno
dessert – dolce
after-meal drink – digestivo
meat – carne
pork – maiale
beef – manzo
poultry – pollame
turkey – tacchino
duck – anatra
chicken – pollo
seafood – frutti di mare
fish – pesce
shrimp – gamberetto
oyster – ostrica
shellfish – crostacei
meatless/no meat – senza carne
vegetables – verdure
fruits – frutta
eggs – uova
tofu – tofu
nuts – noccioline
vegetarian – vegetariano
vegan – vegano
drinks – bevande
water – acqua
alcohol – alcol
beer – birra
wine – vino
other eating/dining-related terms
yes – sì
no – no
good – bene
yummy – buonissimo
eat – mangiare
cook – cucinare
I'm hungry – ho fame
I'm full – sono pieno
more – di più
less – di meno
only – solo
please – per favore
thank you – grazie
baked – al forno
fried – fritte
grilled – alla griglia
roasted – arrosto
steamed – al vapore
hot – caldo
warm – caldo
cold – freddo
bitter – amaro
salty – salato
spicy – speziato
sweet – dolce
allergic – allergico
bathroom – bagno
Italian food to try
Interested in learning about other cuisines around the world? Discover food terms from other countries here.
Looking for the top rolled ice cream machines? As you might assume, a quality rolled…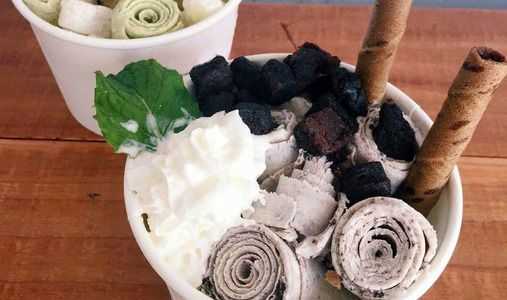 Where Can I Get Rolled Ice Cream? | How Can I Make It? What is…